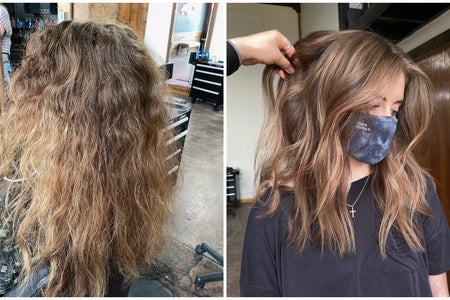 Why You Need to Go to 202 Beauty Lounge
     A few months ago, I realized my hair was badly in need of some treatment. I have had curly hair for as long as I can remember and it is a monster to take care of. If you have any type of wave or curl pattern in your hair, I am sure you can relate. I like to call it my double-edged sword. It is fun, beautiful, and is a large part of my identity. I feel like I wouldn't be me without my curly hair. On the other hand, I can count the number of good hair days I have per year on my fingers...This is partly because I am still on my curly hair journey but also because I've always struggled to find the perfect cut for me. I imagine many of you also share this struggle. Even then, I find it so ridiculously impossible to replicate the process that any hairstylist has used, even if I am using the same products and mimicking what I saw them do in the mirror. 
     I haven't cut my hair since July 2020 and when my hair started looking like the photo on the left, I knew it was time to take care of it. I liked my previous haircut that I got last summer, but I was looking for a salon that seemed trendy, professional, and one that serviced clients that were on the younger side. All in all, I needed a salon where I felt like I fit in. After some intense googling and yelping, I found 202 Beauty Lounge. It only had a few Yelp reviews and minimal information with my google search, but after seeing a beautiful photo of the stylists (they all had amazing hair) and the works they've done on other clients (through Instagram) I was impressed and quickly scheduled an appointment.
     The first thing that I personally loved was the location. It is in downtown Waco, near Spice Village—so it is incredibly close to campus which makes for easy access to those who live on Baylor's campus and those who do not. The second thing that caught my eye was just how simple and clean the space was. The exposed brick of the building was gorgeous and the salon was decorated in an elegant and aesthetically pleasing way. There was an eye-catching neon pink sign that read, "You're Like Really Pretty" in cursive which I thought was a fun touch. The third thing that stood out to me was that every single stylist had gorgeous hair and great makeup. Nothing is more terrifying than walking into a salon to get your haircut done by someone who doesn't have great hair themselves. That is like a red flag in the world of beauty. So I knew I was in the clear when I saw the quality of work the stylists put into their own hair. I knew that my haircut and coloring would turn out great.
     My stylist was Isabel (shout out to her for the wonderful cut and photos!) and she and I discussed what I was looking for. Originally, I wanted wispy bangs, above-the-shoulder hair, and a balayage. I am one of those people who always goes in with an idea of what I want, then leave with something different. This is usually because I give the stylist free reign over my hair because, at the end of the day, they are the expert at cutting and styling hair, not me. (If that was the case, I'd be cutting my hair at home). I had no problem with conversation with her, it felt easy and natural. She also recommended certain treatments for my hair and explained to me what she thought about my curly hair and my desired cut based on what she was seeing. The photo on the left is what my hair looked like before. It was brushed out, it was giant and frizzy. But even when not brushed, my hair bears a similar appearance to the photo on the left. I sincerely believe that the end of every strand was split. My hair, to say the least, was in poor, poor condition.
     Whatever Isabel did seemed to calm the beast that is my hair. She first started the balayage process, giving me a beautiful sandy look. I think that was my favorite part. It was faster than I thought it was going to be and it gave me ample time to really consider the length and cut I wanted. This was followed by a shampoo, deep conditioner, and treatment that left my hair feeling soft and smooth. It finally felt like that hair I had always dreamed of having.
     Next came the cut. I told Isabel I was hoping for something short and possibly some bangs. I am often a risk-taker when it comes to hair. Curly bangs, as beautiful as they are, can be a risky move depending on your curl pattern. At the end of the day, I told Isabel to do a cut that she thought would look best, while also keeping my desires in mind. She ended up cutting a little off the bottom and giving me beautiful curtain bangs. She blew out my hair and added some beach waves, resulting in the look you see in the right picture. I mean, the before and after is stunning!
     Now I understand that many of you probably have stylists you've been seeing for years. Maybe you drive home to get a cut with them, or maybe you wait until break to fly back home. But you don't live at home anymore! You live in Waco, at Baylor! And sometimes, as you can see from my experience, waiting for a decent haircut isn't a good move. This isn't an advertisement, I am not getting paid to write this. I am choosing to write about my experience at 202 Beauty Lounge because that haircut truly had an impact on me and how I feel about myself. It is the best haircut I have ever received and I thoroughly enjoyed every aspect of the appointment. I am already getting excited for my next appointment just by writing about it!
     Maybe you are thinking, "I am not looking for a haircut." And if that is the case, that is totally cool! 202 Beauty Lounge offers plenty of other amazing services that include makeup, eyebrows, and various different kinds of hairstyling and coloring. So maybe you don't want a trim, but you can get your brows done or add some color to your hair. They truly are a versatile salon that offers everything a college girl needs! 
     In the end, I have nothing but good things to say about 202 Beauty Lounge. And I know for a fact, I am not the only person at Baylor searching for a hairstylist away from home. (I am looking at you, out-of-staters). If you've been putting this off, have been considering finding a salon in Waco, or want to try something new, I cannot recommend 202 Beauty Lounge enough. Give it a shot, and your hair will thank you!