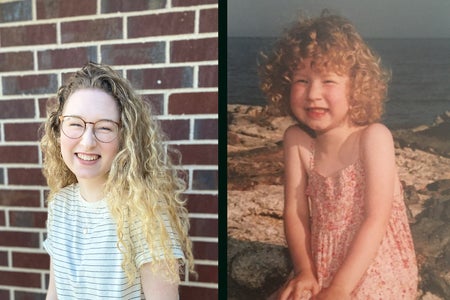 Original photo by Emily Williams
My Journey to Hair Confidence
     Growing up, I absolutely hated my hair. It was curly, and no one else in my family had hair that looked the same as mine. My mom's entire family has straight hair. As for my dad's side, where the curls come from, most everyone still has straight hair and those who don't keep their hair so short you can't even tell. Not me, though. Mine was corkscrew curly. My nickname used to be Shirley Temple, and I have nightmares of almost every adult I was familiar with in my youth grabbing one of my curls, pulling it until it was straight, and letting it go with an exaggerated "boi-i-i-i-ing." Everyone would laugh. I hated it.
     Even in school, most everyone whose hair was curly had those perfect, structured curls that mine would never form without heat. My hair insecurity really kicked in during my middle school years, where almost every picture I have is of me, hair center-parted and pulled back in a tight ponytail (I've grown out of that, I promise). All I wanted to do was hide it, and I got really good at it come seventh grade when I got my first straightener.
     I would use my prized straightener once a week, on Sundays before the school week, straightening my hair and then not washing it when I showered and giving it touch-ups on weekdays. It made me feel better. I didn't look like me, but it made me fit in. It was, frankly, exhausting-- not to mention incredibly damaging. I had to get so many haircuts because I was frying my ends a little bit more every day, and it got to the point that my hairdresser had to warn me I was starting to permanently damage my roots.
     What was my solution? Buying better heat protectant spray. Not the best idea I've ever had.
     Come high school I tried to let my hair grow out, but I was still holding onto this idea of perfectly structured curls-- you know, the ones they show in shampoo commercials. I don't even want to think about how much money I spent on hair products at this time in my life-- straightening serums, curl constructing mousse (I always put so much on my mom used to say my hair always looked wet), and anti-frizz spray. Anything to control (what I used to angrily call) my mess. It was a nightmare. Every time I thought of people seeing me in public it would throw me into a panic because I couldn't get my hair to look how I wanted, and I hated it. So most of high school I lived in various braids, buns, and half-updos (in my case, they were usually more like ¾ updos).
     I feel like I can pinpoint the start of my hair confidence to my senior year of high school-- I'd just become the drum major of my high school's marching band, which was a massive time commitment. After a while I just stopped having the energy to care what my hair looked like. When it wasn't up in a bun for performances, I just let it do what it wanted. I wasn't throwing product after product on it, and you know what? It looked good. I remember one picture of me and a friend that we took in my car, driving home from band practice, and my hair was down, the lighting was terrible (awkward sunsets), and we were both sweating. That picture is the first picture I'd seen of myself where I looked at my hair and went "hey, it looks good here."
     I kept up with the whole "not caring about it" act through my freshman year of college (that and marching band… again). I think that period gave my hair a much needed healing, because it looked healthier and my curls looked more structured than ever.
     I'm now a senior in college and I still call my hair a mess, but now with fondness. I love my little nest of hair. While lots of products are still trial and error for me, I've locked down a few (that I'll list at the end of the article) that I've fallen in love with. I do the same routine after I wash my hair, and I've been in love with my little routine for the couple of years I've been doing it, leading me to not be so worried about my appearance. Sure I still have bad hair days, but who doesn't? That's what beanies are for. Of course it'll be different for everyone, but for me it was all about giving my hair a break and healing, and reevaluating my perspective on my hair. There was nothing I could do to change it permanently, so (after I put up one heck of a fight) I've learned to embrace my curls. 
     I look back now and laugh at how I used to beg my mom to let me get a straightening treatment on my hair. I would never dream of it now. Thanks, Mom, for never letting me do it (don't tell her I said that).
My favorite hair products:
Nexxus Oil Infinite Shampoo & Conditioner Set: link to Amazon. This shampoo/conditioner set is super moisturizing while controlling frizz. It's all I've been using for 3 years now!

Redken Curvaceous Full Swirl: link to Ulta. This comes right after combing my hair post-shower. This is the only product that I've stuck with since my struggles in high school.

Redken Curvaceous Curl Refiner: link to Ulta. This is the final step-- I don't use too much, just some on the ends to keep them from frizzing up or breaking up too much going into second- (and sometimes third-) day hair.
    The important thing to remember, like I had to repeatedly remind myself for many years, is that your hair is Your Hair. There's only so much you can do with it, with dying and cutting and heat products, because you'll always have your natural hair. It'll always be there, even if sometimes you'll wish it wasn't. That's okay, I did that too. Everyone's hair is different, but it's a huge part of your identity so being happy with your hair is, in my experience, crucial to self confidence. I would definitely say that I had to grow into my hair. Your hair is something that is so easy to change and play with and there's so many options out there for colors and styles that you're bound to find something that works for you. And if you don't, hey, it's just hair. It'll grow back. And maybe when it does you'll see it differently, just like I did.