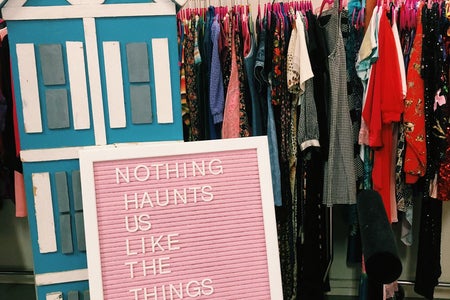 5 Places To Thrift Shop in Waco
Second-hand shopping has skyrocketed to popularity recently, and the "vintage" look is in. I've come to find that the art of thrifting is for everyone. It  doesn't matter who you go with, they are bound to find something they'll love. It's also an extremely affordable way to find the best clothes, and you can be practically positive that nobody else has them. No more wasting $100+ on clothes that might not fit your style quite right and leave you feeling guilty. Thrifting is the new trend, and I for one am here for it!
1.

Mission Waco Clothesline

The Clothesline, located at 1817 Franklin Ave is a hidden gem! They have a variety of clothing and jewelry that will not break the bank. I'd go as far to say that this is one of the most affordable thrifting spots in Waco. The store itself is pretty small but do not underestimate it, they have some cool finds and even have a $1.00 t-shirt rack! 

2.

Amelia's Fashion Exchange

Amelia's, located at 2452 W Loop 240 is about a 10-minute drive from Baylor's Campus. Amelia's reminds me more of a boutique than a thrift store. They do have a new section with sweaters, candles, scarves etc. but their second-hand section is the main attraction and most of the store itself. Amelia's will also buy back clothes that you do not wear anymore, and either pay you in cash with a certain percent taken off or give you store credit for your full value. This is overall a great spot to find second hand higher-end brands like J.Crew, LuluLemon, and even Hunter rain boots.

Clasé Vintage & Goods is one of the newer vintage shops in Waco. You can find the owner, @clasevintageandgoods on Instagram selling his finds, and he recently opened up shop at 108 N 25th Street. The store itself is extremely cute, and has some amazing art inside. They have a variety of vintage 90's pieces from band-tees to mom jeans. This shop is definitely one of a kind here in Waco.

Surprise, Surprise! Goodwill is one of the usual suspects for all of your thrift shopping needs, but it is always a great place to find t-shirts, pants, and even house decor. Goodwill is also very affordable, and you know you will always find something special here. Weirdly enough, I've found that Goodwill always has pieces of clothing for Halloween costumes, whether it be an old vacation shirt or something to recreate a movie characters outfit, they'll have it. Visit the Goodwill located at 2439 La Salle Ave, right off Baylor's Campus or The Heart of Texas Goodwill off New Road for some interesting finds.

Plato's is kind of the "fast food of thrifting" and that is in no way a negative thing. Plato's is really reliable and you're bound to find one in every state, much like a chain restaurant. But it has a lot to offer, from sandals to cozy sweatshirts, you will always spot something that you'll love. The best part about Plato's is that they only accept clothing items for what is in season, so you know that during the summer, they will have those jean shorts that you have been searching for. Stop by Plato's in Waco, located at 4600 Franklin Ave.
It doesn't matter if you have been thrifting for years, or just want to get started now, it is always a fun experience to enjoy with friends or a relaxing one to do alone. Any of the shops listed above are a great option for starting your second-hand journey. Whether you keep the clothes in the condition they come in or re-purpose them into something cute, the possibilities are endless and completely up to you. Either way, you're giving these clothing pieces a second chance at life.