Why Eric and Jessie Should Be Your New Favorite Show
 If the names Eric and Jessie James Decker don't scream "couple goals," you have some serious pop culture research to do. I first learned about Jessie James Decker back in high school, when one of my best friends played some of her country songs on repeat. After doing research on my own, I quickly fell in love with this country star and her NFL player husband's cute-as-can-be relationship. Before I go any further though, I'll let you decide whether this couple will be your new obsession too (Spoiler alert: they will be).  
Two Successful Careers
Before exploring Eric and Jessie's adorable family life, I have to focus on both of their amazing careers. If you are already a football fan, you'll know that Eric Decker has jumped around different NFL teams for the past few years. He now is a wide receiver for the Tennessee Titans, which is insanely fortunate for Jessie because Nashville is THE PLACE for country music. In addition to being an accomplished country singer, Jessie's clothing line, Kittenish, has also taken off. AND, if I haven't already sold you on their successful separate careers, then you should also know that they head a foundation called, the Eric and Jessie Decker Foundation. The mission of their foundation is to "fund the rescue, care and training of service dogs for military veterans returning home with physical disabilities and emotional challenges." The best part of Eric and Jessie's career lives is hands down their endless support for each other.
If you're wondering if they can get any better, the answer is yes.
Playful Personalities
Eric and Jessie's show on E! showcases their goofball personalities so well. Obviously, a reality show emphasizes personalities to a greater extent than normal, but there's something about Eric and Jessie's personalities that seem so down to earth. Even though they are always there for each other during serious times (like when Eric was released from the Jets), they're also down to joke about anything and everything. Like I said before, they both have two insanely successful, time-consuming, and often intense careers, but they manage to still find time to be a "normal" couple. It's nice to know that what makes their relationship (and any relationship) so perfect is their ability to share their full selves with each other, goofy sides and all (which you can watch here and here).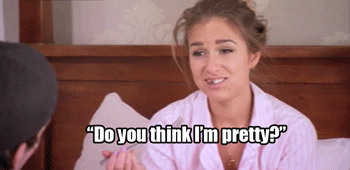 Family First
Jessie and Eric's relationship is amazing with just the two of them, but adding their two kids into the equation makes their relationship even greater. They have a daughter named Viv, a son nicknamed "Bub," and another baby on the way (watch these cuties here)! Since their kids are so young, Eric and Jessie's energetic personalities appear even stronger in all of their parenting skills. The best aspect of the show is defintley how important family is to Eric and Jessie. Whether building a crib for Jessie's pregnant sister, celebrating their Viv's birthday, or pranking each other, it's sometimes hard to remember Eric and Jessie are reality stars. When you watch the show, checks out their social medias, or read interviews with the Deckers, you notice they mention family in one way or another. Since their love of family is incredibly relatable to the average person, it's hard not to love them even more. 
So now that you're more up to date with this power couple, I suggest you cancel all of your weekend plans and start watching Eric and Jessie. You've got a lot of football, country music, and family time coming your way.