5 Halloween Classics: Spooktacular Throwback Movies
October is my favorite month for many, many reasons. First of all, the month of October means pumpkin flavored everything, haunted corn mazes/hayrides, and pulling together a (when I have time) creative costume. I also love October because everything about Halloween brings me back to when I was little. With the list below, I hope everyone can feel nostalgic when you sort through some of my favorite Halloween movie picks from the 90s and early 2000s. Don't worry, if you're more about the holiday movies, a throwback list will be on its way soon-ish!
Hocus Pocus (1993)
I don't care if I'm unoriginal for putting this movie at the top of my list. Every time I hear a friend say, "I've just never wanted to watch Hocus Pocus," my heart aches for them because they are truly missing out! Between Sarah Jessica Parker's role as a ditzy sidekick and Bette Midler's witty one-liners, it's hard not to fall in love with every character in this movie. Plus, every ounce of clothing in Hocus Pocus screams the 90s, so you'll feel like it's Halloween circa '99 (or even the early 2000s) in no time.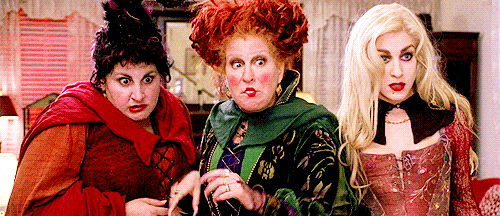 Halloweentown (1998)
So, this pick might be even more unoriginal than my choice above, but every fan of Disney Channel Original movies will vouch for this one. This movie is one of my favorites because the vibe is pretty light-hearted, but there are also some undebatable scary moments (the part where everything in the town turns black and white, anyone?)! I love this movie so much that I can already guarantee my future kids will be comfortably pressured into watching this movie every October.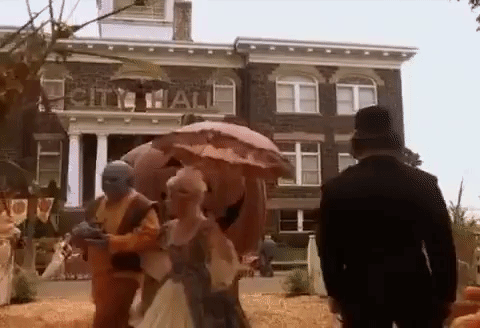 Casper Meets Wendy (1998)
Obviously, watching Casper the Friendly Ghost is on the top of the list for any Halloween movie fanatic. However, Casper Meets Wendy is on a whole other level because a young Hillary Duff is one of the lead characters! Casper is already the cutest ghost around, but Hillary Duff gives Casper a run for his money when she plays an equally cute witch in this flick. Whether you're watching this Halloween movie when you're babysitting your professor's kids, or taking a chill night for yourself, this movie will put you in the festive Halloween mood (without scaring you in the slightest bit).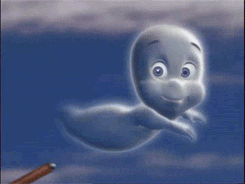 My Mom's Got a Date with a Vampire (2000)
Even though I can't remember the plot very well, I'm pretty sure a mom is somehow romantically involved with a vampire (her son definitely has something to do with the unfortunate situation). I do remember that this Disney Channel Original movie was definitely on the spookier side, so make sure to keep your roommate close when traveling back to your childhood movie days. Looking back, I remember wondering how in the world this mom did not see any red flags. Though, in the age of Tinder, I now see where this woman was coming from.
Practical Magic (1998)
If you're in the mood for Nicholas Sparks, but are also craving some Halloween themed goodness, you have to watch this rom-com. Sandra Bullock and Nicole Kidman play two sisters, who are both dealing with some unusual relationships problems. But, before you think this is just about any other romantic comedy, you'll be happy to know that they're both witches! If you're looking for a laugh, I would definitely choose Practical Magic (after watching Hocus Pocus, of course!).

Whether you're a Halloween lover or not, I hope some of these movie options gave you a little glimpse back to trick or treating again. Because even if you don't love Halloween, who doesn't love reminiscing about free candy?