Valentine's Day can be a tricky holiday when it comes to gift-giving. Some people like to keep it simple, while others expect you to pour your heart out to them in one big, romantic gesture. 
Don't know what to get a friend or significant other for the day of love? You'll find your answer in the stars – literally. Here's what Valentine's Day gift is best for each Zodiac Sign!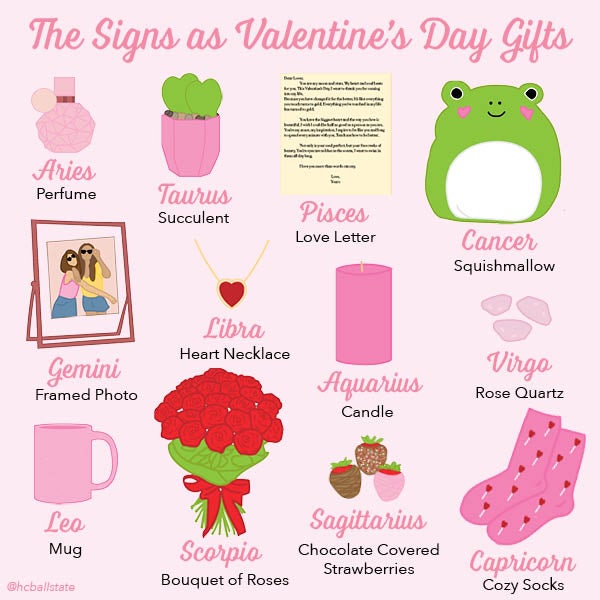 Aries (March 21 – April 19): Perfume
As the leaders of the zodiac signs, Aries are all about making a bold first impression. For Valentine's Day, pick out a bold yet sweet scent for the bold yet sweet ram in your life! Think scents like amber, vanilla, or anything with a sweet, woody scent!
Taurus (April 20 – May 20): Succulent
Taurus' are not your average valentine – they want something unique! They're reliable, ambitious, and hardworking. Show the Taurus in your life you value these qualities with a funky succulent.
Gemini (May 21 – June 20): Framed Photo
Looking for a way to show your appreciation for your Gemini friend/significant other? A framed photo of the two of you is the perfect way! Gemini's are natural socialites and love spending time with people. Remind them of this positive quality through a special photo and cute frame. 
Cancer (June 21 – July 22): Stuffed Animal
Cancer's are the softies of the zodiac signs – they're sensitive, caring, and very loyal. No matter the age of the special Cancer in your life, a stuffed animal will make any Cancer gush! Consider buying a classic teddy bear or a Squishmallow!
Leo (July 23 – August 22): V-Day Mug
Outspoken, dominant,  and a natural born leader, Leo's start each day with success in mind. Every successful leader starts their day with a cup of coffee, right? Consider buying a cute Valentine's Day themed mug for that loud and proud Leo in your life!
Virgo (August 23 – September 22): Rose Quartz
A Virgo's vibe is unmatched – they're lovers of beauty, life, and love itself! Rose quartz is a strong crystal that's purpose is rooted in love, peace, and healing. Purchase some rose quartz for the Virgo in your life to keep this magnetic sign's energy protected! 
Libra (September 23 – October 22): Heart Jewelry
Dreamy, all about compromise and kindness, romance is a topic that Libra's could rule. Treat the special Libra in your life to a gorgeous heart shaped necklace or ring this Valentine's Day. To make this gift even more special, consider getting a locket and putting a photo of you two in it!
Scorpio (October 23 – November 21): Bouquet of Roses
Scorpio's are passionate and intense – wowing one might seem intimidating. But, a bouquet of red roses will make any Scorpio's heart swoon. This is a classic, yet timeless gift for this powerful sign. 
Sagittarius (November 22 – December 21): Chocolate Covered Strawberries
As the third fire sign, Sagittarius' are just as bold and independent as the other two! Get the special archer in your chocolate covered strawberries (and if you're feeling as bold as Sagittarius, try to make them yourself!) This will make this adventurous and open-hearted sign satisfied. 
Capricorn (December 22 – January 19): Cozy Socks 
Capricorns are known for their analytical and structured spirit. They follow rules, work hard, and are well deserving of a cozy pick me up. Buy some cozy Valentine's Day socks for the hard working Capricorn in your life! 
Aquarius (January 20 – February 18): Candle
Known for being the "cool kids" of the zodiac, Aquarians are trendsetters. Find a unique smelling candle for that cool Aquarius in your life. Look for a scent that has a floral or fresh smell for this air sign. 
Pisces (February 19 – March 20): Love Letter
Pisces is the hopeless romantic of the zodiac – they're known for being sensitive daydreamers who feel their emotions deeply. Writing a passionate love letter is the perfect way to impress that special Pisces in your life. Don't be afraid to be sappy!