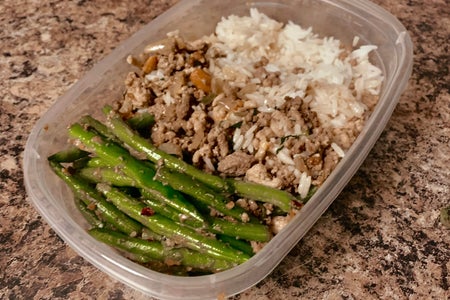 Original photo by Miryam Bevelle
This week I can't take any credit for the meals that you're about to read below, as my awesome boyfriend Trenton is the one responsible for this week's yummy meal prep. In contrast to my last article, my lack of cooking my own meal prep has nothing to do with my lack of motivation and more so with my lack of time. With the end of my in-person portion of this semester coming to a close, I find myself busier than ever trying to accomplish as many things in-person as I can before various facilities and amenities on campus come to a halt until mid-January.
I am super grateful and lucky to have a boyfriend who is willing to prep my meals for me during this busy week, and since he's a better cook than I am, his meals were much fancier and also tastier than what I could have whipped up! While this title might say 'Meal Prep with Miryam', you guys are getting a special edition of what it's like to prep with Trenton instead! Keep reading to see what he made for me this week!
Breakfast – Turkey Sausage and Veggie Omelet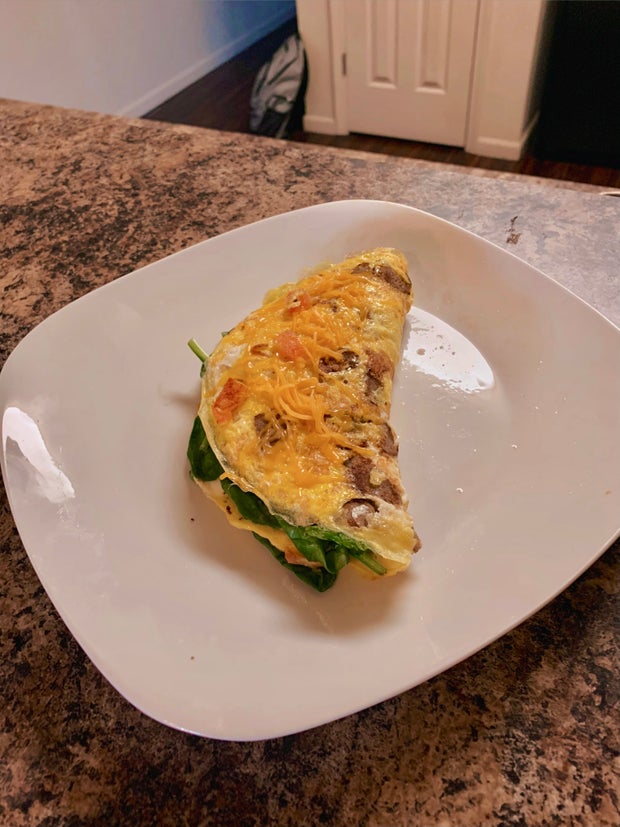 Original photo by Miryam Bevelle
Ingredients:
2 Eggs

3 Turkey Sausage Links, Sliced

½ Roma Tomato, Diced

Handful of Spinach

Pinch of Shredded Cheese

Add Salt and Pepper to Taste
Total Calories: 376 calories
Rating: This is the only meal that I actually am making for myself this week, but it's not exactly prepped to be fair. I simply make this super quick in the morning before I head out for the day because it's super easy to make and the end result always looks super pleasing. My favorite thing about an omelet is that you barely do anything to the eggs in the skillet until the end when you fold your omelet, and it looks so put together after such little effort. Definitely giving it an 8/10!
Lunch- Thai Inspired Basil Chicken with Green Beans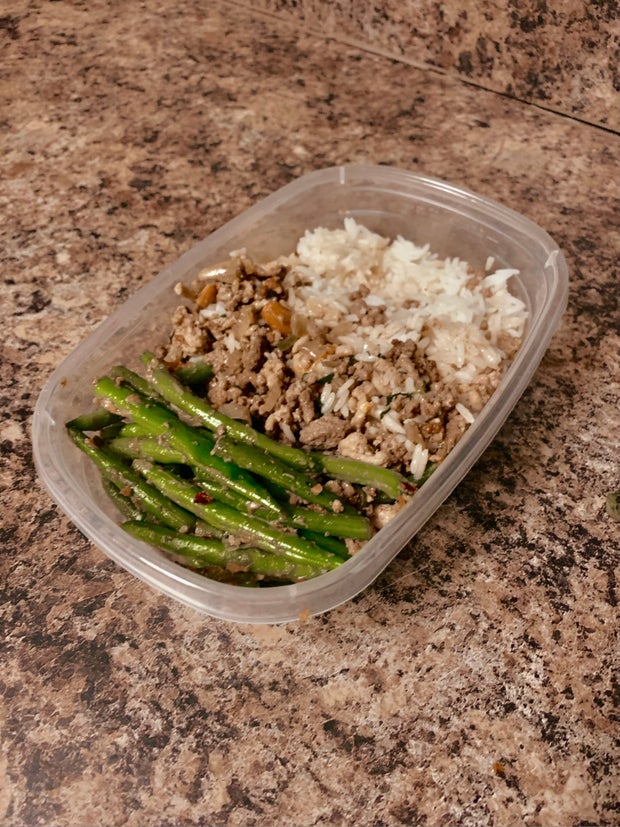 Original photo by Miryam Bevelle
Ingredients:
2 lbs ground beef

2 lbs ground chicken

3 tbsp rice wine vinegar

3 tbsp soy sauce

3 tbsp sombal chili paste

2 tbsp fish sauce

1 tbsp oyster sauce

2 onions

4 jalapeños

5 cloves of garlic

Stems of cilantro chopped

Stems of basil

1 tbsp ginger paste
Green Beans Sauce:
2 Packages of Green Beans

Peanut Butter (crunchy or add crushed peanuts)

Rice Wine Vinegar

Soy Sauce

Salt to taste
Total Calories: 566 calories
Rating: I am obsessed with this meal in all honesty. I'm a sucker for your basic meal prep build of rice, meat, and a green veggie, but this meal takes it a whole step further. The amount of flavor that the ground chicken has just permeates all of the white rice below it. I'm usually not a fan of super saucy veggies, but this peanut sauce on the green beans tastes so good when you get a bite of it with the rice and chicken on your fork. 9/10 for Trent!
Dinner- Three Bean Chili with Ground Beef and Chicken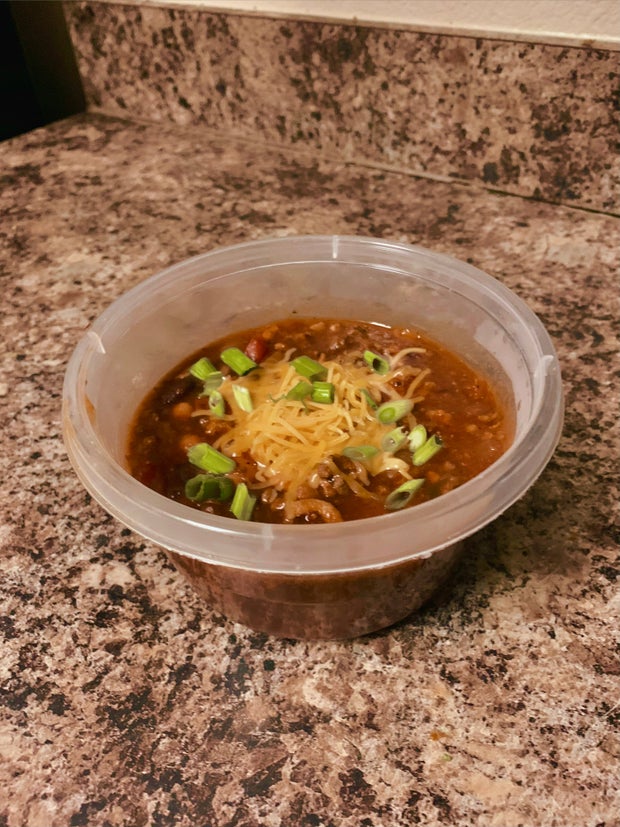 Original photo by Miryam Bevelle
Ingredients:
3 oz dried ancho Chili's

1.5 oz guajillo chili's 

 1.5 oz Chili's de Arbol

6 cloves of garlic

2 tsp cumin

1 can of beer (optional)

2 tbsp tomato paste

1 large can of crushed tomatoes

1 can black beans

1 can red kidney beans

1 can pinto beans

2 onions, diced

8 Roma tomatoes

2 lbs ground beef

2 lbs ground chicken

1 carton beef stock
Total Calories: 624 calories
Rating: For the amount of time that this chili took to develop flavor over low heat, it definitely earns it rating. It is so full of hearty foods and gives me so much nostalgia. When I take a bite of this chili, all I can think of is all of the times that I would sit around the table with my family as a kid eating homemade chili. You just can't go wrong with a homey meal for meal prep as this weather gets so chilly and brisk. 10/10 for flavor, effort, nostalgia, you name it. I loved this one!
My Tip for the Week:
Don't be afraid to admit when you're too busy to complete all of your weekly tasks by yourself! Accept help where it is offered. Trust me, if it weren't for Trent offering to prep all of our meals this week, I probably would have ended up in more drive-thru lines than I would have liked.