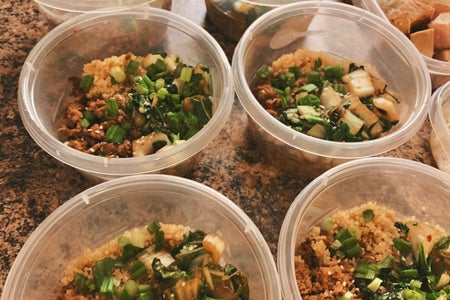 Original photo by Miryam Bevelle
I'm not going to lie; this week has been rough. From heightened emotions due to an insane election week to being super burnt out and ready for this semester to be over, I have been experiencing an overall lack of motivation. I didn't go to the gym at all the past week, and I stayed in for a lot of meetings that I typically attend in person. But that's alright, I knew I needed a break and let myself have it without beating myself up for an unproductive week compared to my usual grind. My old self in high school would be so proud of how I listen to my mind and body now compared to how I used to be.
What I realized is that despite my lack of exercise this past week, I still felt motivated to eat properly throughout the week because I had put in the work to prepare all of my meals. If I had not already meal prepped, I probably would have found myself scrolling through Door Dash's app to avoid cooking anything while I was experiencing my motivational slump. This is why I am always working hard to educate myself, and others, on the importance and benefits of meal prepping. My body definitely thanked me for still eating nutritiously, and it motivates me to continue to eat balanced meals no matter what my week looks like.
Breakfast – Multigrain Bagel with Apple Butter and Boiled Eggs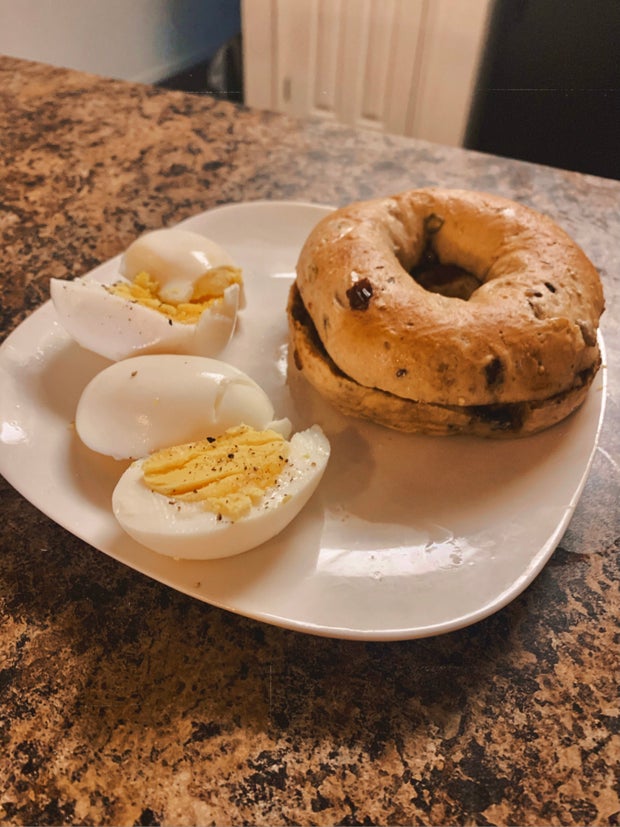 Original photo by Miryam Bevelle Ingredients:
1 L'oven Fresh Harvest Multigrain Bagel

1 Tbsp Berry Hill Apple Butter

2 Eggs

Add Salt and Pepper to Taste
Total Calories: 445 calories 
Rating: Arguably one of the easiest meal preps I have ever done for breakfast. The only preparation for this meal is to have your eggs medium-boiled and stored for the week so you can pop them in the microwave in the morning to achieve a perfect hard-boiled egg. That being said, I give this meal a solid 9/10 because of how easy it was to prepare. I'm also a sucker for slathering apple butter on my bagels so overall, it's a winner!
Lunch- Korean Ground Turkey and Quinoa Bowl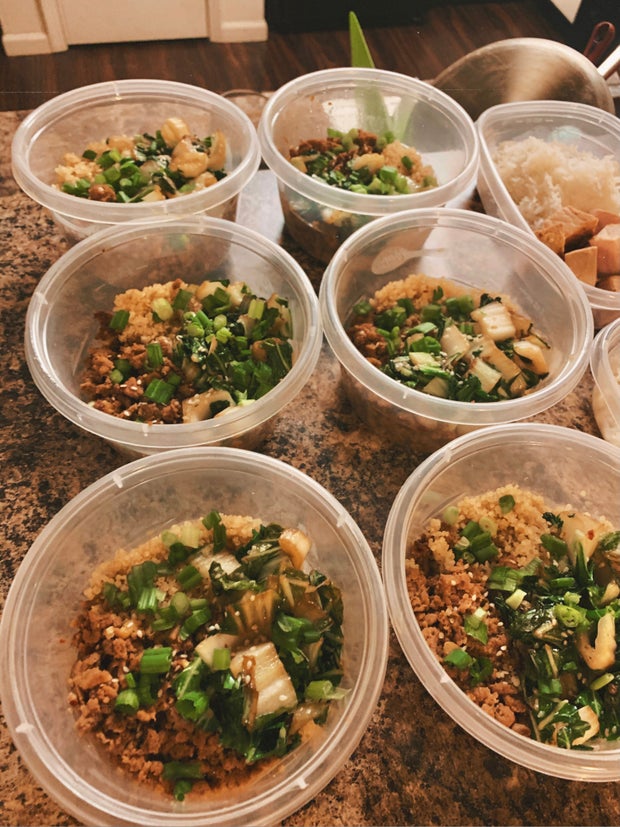 Original photo by Miryam Bevelle
Ingredients:
½ Cup Organic Quinoa

6 Oz Fresh 99% Lean Ground Turkey

1 Tbsp Vegetable Oil

1 Tbsp Green Onion, Thinly Sliced

1 Cup Bok Choy, Chopped
Marinade Ingredients:
¼ Tsp Fresh Minced Ginger

3 Fresh Garlic Cloves, Minced

1/3 Cup Light Brown Sugar

½ Cup Low Sodium Soy Sauce

1 Tbsp Sesame Oil

Seasonings: Red Pepper Flakes, Sesame Seeds, Salt, and Pepper.
Total Calories: 578 calories 
Rating: I decided to try my own spin on one of Smile Sandwich's recipes for ground turkey bowls because the photo in the recipe looked so yummy. I had NO IDEA how good this marinade would taste on ground turkey, but my unseasoned quinoa made the dish lack some seasoning overall, making this meal a 7/10 for me. What I enjoyed most was being able to cook this entire meal super quickly because it didn't require any cutting for the meat, and I was able to cook most of it in one pan!
Dinner- Pork and Pico de Gallo with White Rice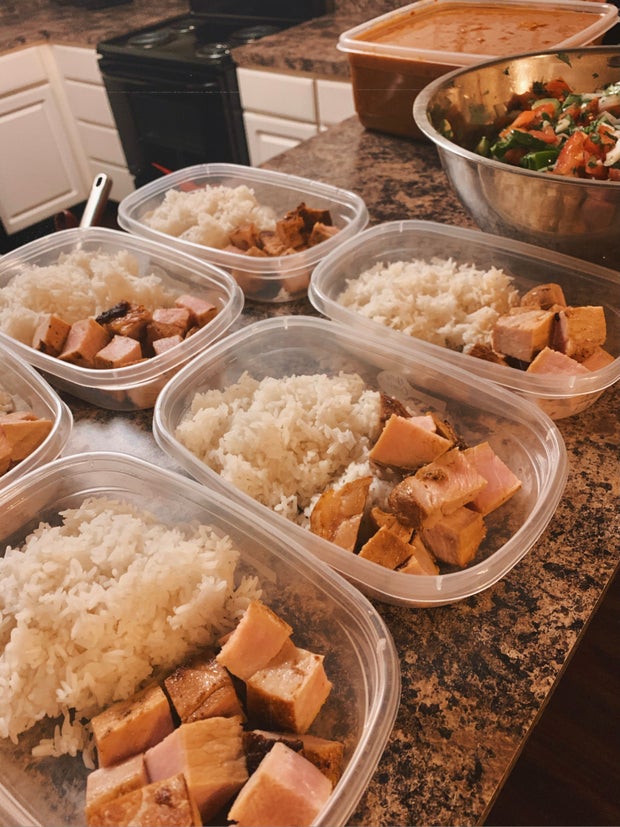 Original photo by Miryam Bevelle
Ingredients:
1 Cup White Rice

6 Oz Pork Loin
Pico de Gallo Ingredients:
Roma Tomatoes

Green Peppers

White Onions

Jalapenos

Garlic Cloves

Lime Juice

Salt to taste
Total Calories: 484 calories
Rating: This week I actually didn't prepare my dinner because my boyfriend decided to make a double batch of his dinner meal prep so that I could have some! One of my favorite things that I grew up eating in a Filipino household was white rice with some homemade Pico de Gallo on top of it. My boyfriend has also learned to love it and implements it into his meal prep sometimes! He decided to prepare this meal with some pork loin, and it is SO good. Easily 9/10.
My tip for the week: 
Prepare a meal that includes a favorite staple or traditional food that reflects your culture or something you always loved eating growing up. Afterall, food is the easiest way to embrace and show off your culture!