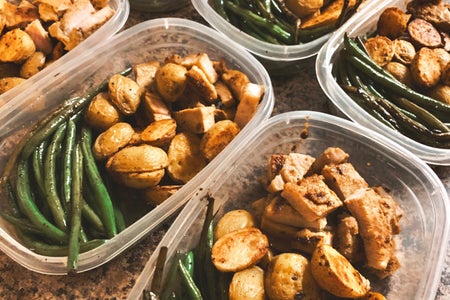 Original photo by Miryam Bevelle
If you've read my previous Meal Prep with Miryam article, you'll begin to notice that there is a trend in the calorie amounts for my meals. I usually have lower calorie amounts for breakfast and higher calories for my lunch and dinner. My reasoning for this is because I'm always on the go for breakfast, and much like many other college students, I tend to not be very hungry for breakfast on most days.
A normal response to having a low appetite in the morning might be to skip breakfast altogether, but a healthy habit to integrate into your daily eating is to make sure you start the morning with breakfast in order to wake up your metabolism. As a student this is important because getting nutrients first thing in the morning helps stimulate brain functions, making you feel more productive and even enhancing performance in the classroom––whether you're online or in person.  Keep reading to see what I meal prepped this week!
Breakfast: Sriracha Egg Breakfast Sandwich with Turkey Sausage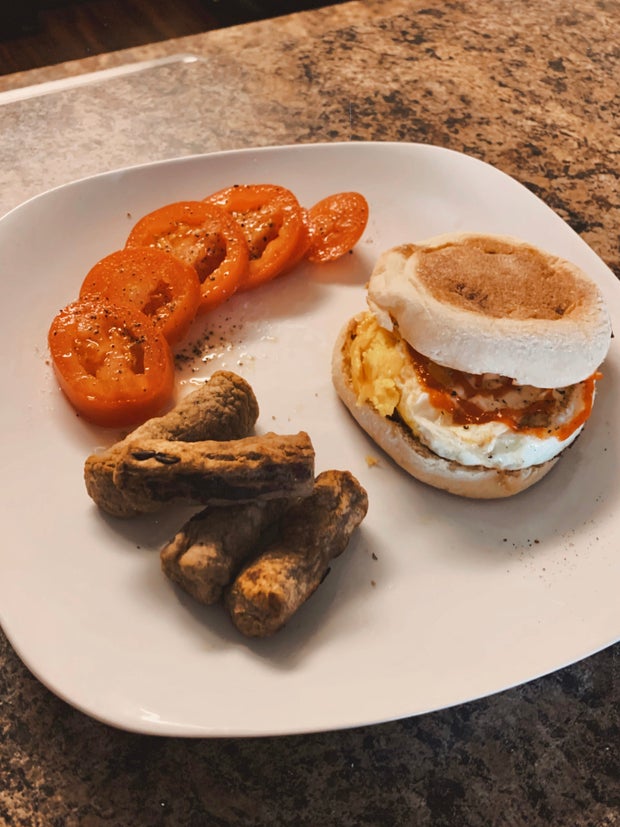 Original photo by Miryam Bevelle
Ingredients:
1 L'oven Fresh English Muffin

1 Large Egg

3 Breakfast Best Turkey Sausage Links

1 Medium Roma Tomato

1 Tsp Sriracha Chili Sauce

Add Salt and Pepper to Taste
Total Calories: 325 calories
Rating: This super quick breakfast sandwich plate is coming in with a hot rating of 8/10 merely for the fact that it is so low calorie and budget friendly. I've been super busy in the mornings these past couple of weeks so I made sure to plan a breakfast meal that would be super quick to assemble in the morning. The only downside is that it isn't the best meal to prepare beforehand, unless you want a soggy english muffin!
Lunch: Honey Mustard Pork & Potatoes with Balsamic Green Beans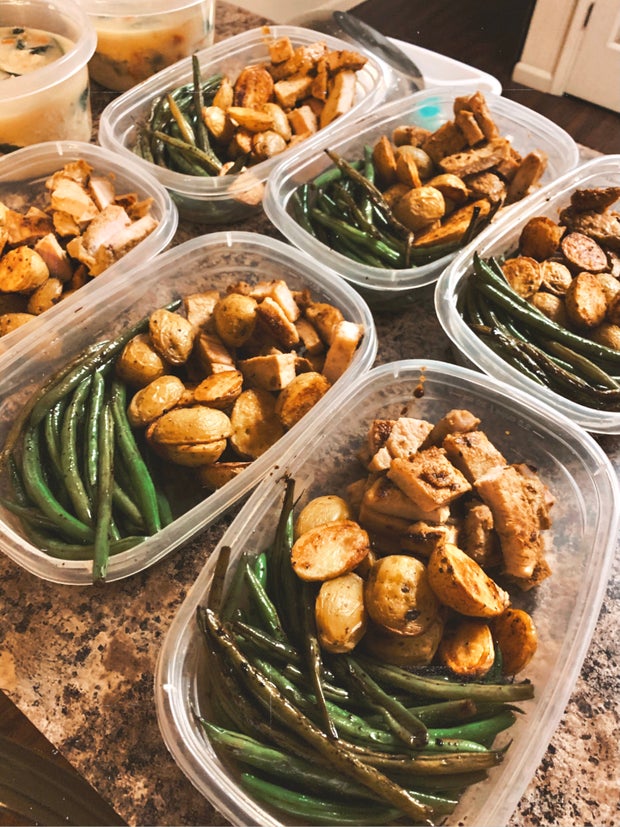 Original photo by Miryam Bevelle
Ingredients:
½ lbs Center Cut Pork Chop

1 Tsp Dijon Mustard

1 Tbsp Honey

½ Cup Fresh French Green Beans

2/3 Cup Boomer Gold Potatoes

2 Tbsp Olive Oil

Spice Mix: Onion Powder, Garlic Powder, Oregano, Salt, and Pepper.
Total Calories: 610 calories
Rating: Considering that I am not usually a fan of mustard on most things, it's surprising to award this a solid 6.5/10. It's lower than I thought I would rate it honestly, because I was excited to try a new marinade for pork chops. In the end, it was a messy marinade to use and made the chops stick to my pan more than I would like, but the super crispy Boomer Gold potatoes made this meal so worth it!
Dinner: Chicken and Rice Soup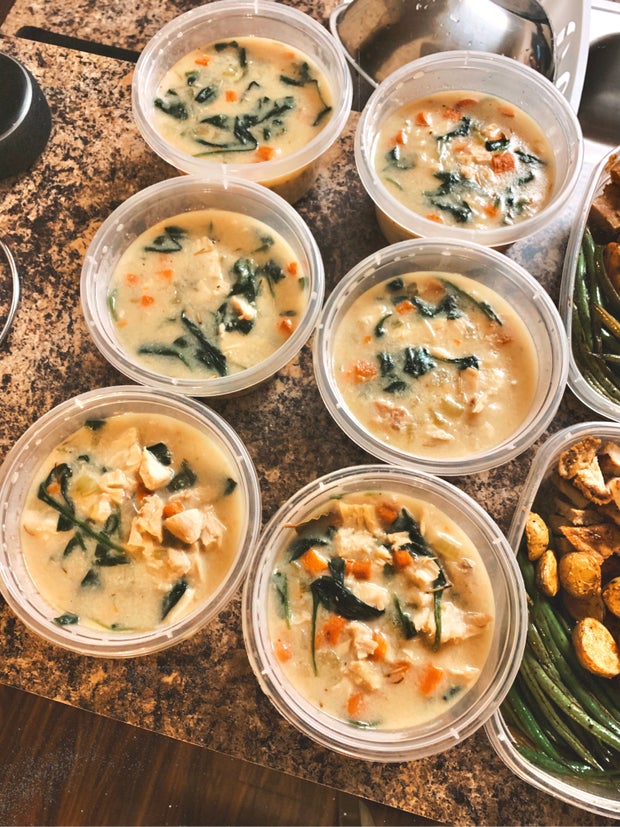 Original photo by Miryam Bevelle
Ingredients:
2 Tbsp Olive Oil

1 White Onion

5 Medium Carrots

3 Celery Stalks

6 Garlic Cloves

½ Cup of All-Purpose Flour

8 Cups of Chicken Stock

2 lbs Boneless Skinless Chicken Breasts

2 cups Uncooked White Rice

1 Bag of Spinach

3 Cups of Skim Milk

2-4 Bay Leaves

1 Tbsp Rosemary

Add Salt and Pepper to Taste
Total Calories: 640 calories
Rating: I wanted something cozy this week for my dinners to combat this super chilly weather, so what better meal to make than soup? While this meal has a long ingredient list, the taste makes it worth the time to develop this meal. I'd give this a solid 9.5/10. If you're a lover of Chicken and Wild Rice soup, or Chicken and Dumplings, this recipe may be right up your alley! I used Gimme Some Oven's recipe for inspiration.
Undoubtedly my favorite meal this week as an avid soup-lover is my dinner meal prep. Sometimes it's fun to create meals from a complicated recipe over having a simple meal if it means you'll taste more flavor. When using an online recipe, I try to be less worried about making sure that every ingredient in my meal prep is organic or wholesome, as long as my meal overall is full of nutrients. This soup recipe is a great example! While I could have used more wholesome rice, I stuck with the budget friendly option of using regular white rice. I still subbed out regular milk for skim milk and made sure to use more vegetables and chicken to meet my macronutrient goal. 
My tip for the week: If you haven't meal prepped before, or you want to try something new, start by finding a recipe that sounds good to you and put your own spin on it based on your eating habits and goals.