I will be open in admitting that I love fashion. I love people's thoughts and views of themselves in their best outfits, and I seek confident views in their worst outfits. Everybody is beautiful and every body is beautiful, inside and out. Let me freely mention that fashion is your daily costume in your daily character development. You are the main character in your day-to-day life, and that is something that is absolutely worth protecting.
My personal favorite part of fashion is accessories. I know you could have been thinking pants or shirt or something like that, but it's truly accessories. I'm no fashion icon because I worked at Gap for a while, and STILL follow the Starbucks employee color palette, but I like to mix and match to add a little pop of personality here and there. Without further ado, here are a few of my favorite accessories that complete your perfect "lewk":
Belt 
Everyone loves a good belt. Shoelace, waist chain, leather, cinch, you name it, and it's perfect. So long as you feel good, that is something that should never be swept under the rug. I wear belts with every outfit because I feel better knowing my pants NEVER have the unknowing probability of falling down. I enjoy the peek of a nice belt buckle that adds a small shine to match with jewelry or shoe eyelets.
Watch
I personally love watches. They make me never late (unless they're running slow, or I'm truthfully running late) and look super professional. Apple, Fitbit, or Rolex, you're down to look gangster as all get out when you're sporting your favorite watch. I have a custom black leather watch my mom gifted me in Switzerland, and I have never seen watches the same. Nothing like something made with heart and complexity hits quite like a watch.
Jewelry of any kind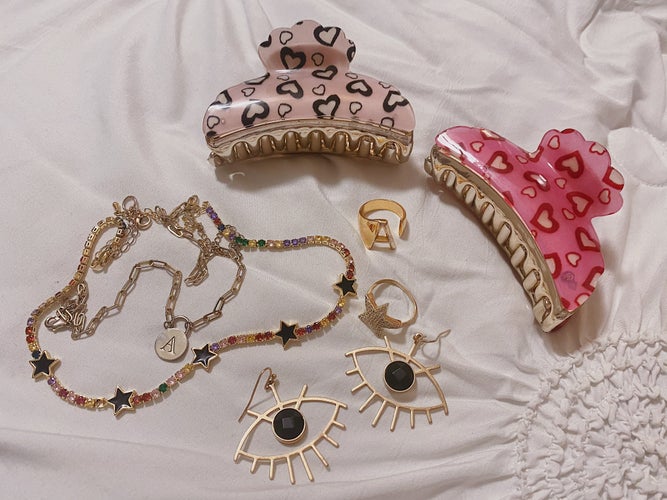 I never take off my jewelry, but having a good necklace, a pair of earrings, or even a bracelet adds so much personality to your outfit. Your non-verbal self-expression through your outfit is now heightened through your jewelry. It is also an amazing conversation starter as well. I wear a jellyfish necklace every single day, and I either receive compliments or questions wondering what it is.
Purse/Bag
I never carry a purse anymore, but I did become best friends with my sling bag. Knowing that women's pants do not come with respectable pockets, a purse or bag is necessary for taking your wallet, keys, and your favorite pack of gum (don't get caught without fresh breath). They're a hassle and way too easy to collect, but they make an outfit look absolutely killer, no matter what. I love vintage bags and how people pair them with any and everything. Talk about reduce, reuse, recycle!
5. Smile
It's basic, I know. Please don't roast me in the comments. But it's my favorite thing someone has. I love when people are happy with their looks and feel good with the people they're with. There are plenty of times when I fear that my outfit is not right or someone is going to say something about what I'm wearing. Showing your orthodontics and clean teeth will make you and your dentist feel good. It's bound to happen.
As someone who loves fashion, but wears bookstore and coffee shop colors, I find comfort and expression through accessories. Whether you take some of my favorites or not, you are always beautiful in what you wear. Never let anyone else dictate your day by their insult or comment. You put this on for a reason, so rock it out! If you have any favorites that you'd like to share, let me know in the comments below, or my socials are linked to my profile.