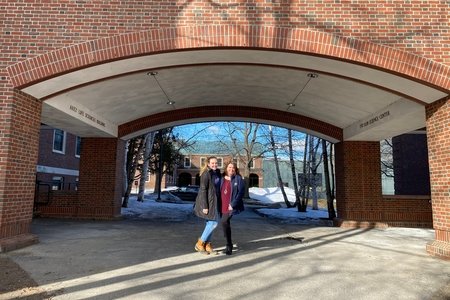 Three Reasons Why My Mom Is the Best
With Mother's Day right around the corner, it is only right that I dedicate one full article to why my mom is the best mom ever.
1.

She Puts Her Kids Above Everything Else

This past year has been difficult for us as a family. When my Dad fell ill, my mom was the first person there. She made a case with the doctor that my dad was the best father and that my brother and I needed him. When I fell ill only a few weeks ago, my mom was there with medication to make my pain go away. During this quarantine my mom put all of us in a group text so we can check in with everyone every morning to make sure we are all ok. These are just some examples of the many times my mom has put us first over everything else. 

My mom has saved me more times than I can count, but that doesn't mean she didn't leave me stranded a couple of times. There was one time where I pulled a stunt in high school and she made me walk the two miles all the way home so I could learn my lesson. She did this so that in the future I wouldn't make the same mistake again. I never saw the times where she was teaching us lessons as protection until I got older and knew better, but at the time I was pretty ticked off at her. Not only did she protect us by teaching us lessons but there were times where she shielded my brother and I from a lot of stuff that was going on in the world and in our lives so that we didn't worry and enjoyed being kids. While most kids in high school got a job at sixteen, I was playing sports because my mom wanted me to have a normal childhood and not have to start working so early like she did. I found out that my high school cafeteria hired students to work during their lunch hour, my mom helped me study to get my food handlers card and I was able to work in my school cafeteria while still having fun as a highschooler. I would get so mad at my mom when she didn't like my friends or didn't like the person I was dating, but somehow, she was always right about these people. She knew before I knew that these people were a bad influence and  didn't line up with my character, personality, morals or values. She wanted me to become the best version of myself which she did by protecting my brother and I from all of the bad out there. 

3.

Her Endless Supply of Love 

As stubborn as I am, I know that my mom loves me, even if I don't see it that way. I didn't understand until I was older and had the ovaries to stand up...if you know what I mean, to know that her anger comes from a place of concern, her disappointment comes from a place of acknowledging  my worth, and her  groundings and punishments were ways to install character in me. All of these things are ways that my mom shows love. When I feel like she is projecting feelings and emotions onto me, which granted sometimes I'm just being stubborn and think that's what she is doing, I remember that it comes from a place of love. When she is screaming cuss words at me about studying and doing homework, I realize that she just wants what is best from me. When she expresses how disappointed it is because she knows I can do better and am capable of so much more than what I presented. Even though I don't see it all the time, I know she always loves me. It's like a blanket of comfort knowing that she has an endless supply of love to give to her kids. 
For this Mother's Day, my mom deserves much more than an article of compliments. She deserves the world, a nice dinner and a day of whatever she wants to do.. But I know these are words that I can give her right now as a Mother's Day gift. I wanted to let people know that my mom is the best every day but especially this Mother's Day.