Healthy pancakes with the most decadent taste and aroma… What else do you need for your autumn mornings this season? As the weather begins to cool, cozy up with a hot beverage and a stack of these delicious (and healthy) pumpkin pancakes. Pancakes have been the go-to weekend breakfasts in my apartment, but my health-minded self wanted to find the perfect pancake recipe that my roommates would love and so would our bodies. After testing tons of recipes made by Instagram recipe creators and health bloggers, this recipe by Rachel Mansfield took the gold.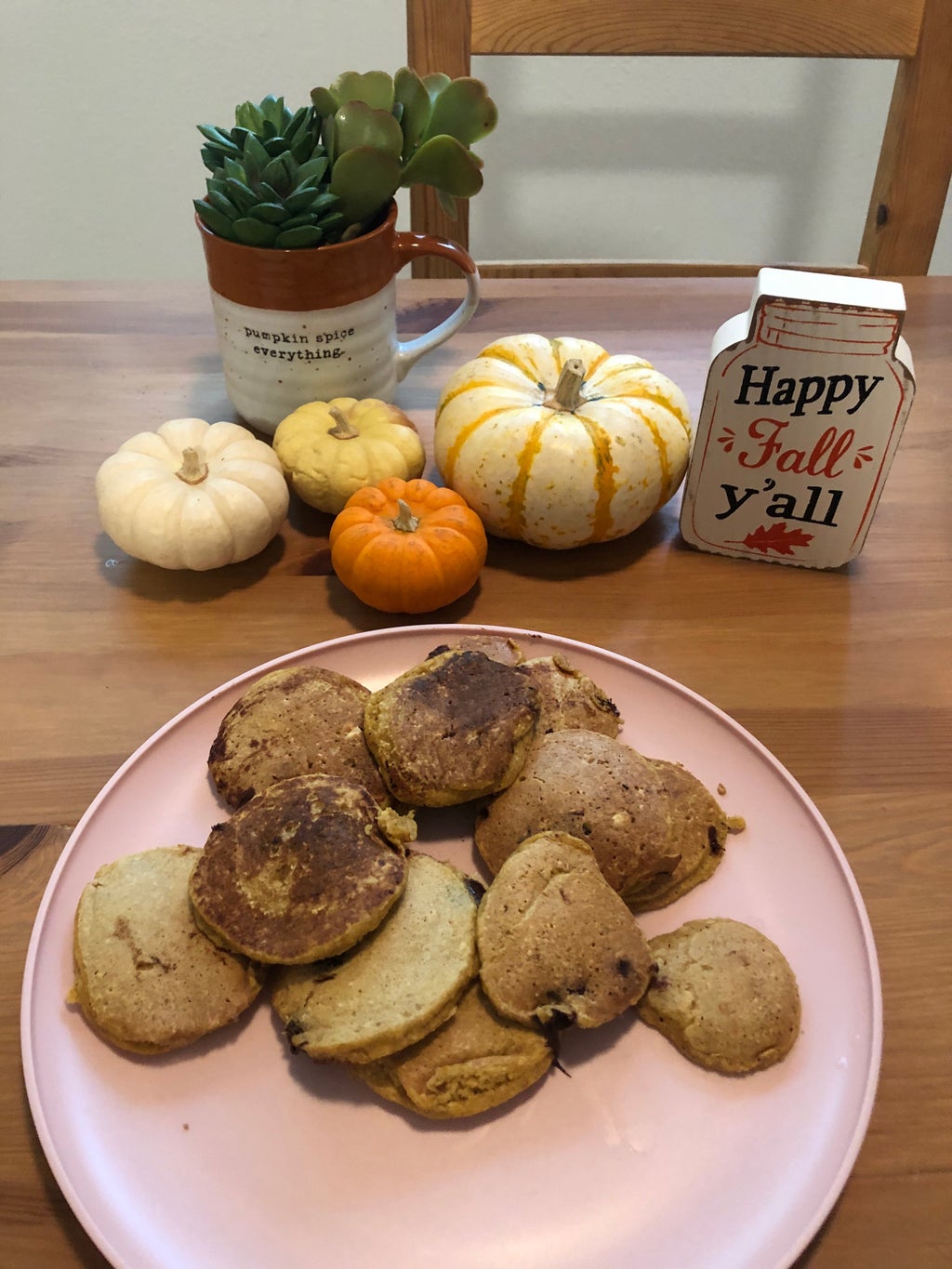 Original photo by Brooke Sagun
Not only are these pancakes gluten-free and dairy-free, they are so delicious and your kitchen, without fail, will smell like a fall-scented candle for the rest of the day. The pancakes can also easily be made sugar-free by omitting the maple syrup and vegan by omitting the eggs in exchange for flax eggs. It is so versatile and perfect for anyone who struggles with any dietary issues or limitations but still wants to enjoy a good stack of pancakes. My favorite part is that it makes so many pancakes, so you can freeze the extras and warm them up in a toaster for a delicious breakfast throughout the week (or eat them in one sitting)! 
Let's start off with the ingredients. You need: 
1 cup non-dairy milk – we have used vanilla flavored almond and oat milk and both turned out equally delicious! Coconut milk and flax milk should work well, too.

⅔ cup pumpkin puree – look for canned pumpkin puree that only has one ingredient: pumpkin. Many canned goods add unneeded sugars and preservatives.

2 eggs – or flax eggs if you're vegan!

2 tablespoons maple syrup – while I love a touch of maple syrup, you can omit for a more savory and sugar-free pancake recipe.

1 teaspoon vanilla extract 

2 cups gluten-free oat flour – you can always buy oat flour, but blending up gluten-free oats until they turn into a flour consistency is an easy and cheaper alternative.

1 teaspoon baking powder

1 teaspoon pumpkin pie spice – the most important flavor, especially for the yummy aroma 

While the recipe does not call for it, we always add chocolate chips and many extra dashes of cinnamon into our recipe
Step 1:
​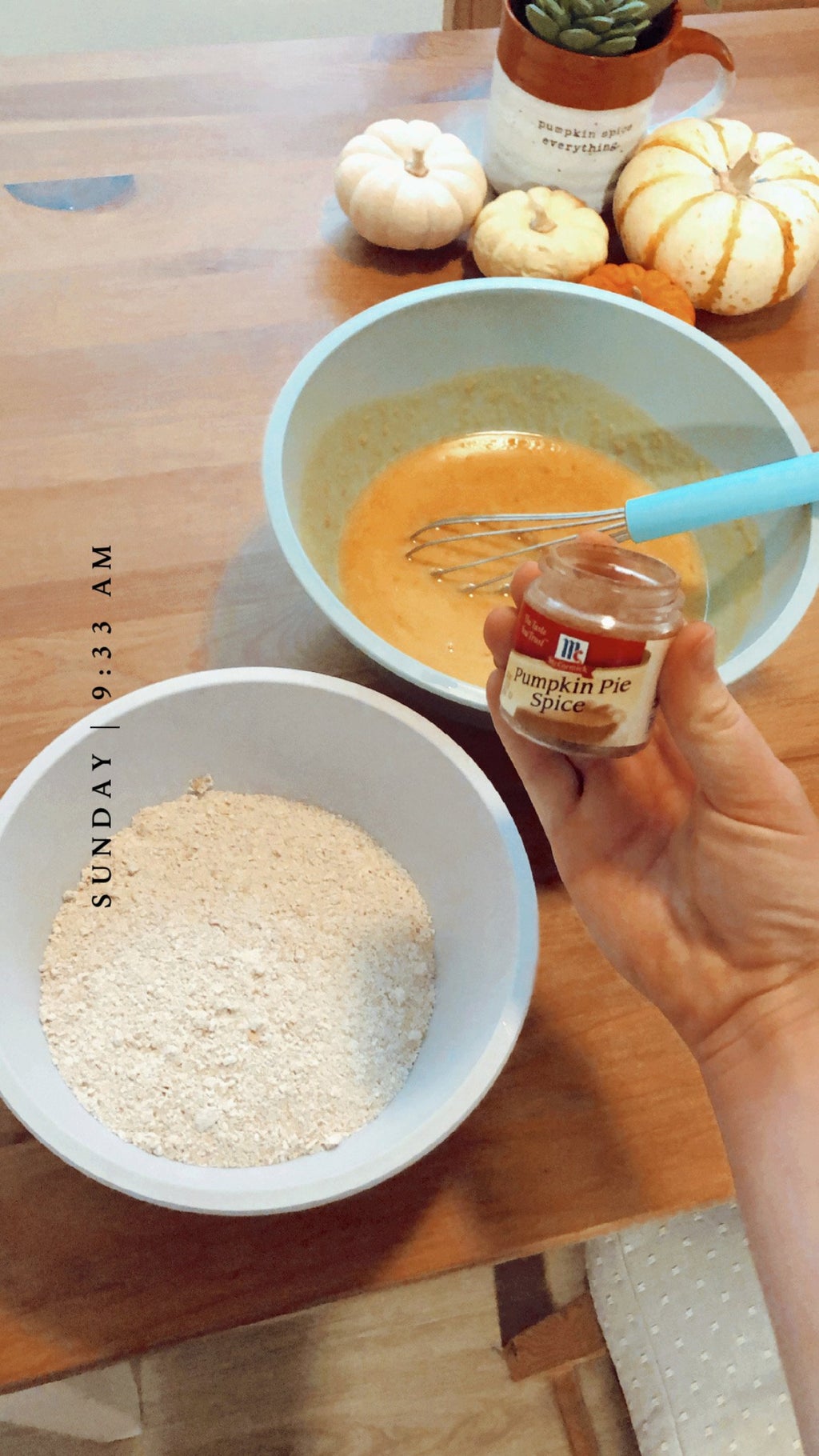 Original photo by Brooke Sagun
In a medium-sized bowl, mix together the flour, baking powder and pumpkin pie spice until there are no more clusters of flour.
Step 2: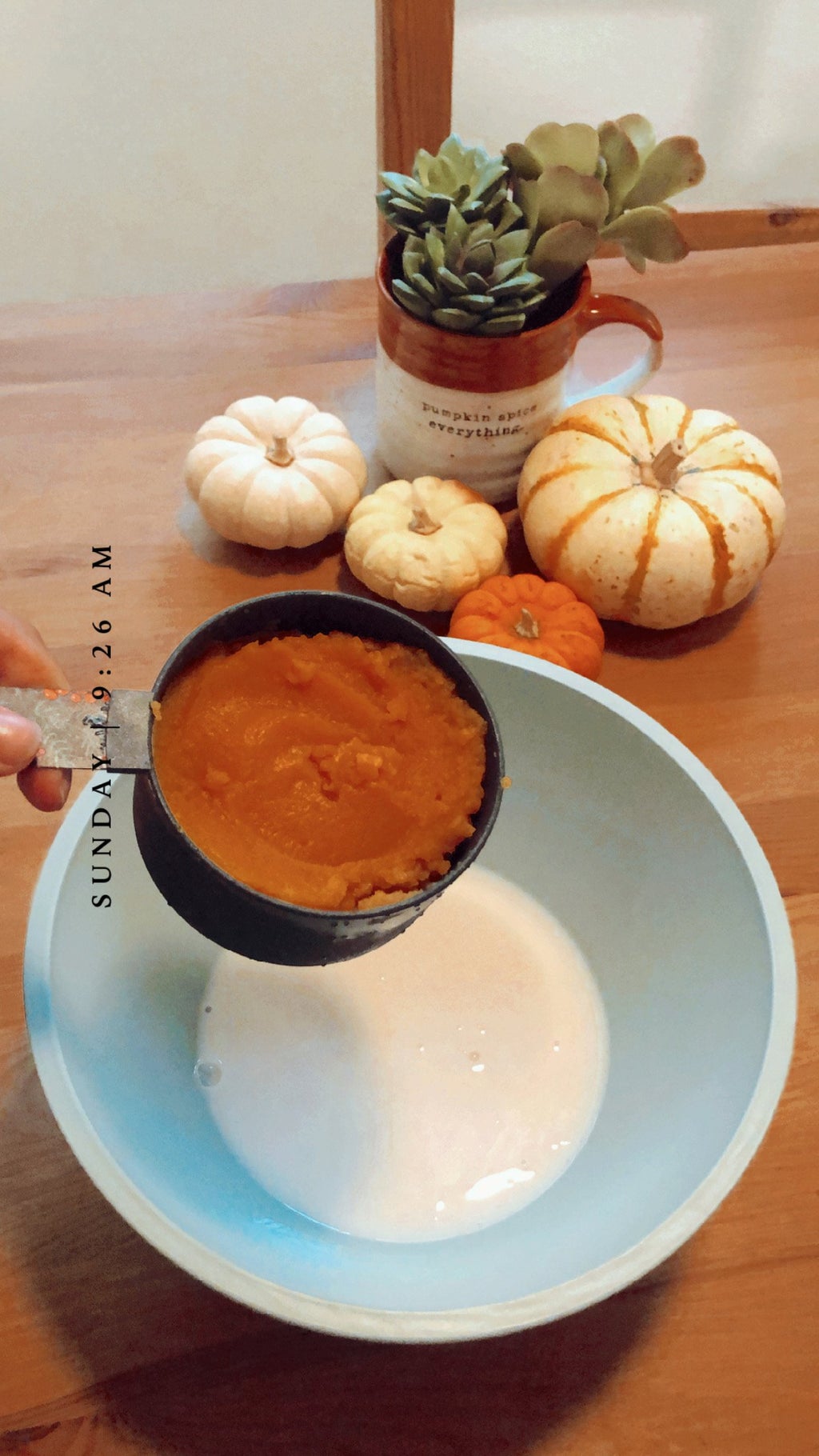 Original photo by Brooke Sagun
In a larger bowl, whisk together the eggs, milk, pumpkin, maple syrup and vanilla extract.
Step 3: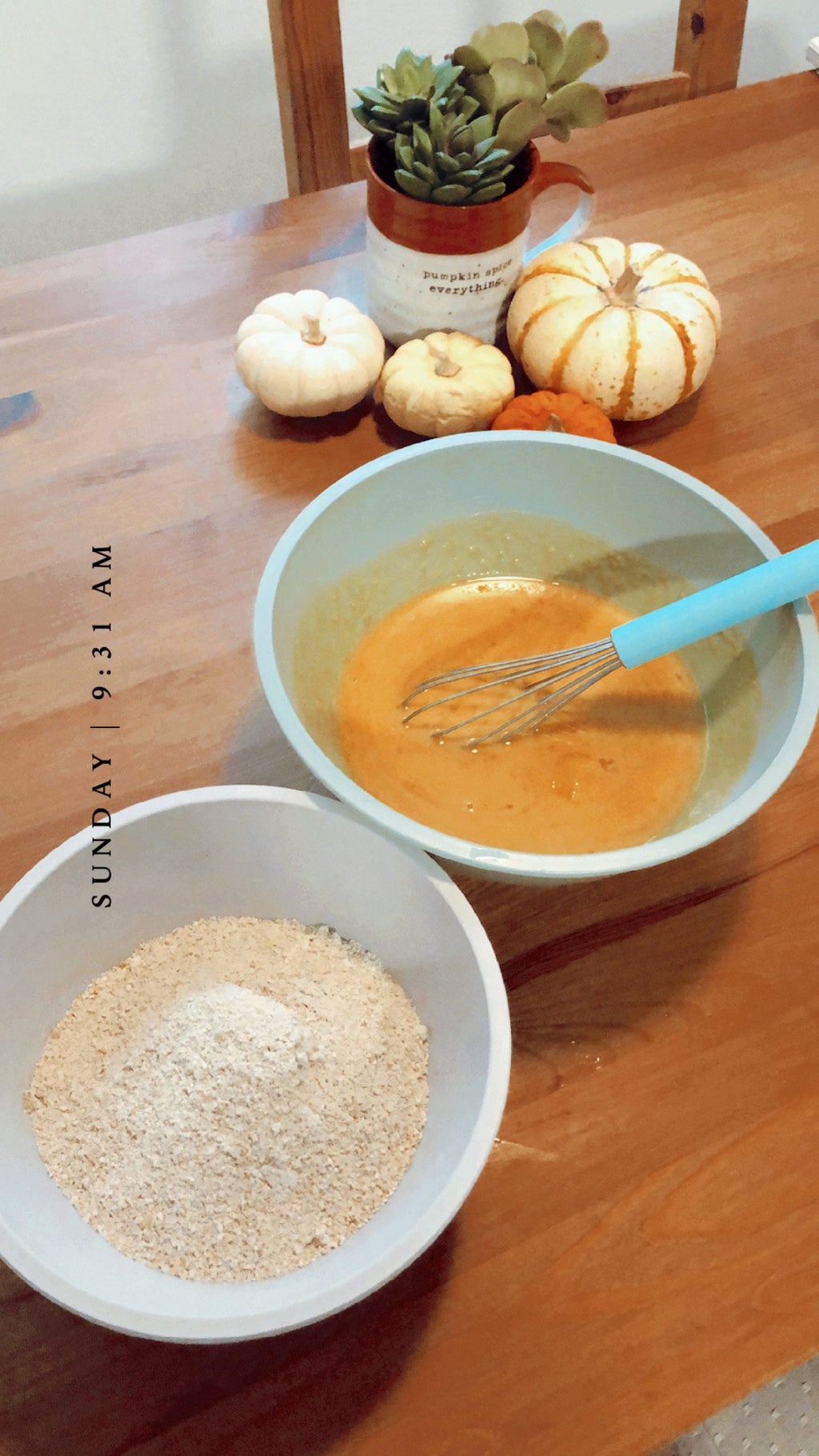 Original photo by Brooke Sagun
Add the dry ingredients into the larger bowl. Mix together and allow the batter to sit for a few minutes. In this time, heat up your stove and add a little ghee, butter or oil so the pancakes do not stick.
Step 4: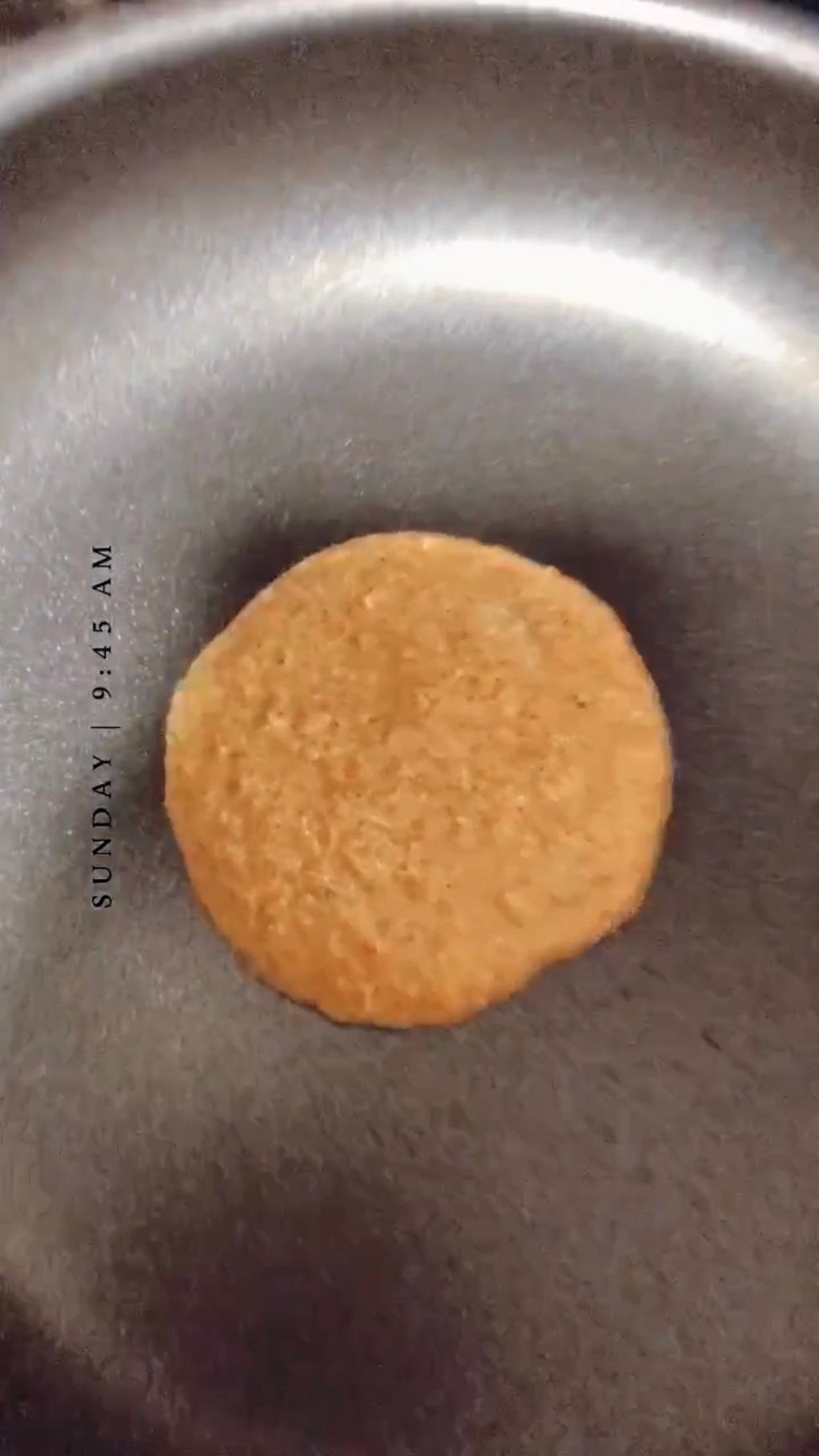 Original photo by Brooke Sagun
Add two tablespoons of the mix to the pan and cook the pancakes for 2-3 minutes on low-medium heat. Continue doing this until you've used up all your batter and enjoy!
You can top these pancakes with a variety of ingredients. I absolutely love adding a spoon of granola butter on them but adding peanut butter, almond butter, bananas, a dash of syrup, granola or yogurt are also delicious toppings. You simply cannot go wrong with these pancakes!
This article is a HCAU x HC at UCLA Halloween and Diwali Collaboration! Be sure to check out the other articles on their site here: 
https://www.hercampus.com/school/ucla/7-spooky-sweets-make-halloween
https://www.hercampus.com/school/ucla/most-delicious-gluten-free-pumpkin-pancakes-perfect-fall-how-make-them
https://www.hercampus.com/school/ucla/how-make-easy-vegan-peanut-butter-cups-halloween