The 10 Books Promised to Make You Cry
We're all cold-hearted, especially when it's winter. Well, here are some books promised to make your cold heart a bit warmer. These books are perfect for the rainy February-March days we will experience before the hot Arizona sun comes back out, so grab some chips, find a comfortable spot, and open up one of these books.
01. WONDER BY R J PALACIO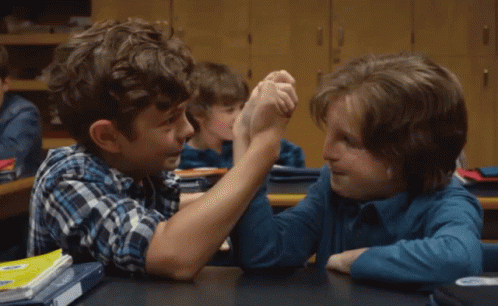 GIF courtesy of Tenor.
Inspired by a real-life event, Wonder is the tale of a young boy, August "Augie" Pullman who was born with a facial deformity. Augie was homeschooled until his parents suggested he go to public school. There he faces many challenges we friends and bullies, but in the end, everyone sees Augie for who he is, a boy with a big heart. 
02. THE FAULT IN OUR STARS BY JOHN GREEN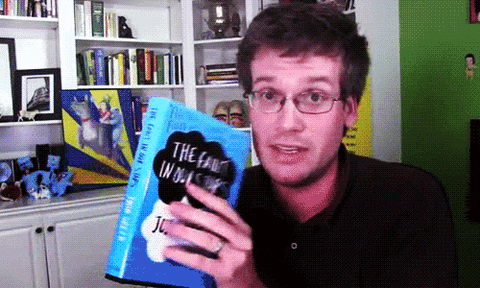 GIF courtesy Giphy.
Hazel Grace Lanchester has been living with cancer for three long years of her seventeen years of life. When her parents suggest attending a support group at a church for others who are battling cancer, she's hesitant, until she befriends two boys name, Isaac and Augustus. Her relationship with Augustus progresses into a romantic interest throughout the story that motivates Hazel to chase her dreams. 
03. ARISTOTLE AND DANTE DISCOVER THE SECRETS OF THE UNIVERSE BY BENJAMIN ALIRE SCÍENZ
GIF courtesy of Fanpop.
This Printz Honor Book is a tale of an angry teen's friendship with an insight boy. Although it seemed unlikely they would be friends due to the lack of their common interests, they discover they have the potential to have a remarkable friend. Through these two's friendship, they learned essential truths about themselves and about the people they want to be.
04. TO KILL A MOCKINGBIRD BY HARPER LEE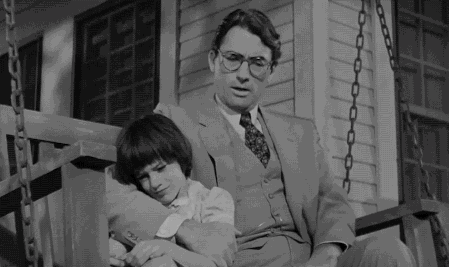 GIF courtesy of Giphy.
This beautifully written classic will have your heart breaking in seconds as it discusses the story of a father and lawyer, Atticus Finch who defends Tom Robinson, a black man who is accused of raping a white woman. This story is filled with the love and courage that is displayed by Atticus.
05. PERKS OF BEING A WALLFLOWER BY STEPHEN CHBOSKY
GIF courtesy of Rebloggy.
Told in the perspective of a socially awkward teen named Charlie who always watches life from the sidelines, this story won't let you put the book down. With help from two charismatic students who become his mentors, Charlie discovers the joys of friendship, first love, music, and so much more of what life has to offer. 
06. GO ASK ALICE BY BEATRICE SPARKS
GIF courtesy of Giphy.
Presented as being the edited "real diary" of the unnamed teenage protagonist, Go Ask Alice is about a teenage girl who develops a drug habit at the age of fifteen and runs away from home. This story is her journey of self-destructive escapism. 
07. LOOKING FOR ALASKA BY JOHN GREEN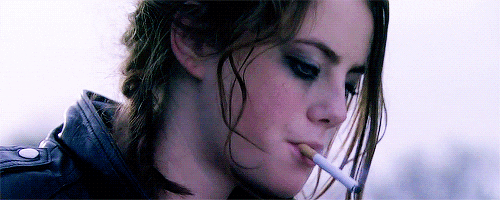 GIF courtesy of Giphy.
Miles Halter is fascinated by famous last words, which has been causing him to feel unsatisfied with his safe life at home. He decides to leave for boarding school to seek what the dying poet Francios Rabelias called the "Great Perhaps." There, at Culver Creek, Miles meets the funny, screwed-up, dead sexy, Alaska who helps discover what he was looking for.
08. BRIDGE TO TERABITHIA BY KATHERINE PETERSON
GIF courtesy of Giphy.
Most of us watched this movie crying when we were kids. Well, the book is just as much of a tear jerker as the movie. Jesse, an adolescent boy, has his life changed when he meets Leslie, the class outsider. Through the children's imagination, they create their own world called Terabithia. Through the difficulties of their lives, Terabithia has always been there for them, helping them get through the bad.
09. NUMBER THE STARS BY LOIS LOWRY
GIF coutesy of Gfycat.
Two ten-year-olds, Annamare Johansen and her best friend Ellen Rosen, often imagine what life was like before the war. Their experiences in Copenhagen during 1943 arefilled with school, food shortage, and Nazi soldiers. When the Jews of Denmark "relocate", Ellen is forced to move in with the Johansens and pretend to a part of the family for her own safety. Friendship goes to remarkable lengths when Annemarie is asked to go on a dangerous mission to risk her own life to save Ellen's. 
10. THE HATE U GIVE BY ANGIE THOMAS
GIF courtesy of Giphy.
Balancing two worlds is often hard, especially for sixteen-year-old Starr who tries to balance her two worlds: the poor neighborhood where she was born and raised and her posh high school in the suburbs. The balance she manages gets shatters when Starr is the only witness to a fatal shooting of her best friend by a police officer. The Hate U Give discusses the social and racial issues in our world.