Selena Gomez and The Weeknd Are Over!!
October 30th was a sad day for shippers of Selena Gomez and The Weeknd. The couple began dating back in January of this year and seemed to have a fairytale romance full of lots of PDA. According to sources, their relationship began to fizzle out towards the end of the summer, and being apart because of his tour put too much of a strain on them. Supposedly, it was mutual and had no drama involved whatsoever. 
BUT lets not ignore the fact that Selena and Justin Bieber recently started speaking and hanging out again!! Sources say the breakup had nothing to do with Justin yeah yeah whatever. I will forever and always be a #Jelena supporter, and I'm calling it now, they will definitely get back together. Maybe not this year, but eventually. You don't date someone for three years of your young-adult life and then manage to be just friends with them later on (typically). And the things they've been doing together are literally the cutest... breakfast and church, bike rides... I mean seriously. I liked Selena and The Weeknd together because they both seemed really happy but even Justin said it himself: "When you love someone that much, even if something comes between you, it's a love that never really dies." (Billboard).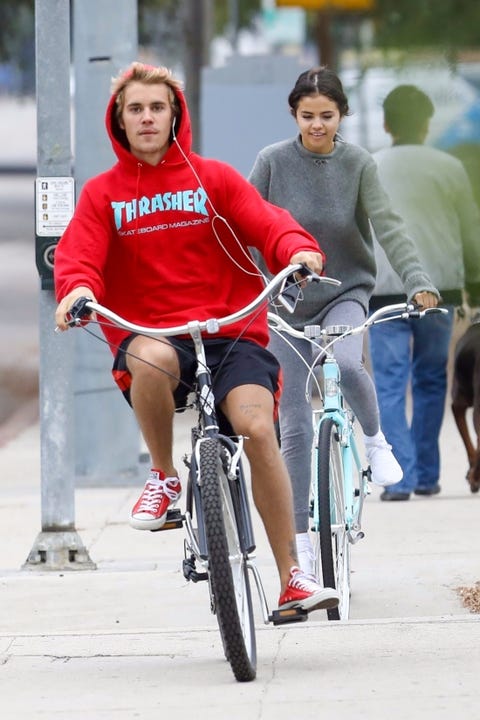 On the bright side, sources say that The Weeknd is not upset about Justin and Selena hanging out, and that he isn't dwelling on anything, just moving on. Some also say that the split was final before Justin and Selena ever started hanging out. So, maybe Justin really is just being a good friend and being supportive for her after a breakup, and there really isn't anything left between them romantically. But my theory of her love for him never fading and not being able to stay apart from him anymore is way more interesting and exciting. #JELENA2018MAYBE