10 Unusual, Bucketlist-Worthy Hotels Around the World
Adrère Amellal, Siwa, Egypt
An oasis with the aura of ancient tribes and the beauty of pure untouched nature within a desert setting, this desert eco lodge has been accurately and poetically described as a "paradox in process, mingling the asceticism of a Cistercian monastery, the luxuries of a Turkish seraglio, and the whimsy of a Cape Cod sandcastle." [2] Designed in an authentic ancient Egypt feel with modern luxuries, the atmosphere conjured by the entirety of this hotel is serene and supernatural, like magic, as one feels an inevitable relationship with surrounding nature.
In true ancient Egypt style, there is no electricity.  Rather, rooms are lit with beautiful beeswax candles and starlight.  Each of the 40 earth-based rooms are hand-built and thus contain unique features, including crafts and furniture displaying the talent of local artisans.  As a result, the aesthetic of the hotel and its design is exquisite and humbly luxurious, a rare combination.  When traveling, many people like to search for a body of water to play in (and there are), but the most distinct feature are dunes! Walk, play or dine in nearby dunes, or go horseback riding on request.  View the beautiful blue stretch of lakes flowing near the hotel, or visit the city center and stroll through the local community and marketplaces.  Dining is varied, but the food is mostly organic and locally grown and tended to with the hands of locals.
Hen na Hotel, Urayasu, Chiba Prefecture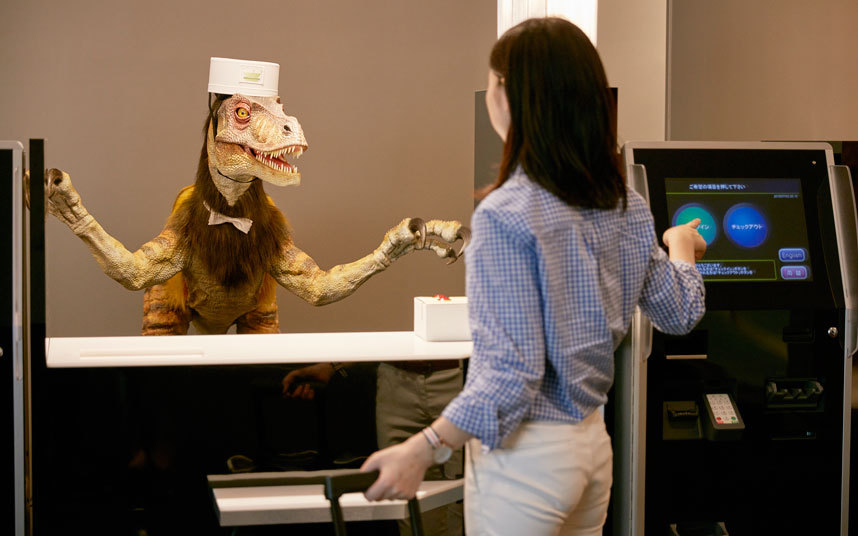 With a mission in efficiency, Hen na Hotel, completely known as Hen na Hotel Maihama Tokoyo Bay, sports a minimalist style and is completely staffed by robots. Though the name is a play on words meaning strange, CEO Hideo Sawada says the hotel is meant to represent evolution and transformation.  
At a reasonable starting price of $80 per night, features of the hotel includes two robot employees at check-in, a female employee (programmed to bow in respect) and dinosaur (intended to appeal to kids), as well as 72 rooms in 3 buildings.  Nao, a robot that resembles an adult version of Wall-E will be the concierge.  The luggage storage room is also robot-operated, a robot porter will guide guests to their rooms and update them on amusement park dealings and upcoming events,—there are other robots stationed throughout the hotel during a guests' stay to update them on upcoming events—and rooms (ranging from a simple twin rooms and deluxe rooms with sofa and television set) are secured with facial recognition technology.  Every room is equipped with a mini robotic assistant that gives updates on weather, alert you when it's time to wake up, and turns on/off the lights. [1] In an effort to reduce the use of electricity, there are no personal refrigerators in the room. However, amenities, like food and beverage, can be found around the hotel in vending machines.  A drone system involving a flying drone and ground vehicle is currently under developing to deliver food to the hotel from nearby restaurants.  West facing rooms have a gorgeous view of the neighboring theme park.
Giraffe Manor, Nairobi, Kenya
As its name suggest, Giraffe Manor allows for herds of endangered Rothschild giraffes to dwell on 12 acres of private land. [3] Thus, it is should not come as a surprise if one pokes its head through open windows while you're eating breakfast or during the evening when you're enjoying a good read. Guests are permitted to directly interact and take photos with the beautiful creatures,
Because of the hotels' exclusivity, the safari atmosphere is pure, untainted, and well-maintained, as well as the 140 acres of surrounding indigenous forests and giraffe forest sanctuary.  With only 10 rooms at over $500 per night, one would expect an extraordinary experience, and that's what one gets. Not only is this a hotel but a breeding ground so as to secure the future of the endangered Rothschild giraffes. Thus, the cost of the hotel is not simply profit-based, which is more incentive to check it out and engage with the inspirations for the cause.  Amenities include:   free WiFi, free parking, airport transportation, breakfast, non-smoking rooms, and a restaurant. [4]
LEAPrus 3912 Eco Hotel, Mount Elbrus, Caucasus, Russia
LEAPrus 3912 is a new environmentally friendly hotel in Russia on Mount Elbrus (the highest peak in Europe).  Developed with the intent of reviving the hospitality and tourist industry in Russia, LEAPrus has an out-of-the-box set of features that not only makes the hotel aesthetically pleasing but also practical.  It was built entirely off site in Italy and transported to Russia and situated on an immense glacier.  
At 4.000 meters altitude, it is designed to combat harsh weather patterns with a structure of high mechanical resistance and thermal insulation. The interior is designed with the intent of "optimal comfort with special attention to the un-alterability of materials, to hygiene and to safety." [5] So technologically advanced, the entire structure resembles a spaceship capsule and includes a photovoltaic film, making the structure energy-efficient by using the snow from the glaciers used to clear sewage, to generate power for equipment, and to allow for amenities that include but are not limited to:  a living and dining unit with cooker, entrance unit with thermal insulation, laundry services, a rescue plan, a sleeping unit with adjustable bunks that can host about 12-18 individuals, living unit with panoramic window structure opening into the open landscape, and heated floors.  Rooms start at $30 a night. [6]
Mardan Palace, Antalya, Turkey
Resembling an elite city of residence, Mardan Palace is the most luxurious, beachfront hotel in the Mediterranean Region, located at the shore of the Mediterranean Sea and comprised of 546 aesthetically distinct rooms and suites. It boasts the largest swimming pool in Europe that requires a gondola to fully cross, a reproduction of the Da Vinci Bridge, and a center section that flaunts the beauty of the Dolmabahçe palace, which connects the rooms section. Structured and inspired by the extravagance of ancient ottoman palatial architecture, it is tailored to resemble and oriental fairytales. [7]
Amenities include:  fully equipped rooms with interactive multi-media systems, flat screen TVs, wireless internet access, remote control light and air conditioning, spa and wellness activities, 2 indoor heated pools, private beach, children's club, water fountains and aquarium, sports, amphitheater, Hermès toiletries, 24-hour Butler Service, and over 10 different types of room options and so much more!.  Room options range from Junior Suites to Grand Hammam rooms with specifically designed Turkish baths to Royal Suites, all sporting a very luxurious feel with competitive style and spatial differences. Prices range $275 - $1,115 a night.
No Man's Fort, Portsmouth, United Kingdom
Buried in deep history in maintaining defense against French invasions led by Napoleon III but used as naval signaling stations, No Man's Fort has an abundance of worth in historical testimony.  In 1956, coastal artillery was no longer supporting leaving the forts empty, unused, and available for sale. [8] Now a luxury hotel and events venue with a Victorian aesthetic and modern updates, No Man's Fort continues to resemble a safe get-a-way due to the waters of the Solent with over 31 beautiful rooms that holds a maximum capacity of 60.
Amenities include:  sea views, floor to ceiling windows, famous parties, business meetings, rooftop jacuzzies, dining, peaceful boat drifts, spa, library, games rooms, bar, wine cave, courtyard, hot pool, sun deck, sauna, and more! Activities are numerous and varied, ranging from wine and cheese tasting to treasure hunting.
The Palacio de Sal, Uyuni, Bolivia
The Palacio de Sal is exactly what its meaning suggest—a palace of salt. Located at the edge of Salar de Uyuni, the world's largest salt flat, the Palacio de Sal is constructed of salt blocks, whether it be the walls, floors, ceilings, or furniture! Not only is the structure unique, but there are legends surrounding the area about a man named Cuzco who betrayed his wife, Thunupa. Long story short, the overflowing of Thunupa's tears created the salt flat with the salt from her tears and milk from her maternal womb. [10] The hotel sports a very elegant, yet beachy feel, and it is advised to wear sunglasses when exposed to the water due to the significant reflection of the sunlight on the water and sunblock for the skin.
There are 3 room options:  Standard, VIP, and Suite.  Amenities include:  WiFi, free parking, Games room, bar, shared lounge and TV area, buffet restaurant, heating, terrace/sun terrace, and gift shop free airport shuttle and free bikes rentals, billiards, and 24-hour front desk, and there are numerous activities to take part in.
Hotel CasAnus, Kemzeke, Belgium
How many of us can say that we have slept in a giant model of the human intestines? Well, the opportunity awaits in Hotel CasAnus, an Art Sculpture in . Starting as a private art collection, it is now opened to the public and boasting approximately 2,000 collages and assemblies of mainly Belgium artists.  Much of the art is either impressive structures and statures or subtle jabs and criticisms toward the modern art community, which is precisely what the giant model of the human intestine is.  Some of the art have even expanded into bio art, or art with living organisms. [12] Geert Verbeke described it this way:
"Our exhibition space does not aim to be an oasis. Our presentation is unfinished, in motion, unpolished, contradictory, untidy, complex, inharmonious, living and unmonumental, like the world outside of the museum walls. You will find no flamboyant sensational buildings here, but rather, a refreshing, unpretentious place to look at art and a subtle criticism of the art world". [12]
Thus, if you are looking for luxury, this not the place to find it, but there is invaluable inspiration in the separate art exhibition area, a bar, free parking, breakfast, and entrance to the sculpture park, dining room (breakfast, lunch, and dinner), and over 29 acres of land to jog and explore the surrounding nature all for the reasonable price of about $100-$250 a night.
Kakslauttanen Artic Resort East Village Hotel, Saariselkä, Finland
True to its artic environment, Kakslauttanen Artic Resort provides cozy log cabins and pine-built, snow, or glass-ceilinged igloos (which are so beautiful) as lodging options for guests. Log cabins and pine-built igloos come with fireplaces and saunas, and some also have kitchens and free-standing tubs. [15] Queen suites are beautiful, elegant lodging options for lovebirds traveling together. There are no TVs, and some igloos have bathrooms in separate buildings.
Amentities include:  free breakfast, 2 restaurants serving Lappish food, glass igloo bar, 3 saunas, kid-friendly environment, Spa, free-parking, restaurant, bar, and a smoke free living experience. The activities are more eccentric complete with ice swimming, sleigh rides, reindeer safaris, and visits to Santa's home and Santa's Celebration House. [14] Also, enjoy viewings of the Northern Lights and abundance of arctic nature, from a starting price of about $290 a night. [13]
Dog Park Inn, Idaho, USA
A sort-of heaven on earth for doggie lovers, Dog Park Inn in Idaho is structured in the shape of a Beagle at 30 feet with two floors. The Beagle, named by the community Sweet Willie, is the largest Beagle in the world. A married couple who are also chainsaw artists have built a single suite complete with bathroom and loft for visitors, as well as produced over 60 different breeds and poses of dogs in their folk-art style doggie carvings. Sweet Willie, though the main attraction, is never alone as he is surrounded by a variety of other animal sculptures, including but not limited to:  bears, fish, and moose. [11]