Three Takeaways from KPU's Webinar with Dr. Fauci
As part of the 2020 Family Week events, American University's Kennedy Political Union (KPU) hosted a webinar with Dr. Anthony Fauci. Dr. Fauci, who has served as the Director of the National Institute of Allergy and Infectious Diseases (NIAID) at the U.S. National Institutes of Health (NIH) since 1984, was joined by the President of American University, Sylvia Burwell. 
With President Burwell acting as the moderator, Dr. Fauci answered students' questions about public health measures in the pandemic and when campuses will return to in-person learning amongst other topics. Here are three takeaways from that discussion.
1. The current state of the pandemic in the U.S.
With 7.5 million confirmed cases in the U.S. as of October 7th, COVID-19 shows no signs of slowing down. According to Dr. Fauci, this surge in cases is due to "the lack of implementation of simple public health measures." These measures include a "uniform, universal use of masks… [with] no crowds," increased hand washing, and small gatherings held outdoors rather than indoors.
To those who are reluctant to take his advice, Dr. Fauci asks that they follow the simple public health measures he outlined for "maybe six weeks or so." If all Americans follow these steps, Dr. Fauci predicts that "You will see the level of infection go down."
While Dr. Fauci encourages limited social interactions, he also acknowledged that members of minority populations are often in positions where the ability to work virtually is nonexistent. As a result of this health disparity, Dr. Fauci cited a statistic that shows that "Within the rate of hospitalization in a population of 100,000, Hispanics and African-Americans make up 367-369, while whites make up only 70."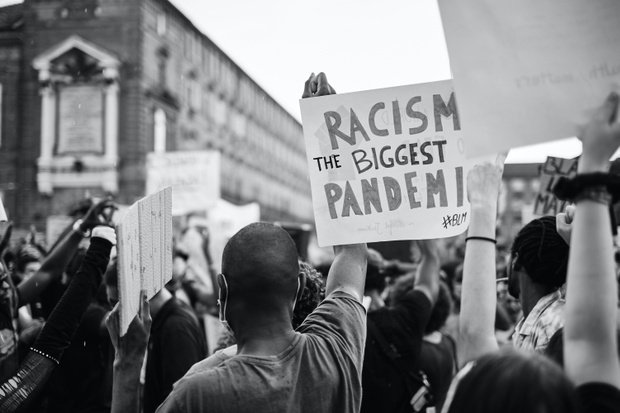 Photo by Marco Allasio from Pexels 2. The virus is our common enemy, not people
In the current political climate, Americans are increasingly divided over how to handle the pandemic. This discord has been fueled, in large part, by misinformation spread by U.S. President Donald J. Trump, who has described the national outbreak as a Democratic "hoax" and has claimed that COVID-19 is "less lethal" than the flu.
When asked about the politicization of the virus, Dr. Fauci referenced his work alongside former colleague President Burwell in the Obama administration. While dealing with the Zika and Ebola epidemics, Dr. Fauci remembers how "There were disagreements [between him and his colleagues]... but we always knew that the enemy was the virus." 
Due to the growing political divide and misinformation about the virus, Dr. Fauci says that "people are forgetting that the common enemy is the virus" as opposed to "my opinion versus someone else's opinion." In other words, Americans and the federal government must put the health of the nation over individual political differences if there is to be a nationwide decrease in cases.
3. The return to in-person learning
As a result of the pandemic, college students across the country have been struggling with the abrupt transition to online learning. This dilemma has caused many people to wonder: What is the future of in-person learning? "I think it's here to stay, it's just in abeyance right now," Dr. Fauci remarked, adding that colleges "will get back to in-person [learning]… When we have COVID in the rearview mirror." 
On an optimistic note, Dr. Fauci also believes that the end of the pandemic will mean the return of "social and other developments that you have when you're in college." While Dr. Fauci does not have a definitive answer as to when students can expect to return to in-person learning and college-related social activities, he does believe that these positive experiences will eventually "come back, and it's gonna come back in a good, healthy force, because this [pandemic] will be behind us." 
While the national case count remains the highest in the world, Dr. Fauci has provided us with useful information on how to best protect ourselves in this pandemic. Despite this staggering statistic, Dr. Fauci believes there is still hope. By following public health measures such as washing your hands and wearing a mask, you can make a difference.
Photos: Her Campus Media Library