SUB Presents Giveon: A Night of R&B and Soul
For performing artists, this new era of virtual concerts is an unfamiliar puzzle. How can an arena filled with passionate fans singing along be replicated over Zoom? While there may not be a definitive solution yet, American University students witnessed a successful example of a virtual concert when the Student Union Board (SUB) hosted a performance and Q&A session with rising star, Giveon. 
After his breakout feature on Drake's "Chicago Freestyle" earlier this year, Giveon has continued to expand his fanbase. In only eight months, he's gone onto create two EPs with R&B hits such as "LIKE I WANT YOU" and "Stuck On You." The singer-songwriter, who hails from Long Beach, California, gamely accepted the challenge of a concert conducted entirely over Zoom.
"I'm excited to do this," Giveon told his virtual audience on November 11th, "This is technically my first show since I dropped my [new] EP, Take Time." Accompanied by keyboardist, DeAndre Ellis, Giveon opened with a pensive rendition of "The Beach". One of the eight tracks on Take Time, "The Beach" is a nod to his hometown.
"She just let me know / Where they show no fear / It ain't safe 'round here," Giveon sang in his rich baritone voice, as he promised to "Show you the city that made me like this." As of November 14th, "The Beach" has been streamed by 491,000 people on Soundcloud alone. 
"It's hard to describe it sonically," Giveon said of his music during the Q&A session, "Because I like to picture it, like, someone probably has a little wine in their hand, depending on the age, so I'd say mellow," and also "Thoughtful, because I really take a lot of time writing these stories and just putting these stories onto music."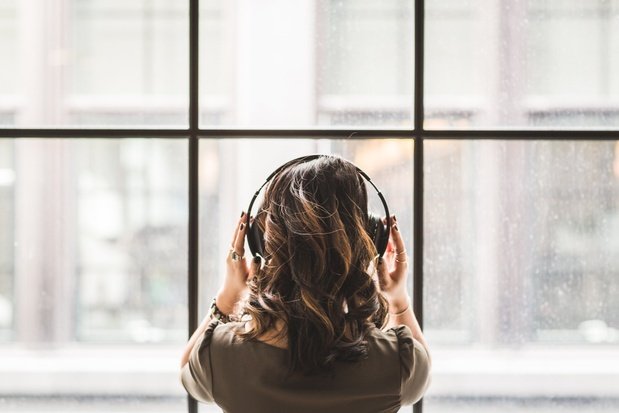 Photo by Matthew Henry from Burst/Shopify
With this virtual format, Giveon noted how "The interaction aspect is gone," and added that the audience are "probably at home, singing it, but I literally have no clue." In the Zoom chat, he was able to see the outpouring of love and encouragement from his virtual audience.
"Ok, that's the interaction right there! 'We are singing it!' Ok, perfect," a rejuvenated Giveon responded, "After every song, I'm gonna check this." 
To preface his next song, "Still Your Best," Giveon described it as a juxtaposition to the popular image of him as a "soft, heartbroken type" of singer/songwriter. In this song, a significant other moves on from him for someone he views as "a downgrade and you know it / Still your best, me, still your best, me."
When asked what advice he would give to aspiring artists trying to perfect their craft during the pandemic, Giveon recommended that they "Study. Study the hardest, 'cause that's what I'm doing right now, and I made my latest project during COVID." Whether it's learning about other artists or exploring different kinds of music, aspiring musicians can still hone their craft. For Giveon, he plans to use this time to work on the storytelling aspect of his music.
Want to hear more Giveon? Listen to the SUBxGiveon playlist on Spotify.
Photos: Her Campus Media