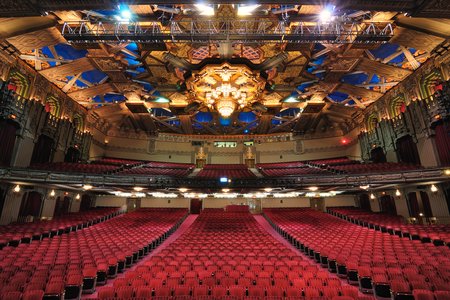 Review: 'My Fair Lady' is Absolutely 'Loverly' at the Kennedy Center
Much like the decadent royal ball that serves as the climax of the story, this production of My Fair Lady is over too soon. This spectacular production from the Lincoln Center Theater has just concluded its run at the Kennedy Center Opera House which went from December 17, 2019, to January 19, 2020
Set in Edwardian England, My Fair Lady tells the story of a brusque linguistics professor, Henry Higgins (Laird Mackintosh), who makes a bet that with six months of speech and etiquette lessons he could transform a Cockney flower girl, Eliza Doolittle (Shereen Ahmed), into a duchess. These lessons are put to the test when Eliza attends her first royal ball where she tries to blend in with the lords and ladies of high society. 
While Higgins believes that his efforts alone are responsible for making Eliza into this upper-class version of herself, he overlooks the effect she's had on changing her own life for the better as well as his. Over the course of the musical, Eliza goes on a path towards independence as a woman taking control over her own destiny in a male-dominated society. 
Giphy In the canon of musical theater, My Fair Lady has a highly celebrated past. Based on George Bernard Shaw's play Pygmalion and adapted as a musical by Alan Jay Lerner and Frederick Loewe, the original Broadway production of My Fair Lady took place in 1956. Less than ten years later, a movie adaptation starring Audrey Hepburn and Rex Harrison garnered eight Oscars, including the prestigious award for best picture. Now, in the 21st century, My Fair Lady continues to delight audiences in this Lincoln Center Theater production.
In the leading male role, Laird Mackintosh captures the essence of this self-professed bachelor who laments what he sees as the decline of the English language ("In America, they haven't used it for years," Higgins quips to a friend). Another aspect of this production that made the portrayal of Mackintosh's self-centered Higgins a success was how the revolving circular set piece of Higgin's house symbolized his desire that the world should revolve around him. 
As Eliza Doolittle, Shereen Ahmed emotes equal strength in both the comedic aspects of the musical and in the more dramatic, poignant moments. Her voice, which has an operatic quality, is perfectly suited for Eliza's song "I Could Have Danced All Night" in addition to the song "Wouldn't It Be Loverly," which expresses Eliza's dream of a life spent in luxury rather than on the street selling flowers.
Other notable performances in this production include Adam Grupper as Eliza's father, Alfred P. Doolittle, a bawdy drunkard who sings "With a Little Bit of Luck" and "Get Me to the Church on Time." Kevin Pariseau stars in the role of Colonel Pickering, a friend of Higgins who encourages Higgins to treat Eliza as a person with emotions rather than a case study in linguistics. In the role of Freddy Eynsford-Hill, Sam Simahk swoons over Eliza in a moving performance of "On The Street Where You Live." Sadly, the time has come to say goodbye to these actors for now as this production My Fair Lady as it has just finished its run at the Kennedy Center.
Congratulations to the cast and crew on a wonderful production!
Photos: Her Campus Media Library