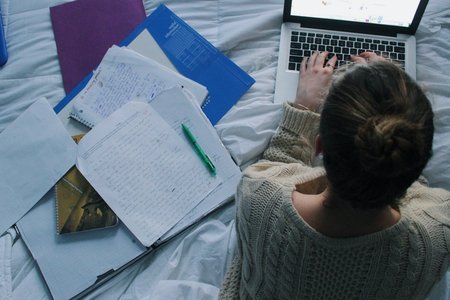 Anna Schultz / Her Campus
Looking Forward: Expectations and Hopes for the Spring Semester
As American University's decision for the spring semester approaches, students and staff are anxious to see what could happen. Some people are trying out this online college thing for the first time. Others, like myself, learned from last spring semester's mistakes in order to not repeat them for this fall.
The vast majority of people want to go back in the spring since we have had so much taken from us already. Freshmen have already lost their last semester of high school and their first semester of college, and the rest of us don't want to miss a year and a half's worth of our college experience.
I have heard students talking, and some are saying that if AU doesn't open for spring, they will either defer or transfer to a school that would provide them in-person classes. Online school is not for everyone, and even though professors are doing the best they can to teach us virtually, it's not the same thing as in-person classes.
Of course we have to take into consideration the situation we are in right now: Covid-19. Every university took action with the pandemic differently. Some schools opened 100%, others went half and half, and others have fully online classes.
While some schools started and then had to close again because they couldn't manage the spread of the virus in their campus, others have managed the pandemic effectively. I have friends all around the U.S. who are on-campus, and they say that everything is working fine and they are happy on their campuses. 
Happiness and emotional stability, these have been a struggle for many students. Being cooped up in our homes with limited places to go to is very tough, and the question of "What if I was on campus?" is frustrating to have in the backs of our minds.
While nobody wants to get coronavirus, seeing the several successful universities that have opened intensifies the famous question: "What if?" At this point, it is hard to say what will happen for the spring semester, and my only expectation is that AU will make the decision they think will benefit us all. 
While planning my spring semester schedule, I realized that some spring classes already have locations, and others, such as the languages, already say that the instructructional method is hybrid. What does this mean for the spring semester? Will the locations eventually change as they did for this fall? Will it be half online and half in person? I don't know, but I have hope that everything will work out for the best.
At this point, I have accepted that our health is the priority, and if AU thinks they can manage opening for spring, then I will be thrilled to go learn and interact with others as I always planned too. But if they don't, I will learn to accept that another semester in front of the computer will have to be enough for the sake of our health and safety.
Photos: Her Campus Media