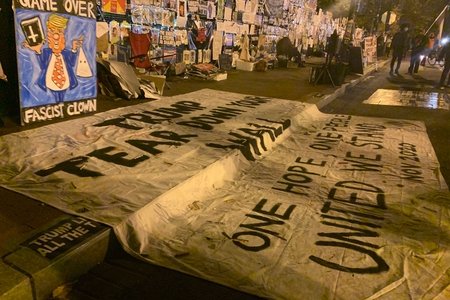 Original photo by Mackenzie Riley
Hope fills Black Lives Matter Plaza
Joe Biden has won the 2020 presidential race after days of anxiously awaiting results from the battleground states Nevada, Georgia and Pennsylvian. 
Upon the announcement of President-Elect Biden winning, thousands flooded to Black Lives Matter Plaza celebrating the end of a hateful presidency. Many even spent the week nervously waiting outside of the White House since Tuesday afternoon, filling the plaza with celebration, anxiety, but above all– with hope. 
I had the chance to join eagerly awaiting voters Wednesday night as we waited for results, celebrating how far we've come and protesting against the current presidency. The wall that has recently been erected outside the White House has been filled with all kinds of art commemorating those who have lost their lives to police brutality and condemning the Trump administration.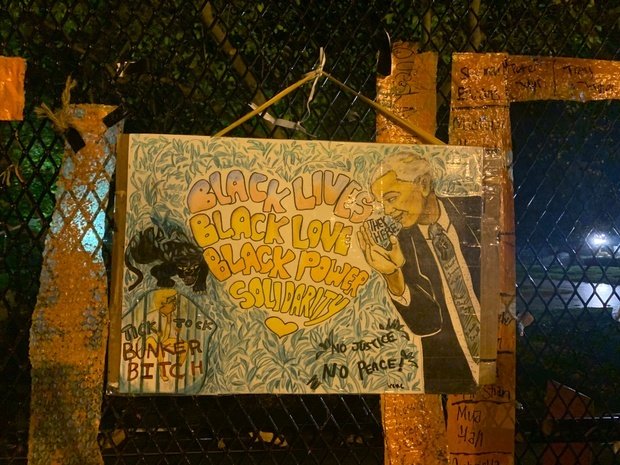 Original photo by Mackenzie Riley
The crowd that had gathered outside of the White House was smaller than expected, but their energy could be felt throughout downtown D.C. Many protesters came out to show their support in song and dance, remembering the hardships that vulnerable communities have undergone and hopeful that the Biden administration will be a step in the more just direction. 
I am always blown away by the art in Washington D.C., Wednesday night was no different. Pablo Castillo, an artist originally from Los Angeles made the long drive to feature his art in Black Lives Matter plaza, in hopes of uniting people and reminding them of what is at stake with this election. Castillo unveiled a massive canvas, an art piece titled "The Only Life" with the words, "Trump tear down your wall. One hope, one people. United we stand." written across it. 
Castillo stated "I am having people unite… people all day have been coming to write messages… making them feel that they are a part of this moment." This piece was truly inspirational and a stand-out among the art that filled the plaza. 
Castillo also featured another piece of his, "Game Over Fasicist Clown," which depicted current President Trump holding a bible and a KKK hood. I asked Castillo for his inspiration for this piece, to which I learned we were standing only feet away from the church President Trump stood outside of in the midst of the Black Lives Matter protests, holding a bible, after tear gassing hundreds of peaceful protestors. This piece was a harsh reality check to the abhorrent actions that have been taken by President Trump against the black community.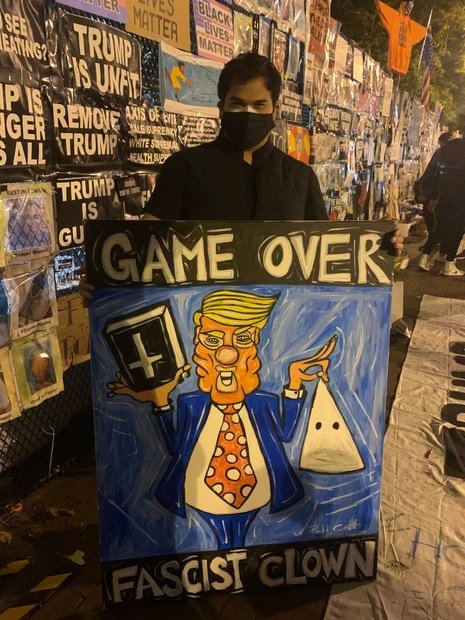 Original photo by Mackenzie Riley
The one word I would use to describe the mood outside the White House on Wednesday night would be hope. People like Castillo are an important reminder that sometimes art truly is more powerful than words as we fight to reunite and equalize our nation. 
Even with the end of the presidential race, our fight is not over. Senate elections that could grant Democrats a Congressional majority are still up in the air as two runoff races are being held in Georgia. There is still a large amount of work that must be done in the fight for equality and the large amount of votes Donald Trump still received are a reminder of this. 
While I celebrate Joe Biden's victory I must remind myself of the bias that has been ingrained in our current system, the same bias that Joe Biden has perpetuated at times. We still have so much work to do and so much to overcome, but above all I am confident that in time–we will overcome. 
Images- HerCampus Media Library