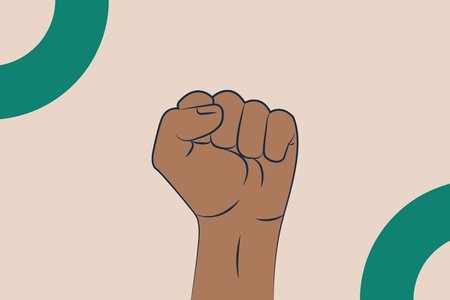 Original Illustration by Gina Escandon for Her Campus Media
A Guide to Celebrating Women's History in D.C.
The first International Women's Day was observed in Russia in 1913, over 100 hundred years ago. While there is still an international women's day, it has evolved to dedicating the whole month of March to celebrating women's history. Since 1913, women worldwide have made significant progress towards a more equal society, but there is still an incredibly long way to go. We have an especially long way towards equality for women of color, trans women, femmes, queer women and disabled women. Celebrating women's history is important now more than ever and living in D.C. is the perfect place to celebrate the amazing women who have helped to shape the world we live in today. 
Although the month of March is over, and by association, so it Women's History Month, we can't let ourselves forget to celebrate women until March rolls around again in 2020. Women are much too often left out of American history books, as are people of color, queer people and disabled people. March gives American society a responsibility to recognize how women have shaped history in the United States. But even when there is not a formal campaign to celebrate women, there are always ways that we can recognize women's important contributions to history. We need to take advantage of those opportunities and show demand for women's stories and histories, in order for their stories continue to be told and hopefully someday be told inside the classroom as well.
Since every day is a good day to celebrate and support women, here is a list of opportunities to celebrate women's history in Washington D.C. after March is over. 
1. National Museum of Women in the Arts 
The National Museum of Women in the Arts is my absolute favorite museum and the perfect way to celebrate Women's History throughout the year. The National Museum of Women in the Arts (NMWA) is the only major museum in the world dedicated solely to championing women through the arts, as it says on their website. 
The NWMA currently has two rotating exhibits, Ambreen Butt and Ursula von Rydingsvard. Butt reimagines traditional Indian and Persian miniature painting with works featuring contemporary subjects and the monumental sculptures by von Rydingsvard showcases the artistic process that gives outward visual form to her ideas and emotions. Additionally, the NWMA has an incredible permanent collection of art that features over 1,000 women art and over 4,500 pieces of art. Some of the artists featured are Frida Kahlo and Amy Sherald, who is well-known for her portrait of First Lady Michelle Obama. 
As an NWMA expert, here some things to remember when planning your visit. On the fourth floor of the museum, there is a Library and Research Center which is open M–F, 10 a.m.–12 p.m. and 1 p.m.–5 p.m. There you can find a whole library of books about art and of art. You may discover your new favorite artist there. Additionally, on the first Sunday of each month, the NWMA hosts a community day where admission is free to all. The next community day is on April 7th, 2019. 
The museum is open Monday–Saturday 10 a.m.–5 p.m., Sunday 12 p.m.–5 p.m. The NWMA is located at 1250 New York Avenue NW, Washington, DC 20005. Adult tickets are $10 and student tickets are $8. 
2. Newseum, "Rise Up: Stonewall and the LGBTQ Rights Movement"
In the 1950-1980s the Stonewall Inn was the most popular gay bar in the gayborhood, Greenwich of New York City. Now the Stonewall Inn is still a gay bar, but is mostly known as a historical landmark. The police would often raid the Stonewall Inn and arrest its patrons. In June of 1969, the police raided the Stonewall Inn and patrons started the "Stonewall Riots," which is known as the start of the modern LGBTQ+ movement and the beginning of the Pride March. 
Marsha P. Johnson and Slyvia Rivera were both trans women of color and were the, often forgotten, leaders of the Stonewall Riots and the beginning of the LGBTQ+ movement. Too often trans women are left out of the celebration of Women's History Month, but the Newseum is giving the opportunity to celebrate these important leaders' accomplishments. Johnson and Rivera are the mothers of the modern LGBTQ+ movement and we should honor them today and every day. 
This year marks the 50th anniversary of the Stonewall Riots and this exhibit explores what happened at the Stonewall Inn and how it gave rise to the for LGBTQ+ civil rights. At "Rise Up" you will find an interactive activity to learn about key LGBTQ+ issues and you will be able to watch the documentary "Into the Streets." 
The Newseum is open Monday through Saturday from 9 a.m. to 5 p.m. and Sunday from 10 a.m. to 5 p.m. It is located at 555 Pennsylvania Ave NW, Washington, DC 20001 and tickets bought online cost $21.24 and tickets bought at Newseum cost $24.95. There 15% discount for students only when tickets bought at Newseum.
The Newseum is closing its location in D.C., December of 2019, so go while you still can!
3. National Geographic Museum, "Queens of Egypt" Exhibit
Most everyone has heard of the infamous Cleopatra, including those who (problematically) dressed up as Cleopatra for Halloween. Cleopatra is the most (and possibly the only) well-known Egyptian Queen in American culture. Cleopatra is an icon, but what many people don't know is that she was not the only Egyptian Queen in history. The 'Queens of Egypt' Exhibit sheds light on the unknown history of women in Ancient Egypt.
The "Queens of Egypt" Exhibit brings to life Kara Cooney's book When Women Ruled the World, one of my personal favorites. When Women Ruled the World critically thinks about this paradox: "Female rulers are a rare phenomenon–but thousands of years ago in ancient Egypt, women reigned supreme."
In the exhibit, you can see more than 300 artifacts, including monumental sculptures, jewelry and sarcophagi. You can also participate in activities such as a 3-D virtual tour of a tomb in the "Valley of the Queens" and a scavenger hunt. You will learn not just about Egyptian Queens, but you will also learn about Harems, Goddesses, The Craftsmen's Village and mummification. 
The museum is open daily, 10 AM - 6 PM. The National Geographic Museum is located at 1145 17th Street NW, Washington, DC 20036 and adult tickets cost $15, and student tickets cost $12.
The exhibit will be open until Septemeber 2nd, 2019.
4. National Museum of American History, "All Work and No Pay: A History Of Women's Invisible Labor" Exhibit
In patriarchal societies, the gender roles that women are ascribed position their work within the private sphere. Women in the United States have traditionally had the responsibility of domestic work, which involves being the home-maker and care-taker of children. This labor is almost always unpaid and invisible. There is a common conversation about equal pay for equal work, but many don't discuss women's work that isn't included in that movement and that is deemed invisible. 
The All Work and No Pay Exhibit shows that despite advances in the paid labor force, women are still responsible for most of the unpaid work at home. The exhibit separates women's invisible labor into three sections: "Separating Home and Work,"  "Making Unpaid into Paid Work," and "The Second Shift." Within the exhibit, there is also a focus on what women wear during domestic work and displays rare "domestic clothing costumes." 
The museum's hours of operations are10 a.m. – 5:30 p.m. The National Museum of American History is located at 1300 Constitution Avenue NW, Washington, DC 20560 and has free admission. 
The exhibit will be open until February 2020.
5. The National Portrait Gallery, "Votes for Women: A Portrait of Persistence"
The Suffragette Movement, during the First-Wave of Feminism, coined the phrase "Votes for Women" and was central to the political movement to grant women the right to vote. The 19th Amendment to the United States Constitution, which granted women the right to vote, was passed by Congress in 1919 and was ratified in 1920. 
In honor of the 100th anniversary of the ratification of the 19th amendment, the National Portrait Gallery has unveiled "Votes for Women: A Portrait of Persistence." This portrait represents the movements and women that aren't often recognized in celebration of the Suffragette Movement and the struggle for women's right to vote. Many groups of women were left out by the Suffragettes and this exhibition reviews the contributions of the radical women in antislavery societies, women activists of the late nineteenth century, the "New Woman" of the turn of the century and the militant suffragists of the 1910s. It highlights the struggles that minority women endured long after women got the vote. 
At the National Portrait Gallery, you can also find the exhibits "Storied Women of the Civil War Era," "Women of Progress: Early Camera Portraits," and "Former First Lady, Michelle Obama by Artist Amy Sherald."
The Gallery's hours of operation are 11:30 a.m. – 7 p.m. The National Portrait Gallery is located 8th and F Streets NW, Washington, DC 20001 and has free admission. 
The exhibit will be open until January 5, 2020. 6. The Freer/Sackler galleries, "Empresses of China's Forbidden City, 1644-1912"
The Qing dynasty of China lasted approximately 260 years and was the last imperial dynasty of China. It was also the fifth-largest dynasty in the history of China. It was during the later Ming and Wing dynasties that women-only mosques were recorded in China, which may in part due to the gender segregation that was instituted during the Qing rule. In China during the Qing dynasty, there were very strict gender roles that treated women and men as unequal, but during the same dynasty, Qing women are cited as one of the main reasons for their massive success.
Women's stories are often left out of history, but particularly the women within the Qing dynasty because of the static view that women were not equal to men. The exhibit of "Empresses of China's Forbidden City, 1644-1912" challenges the notion that women were passive in the Qing dynasty by highlighting the women within this dynasty and their roles. This exhibition showcases how the empresses influenced the arts, religion, politics and diplomacy. By reclaiming multiple aspects of their lives, they were able to direct attention to the broader issue that women's accomplishments are too often left untold.
The galleries' hours of operations are 10 a.m. – 5:30 p.m., Monday through Sunday. The galleries are free admission and are located at 1050 Independence Avenue SW, Washington, DC 20560, Sackler, gallery 24.
The exhibit will be open until June 23rd. "> 
8. Belmont-Paul Women's Equality Monument
The Belmont-Paul Women's Equality Monument is located in a house that was built in 1800 for residential purposes and destroyed in 1812 by British forces. The house (was sold) to the National Woman's Party (NWP) to use as their headquarters in 1929. The NWP renamed the property in honor of Alva Belmont, former NWP president and its primary benefactor. The monument's name now includes "Paul" to honor Alice Paul who founded the NWP in 1916 to address women's suffrage and inequality. Under Paul's leadership, the 19th Amendment was ratified in 1920. After their great success, she focused on ending discrimination of all women and her solution was the Equal Rights Amendment, which is still a focus of many feminists today. 
In 2016, President Obama designated the National Women's Party House as a national monument. The National Women's Party has teamed up with the National Park Service to maintain and historicize the Sewall-Belmont House, the original and current headquarters of the National Women's Party. The monument features the National Women's Party's collection, which contains books, textiles, photographs, records, art, and artifacts produced primarily by women, about women. 
The monument is open to the public Wednesdays through Sundays, from 9am-5pm. The free guided tours are available 9:30am, 11am, 2pm, or 3:30pm.  The Florence Bayard Hilles Feminist Library is available by appointment. Admission to the monument is free and it's located at 144 Constitution Ave NE, Washington, DC 20002. 
Also, on June 9th, the National Women's Party is hosting a 5k Race to Ratification. 
9. Mary McLeod Bethune Council House
The Mary McLeod Bethune Council House is located in Logan Circle, which was a refuge for escaped slaves and freedmen during the Civil War. The house was built in Logan Circle around 1874 and was sold to the National Council of Negro Women in 1943. The program was initiatedto address the problems of inadequate housing, racial discrimination, health care, employment and the preservation of African American women's history. The site was also used as a rallying point for those that made the March on Washington for Jobs and Freedom possible.
In 1979, the Mary McLeod Bethune Council House was opened to the public as the nation's first museum with archives dedicated solely for the purpose of the collection, preservation, and interpretation of Black women's history. In 1982, the house was declared a National Historic Site by Congress. The house is named after Mary McLeod Bethune, who founded the National Council of Negro Women in 1935. The organization was dedicated to fighting for women's rights and civil rights. It also started an archive of black women's accomplishments which laid the foundation for the national monument. 
The house is open to the public on Thursdays, Fridays, and Saturdays from 9:00 a.m. to 5:00 p.m. The National Archives for Black Women's History is open by appointment only. It's free to the public and is located at 1318 Vermont Avenue NW, Washington, DC, 20005. 
10. National Women's History Museum 
There is a general lack of representation of women in American education and women of color are represented even less. Only 178 women are cited in state standards for education, of which 63% are white, 25% are Black, 8% are Latinx, 4% are Native American, and 0% are Asian American. The National Women's History Museum found 1,975 mentions of women, women's history, and women's roles within all state standards, overwhelmingly emphasizing their domestic roles. Of the topics discussing women 53% are about domestic roles, 20% are about voting and suffrage, 9% are about first and second wave women's rights, 8% are about civil rights, 3% are about the home front of war, 2% are about the progressive era, 2% are about the workforce and 3% are about other topics.
There is not just a problem with how often women are represented in historical education, but there is also a problem with the way in which women are misrepresented. Additionally, this lack of representation is spread into the world of museums, specifically the Smithsonians. There is no Smithsonian museum in Washington, D.C. that is dedicated to women's history and there is only one national park monument, which I highlighted in #8. The National Women's History Museum is working to change that. 
To celebrate women's history, you don't even have to leave your home thanks to the National Women's History Museum (NWHM). The NWHM is an organization dedicated to educate, inspire, empower, shape the future, and provide a complete view of American history that includes women. Their website includes 27 unique exhibits dedicated to women's history ranging from feminist activists to influential women in sports. Currently, the NWHM only exists online, but they are working to build a physical museum in Washington, D.C. that is dedicated to women's history.
They are also dedicated to telling stories about women today, on their website you can submit your own story about an influential woman in your life. At the NWHM you can also find educational resources for students and educators, free posters, electronic field trips, legislation advocacy tools, and a list of public programs they provide. ">
Whether you celebrate notable women in politics, art, activism, ancient societies, invisible women, or the women in your own life, keep pushing the necessity of recognizing and honoring all women's accomplishments in history. Remember, April does not mark the end of our celebration, but every day is a new chance to be inspired by powerful women and be inspiring as a powerful woman. Who knows, maybe one day you will be recognized as a historically significant woman and someone like me will encourage people to celebrate you.  
(Photo Credits: 1, 2 belongs to the author, 3, 4, 5, 6, 7, 8, 9,10)