Going back to in-person classes can be a big adjustment, but it does not have to be boring. There are many ways to spice up how you look and how you feel. Adding some of these cute essentials to your list can help make this school year fun while stepping up your self-care game!
Signature scent
Perfume is such an important thing to invest in when it comes to elevating your mood and style! Your perfume says a lot about your personality. Some people prefer fruity scents, some prefer warm gourmands, and some people prefer fresh, natural scents. Whichever scent profile you prefer, it is important to choose a scent that YOU love! Having a signature scent that you love makes you feel better about yourself, and it helps you make a lasting impression on those around you. Everyone loves the girl who always smells good!
Personally, I love matching my perfume to my mood. One of my favorites is Bubble Bath ($135) by Maison Margiela's Replica line. This scent is fresh, clean, and bright with notes of coconut, soap bubbles, and jasmine. It smells exactly like taking a warm, relaxing soak in a bubble bath! When I want to feel more awake, polished, and sophisticated, I wear Bubble Bath! This is a perfect scent to wear to an interview, a meeting, or just to class!
If you are looking for a more affordable scent, try Brazilian Crush Cheirosa 62 by Sol De Janeiro ($19-$30). This scent has notes of vanilla, salted caramel, and sandalwood, leaving you smelling delicious! This scent is perfect for every day, whether you're going to class, walking around campus, or just having a cozy night at home.
Cute water bottle
Having a cute water bottle may seem trivial, but it's actually very practical! Being in class all day, you may not have time or remember to drink enough water. Having a water bottle that matches your aesthetic is such a cute reminder to stay hydrated and it is much more eco-friendly than disposable plastic bottles.
My favorite reusable water bottle is from Joco. This water bottle is made entirely from artisan glass without harmful plastics or chemicals. It also has a beautiful velvet, no-slip finish, making it so easy to transport and use. I love adding things like lemons or strawberries to my water because it makes it more fun and it tastes great!
Tote bag
Tote bags are so cute and practical for everyday use, especially as a student, because you can fit your books, laptop and other school supplies in them! They can serve as both functional and fashionable purposes. There are so many different options you can choose from depending on what your style is.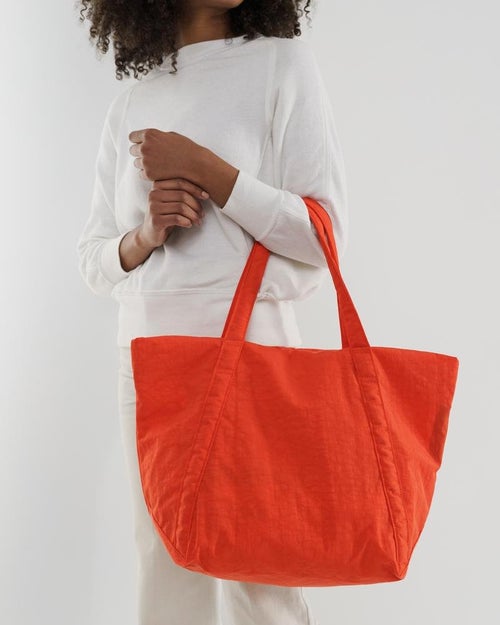 Personally, I prefer the more neutral-colored bags, especially for fall and winter, because they are easy to style and they match with almost everything. My new favorite is the Marc Jacobs Tote Bag in the color beige. This bag is so cute for campus and you can fit so much stuff in it! If you prefer a pop of color, there are so many other options like this bag from Urban Outfitters. It comes in a variety of bright colors like green, orange, blue, and pink, and it is very affordable too!
Planner
Going back to in-person classes is definitely a big transition! You may feel overwhelmed with due dates, assignments and prepping for your classes. Having a planner can help so much with organizing your life and keeping up with important dates and times.
There are so many cute and affordable options to choose from like this planner from Target! It has many helpful additions including lists to help you keep track of holidays, contacts, and important dates, as well as a space to write notes!
Jewelry
Jewelry can make you look so much more sophisticated and put together, even if you are wearing a simple outfit! Investing in staple jewelry pieces is important because they will last you a long time and you can pair them with everything. Some of my favorite pieces include gold hoops, gold necklaces, anklets, bracelets, and rings! I like to match my jewelry color to my skin undertone. If you have more warm/golden undertones, gold jewelry will look great on you, and if you have more fair/cool undertones, silver jewelry will flatter your skin tone very well!
This Kate Spade Initial Necklace is such a cute everyday accessory because it is lightweight and you can customize it with your own initials or someone you love! I also love wearing small gold hoop earrings. These small gold hoops from Target are so classy and a perfect casual accessory! They come in a variety of different sizes and colors so you have plenty to choose from.
Hydrating body lotion
As we are approaching the winter months, having a good-quality body lotion can help save dry skin! Your body lotion does not have to be expensive either. There are many affordable options including Palmer's Cocoa Butter Lotion. This lotion is so hydrating and it smells amazing (like chocolate and vanilla)!
If you want your skin to have more of a visible glow, try body oil! There are many great options like the Palmers Coconut Oil Body Oil. This oil is so lightweight and hydrating, and it has a subtle, delicious scent of warm coconut. If you are feeling fancier, this PureFiji Exotic Bath and Body Oil is an amazing choice. This body oil is like a vacation in a bottle! I love the Coconut Milk and Honey scent, but they have many other tropical scents to choose from including mango, pineapple, guava, and more.
Being a student may be tough, but these back-to-school essentials are guaranteed to help make this school year a good one!