As fall begins to settle over DC, there's no better way to spend a beautiful, warm weekend morning than at one of the many flea and farmers markets around the city. My personal heaven is digging through racks of vintage clothing at the Georgetown Flea Market and greeting every dog I see while their owners shop. Vendors offer a little bit of everything, from handmade resin jewelry to freshly pressed apple cider. Everyone is bound to return home with a treasure. Grab a friend and go find yourself something fun, or simply enjoy the ambiance! Here are some of the best, most accessible markets DC has to offer.
Flea Markets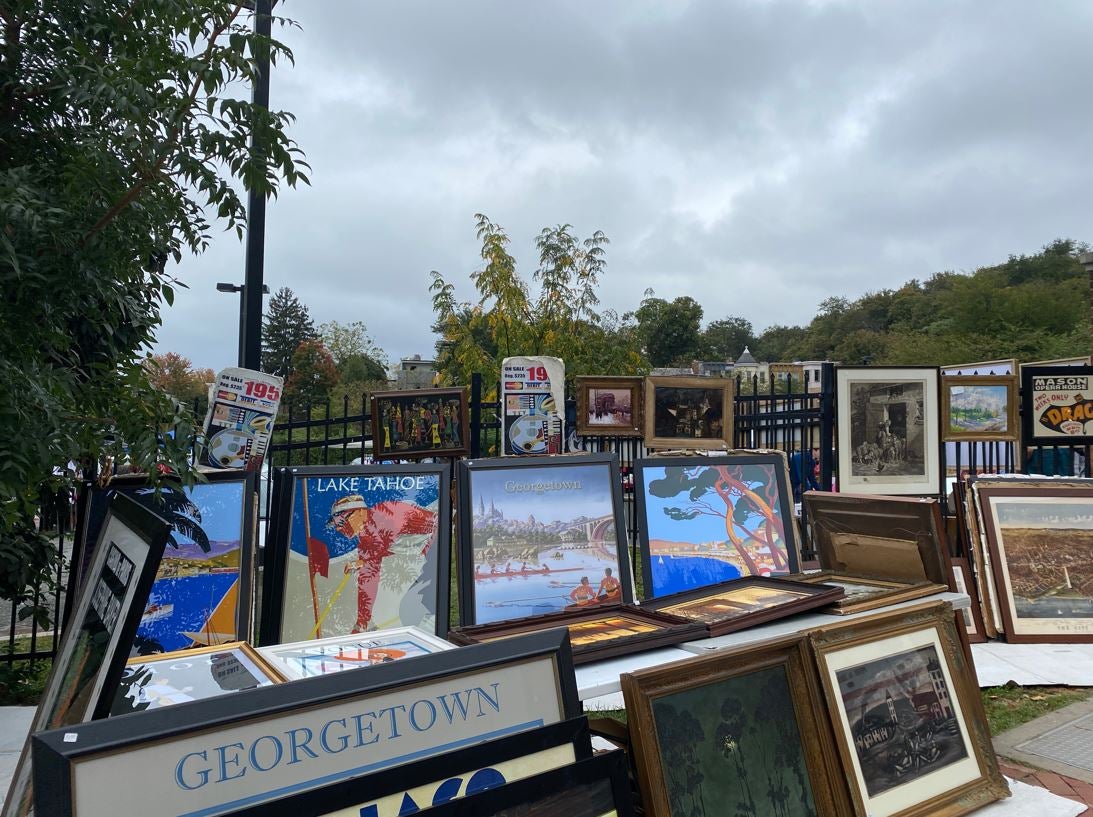 1. Georgetown Flea Market
The Georgetown Flea Market is my favorite for many reasons- it's a 20-minute walk from American's campus, the perfect size for an hour of happy meandering, and boasts a wide variety of items. It's self-described as a market for antiques, vintage collectibles, and local handmade creations. You can wander down tables of old books, cases of funky jewelry, and find countless crafters with unique creations like a resin claw clip with dried flowers that I bought from ArteparaVivir Design.
My roommate found a bunch of cozy sweatshirts and fun oversized t-shirts- with her favorite repping a picture of Speedy Gonzales. Make sure to check out the vendors scattered along the sidewalk, too! I found the sidewalk to have the best selection of vintage clothes and artwork. Many artists lay their paintings and posters out on the grass to wander through. My roommate and I got funky handmade clay pins from a woman selling artwork at a sidewalk table. The Georgetown Flea Market is my new go-to lazy Sunday adventure.

Sundays 8-4, 1819 35th St. NW, Washington, DC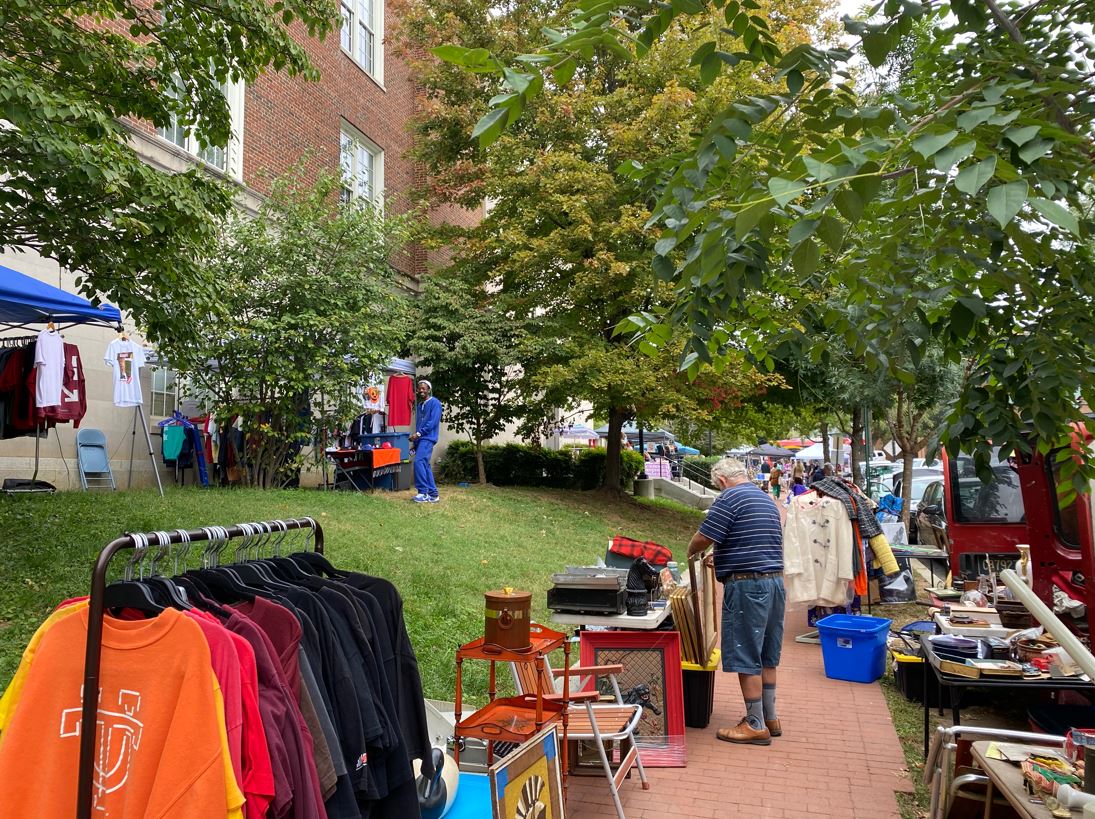 2. Dupont Little Flea Market
If you're looking for some food and music along with your shopping, the Dupont Little Flea Market is for you. Sprawling down 19th and Q, this market offers an array of vintage and handmade goods against a backdrop of local restaurants and shops. Stroll through booths of fragrant soaps, art prints, and pretty terrariums while music from The Little Tiny Concert Series, playing every Sunday at noon, floats down the street. The vendors are incredibly friendly and take so much pride in their work. One of my favorites was a photographer selling framed photos of DC protests to keep their energy alive.
My favorite find was a fun pair of earrings made from recycled fabric that I'll be wearing to a festival, and my roommate snagged a cool glass terrarium to decorate her windowsill for only $10. You can easily spend hours exploring a little bit of everything at the Dupont Little Flea. Make a day of it like we did and stop by the Dupont Circle Farmers Market for lunch!

Sundays 10-3, at the corner of 19th and Q Streets NW, Washington, DC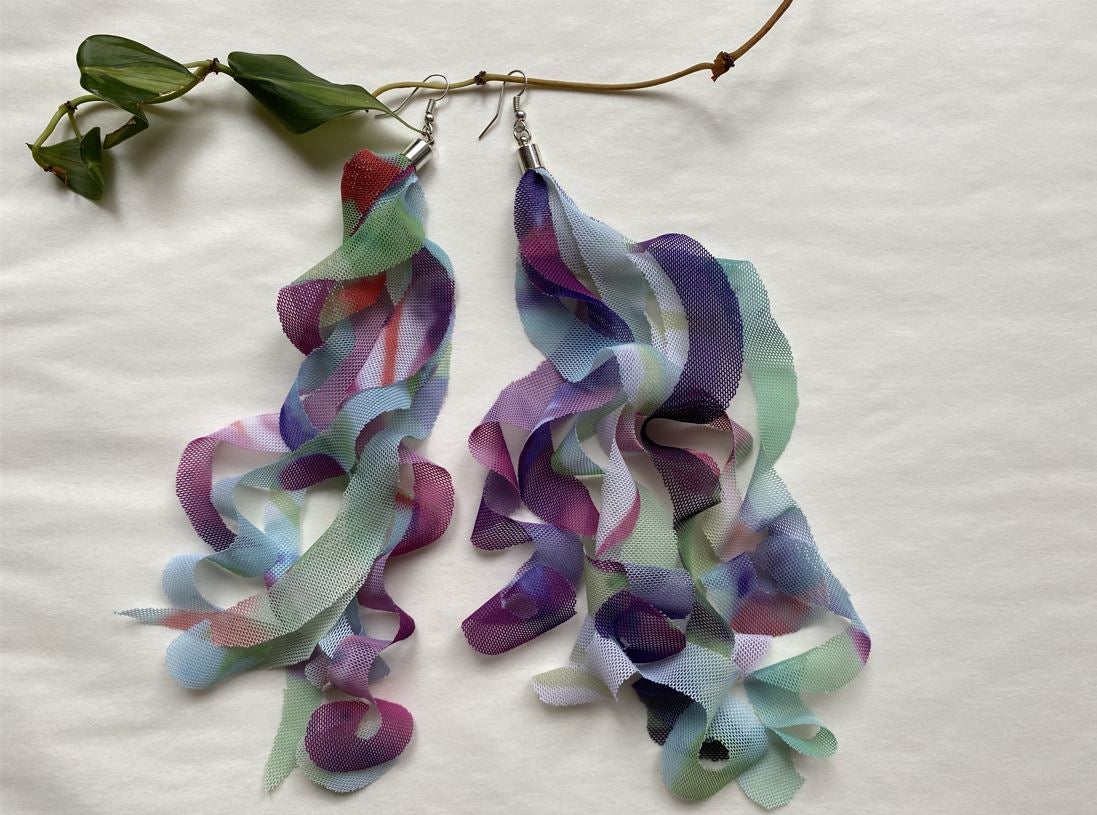 3. Flea Market at Eastern Market
Once voted one of the best flea markets in the world, The Flea Market at Eastern Market is arguably the most frequented and diverse market in DC. It's well established and hosts an impressive group of vendors from five continents, ranging from an Egyptian glass blower to a Peruvian alpaca shawl-maker. Along with imported goods, you'll find vintage clothing, pottery, jewelry, furniture, and tons of gorgeous locally-made items. The freshly baked Peruvian empanadas at Alexa's Empanadas alone are worth the trip! The Flea Market at Eastern Market is the perfect place to find a one-of-a-kind gift or unique token for yourself, and you can support global artists in the process. It's become so popular that it just expanded to Saturdays and Sundays. Go see for yourself what all the hype is about!

Saturdays and Sundays 9-4, 7th and C Street SE, Washington, DC
Farmers Markets
1. Dupont Circle Farmers Market
Just steps away from the Dupont Little Flea is the massive, year-round Dupont Circle Farmers Market. Whatever fresh produce you need, they've got it. Over 50 farmers set up shop, covering tables with peaches, jars of pickles, stacks of baked goods, and bouquets of vibrant flowers. Half the fun of this market is just walking around and taking in all the smells and colors.
You can find all the traditional farmers' market foods like fruits and vegetables, meat, eggs, cheese, and jars of delicious things like jam, as well as plants, soaps, and prepared meals. Local comfort food joint Puddin' attracts crowds with its famous namesake dish, Brown Butter Bourbon Bread Puddin'. If that isn't enough to entice you, Dupont Circle Farmers Market is dedicated to reducing food waste and making fresh, nutritious food more accessible (check out their Fresh Match, Pop Up Food Hub, and Gleaning programs). Whether you're looking to shop regularly for produce or to enjoy an occasional locally sourced lunch, Dupont is the epitome of farmers' market dreams.

Sundays 8:30-1:30, 1624 20th St NW, Washington, DC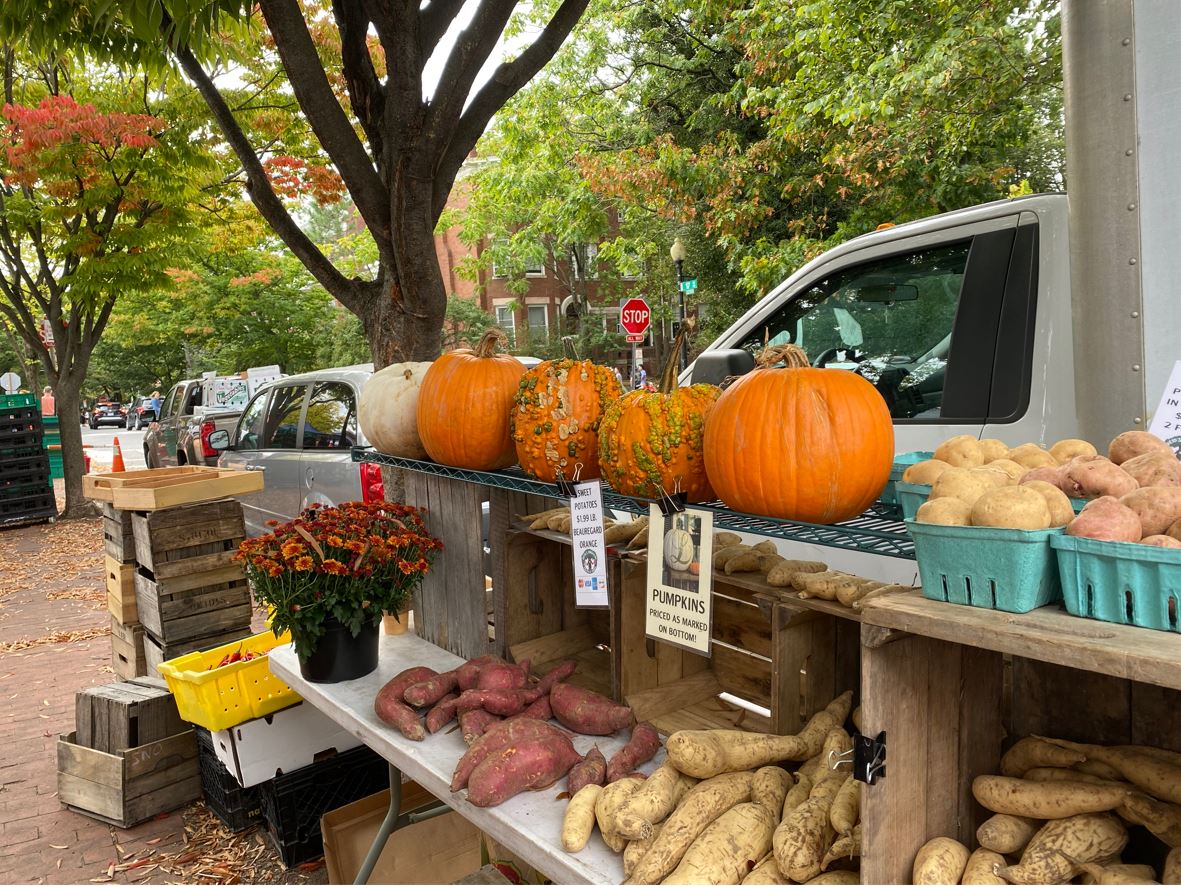 2. Mount Pleasant Farmers Market
Small but mighty, the Mount Pleasant Farmers Market lies on a tiny community park, overflowing with the best produce and handmade goods of the season. On a fall day, locals come out to pack bags of apples, pick out pumpkins, and eat the quintessential fall pairing, cider and donuts. At Reid's Orchard, I got a bag of apples and a "spooky" pumpkin, which I'm told can be eaten in many recipes (I'll be testing it for myself). You wouldn't think popsicles could make the transition to fall, but Jarabe Gourmet Pops had the tastiest and prettiest orange and lemon fall-inspired popsicles. This market also had a surprisingly diverse spread of meal options and other goods. Mapp'd Global Foods makes food from around the world, like their Kenyan Inspired Vegan Lentil Curry. At Ozz Café, a Turkish food cart, I bought a gorgeous painted bowl made in Turkey. Along with this market's great selection of items, I really enjoyed how friendly and community-oriented it felt. Many vendors knew regular customers by name and made an effort to welcome you. This is one you can't pass up!

Saturdays 9-1, 3210 Mount Pleasant St. NW, Washington, DC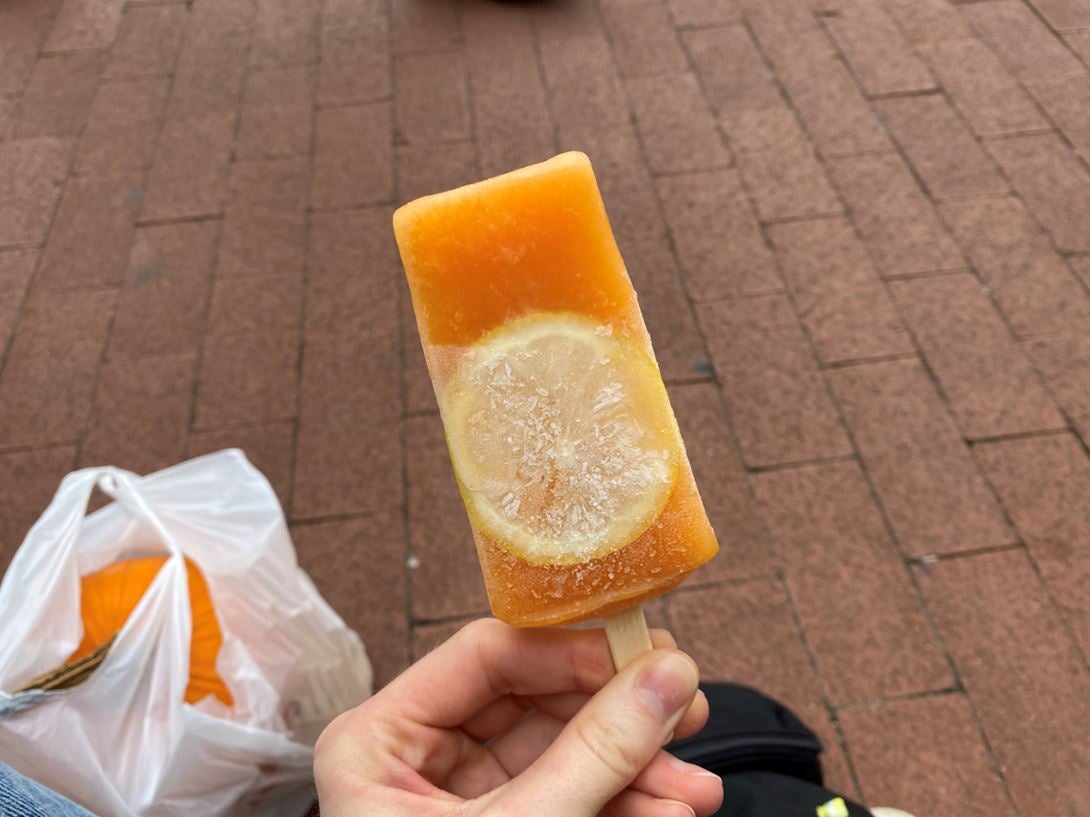 3. Palisades Farmers Market
I'm convinced you could eat every meal at Palisades Farmers Market. Its vendors cater to seemingly every food imaginable, with tons of fruit and vegetable stands, a variety of meats, cheeses, cream cheese, eggs, oils, spices…the list goes on. As a sugar fiend, I loved how many baked goods and dessert options there were. You can find everything from bread and pastries to pie and gelato here. My morning was made when I visited Les Caprices de Joelle and got a crepe! If you don't eat sweet things for lunch like I do, this market also offers savory prepared food, like Chinese dumplings from The Chinese Street Market DC, and empanadas from the House of Empanadas. I was also impressed by how many plants and cut flowers there were to choose from. I picked a bouquet of red, orange, and yellow zinnias to brighten up my apartment!
Palisades Farmers Market has a little bit of everything and deserves multiple visits. For a cheap and delicious brunch, get a baked good (good luck choosing just one) and coffee at Zeke's Coffee of DC.

Sundays 9-1, 48th Place NW & MacArthur Blvd NW, Washington DC