Climate experts warn that federal guidance on double masking to protect against the coronavirus and its more contagious variants could backfire on the environment.
"It's one of those instances where science contradicts itself," said Jessica Myers, a graduate student at Texas A&M University-Corpus Christi studying microplastics. "The healthcare side of science wants the mask, but the pollution side of science is struggling with our disposal of them."
The Center for Disease Control and Prevention has urged Americans to consider wearing two masks to protect themselves from new contagious variants of the coronavirus. 
Wearing a cloth mask over a disposable surgical mask can reduce your risk of contracting the virus by more than 90%, according to a CDC report released on Feb. 10. 
Since the beginning of the pandemic, millions of personal protective equipment (PPE), like disposable masks, have been produced to keep people safe from COVID-19. According to the Food and Drug Administration, disposable masks are meant to "help block large-particle droplets, splashes, sprays, or splatter that may contain germs (viruses and bacteria), keeping it from reaching your mouth and nose." 
There has been little to no guidance from the CDC or other government agencies on how to properly dispose of these masks. As a result, hundreds of thousands of disposable masks have washed up on beaches, clogged sewer drains and made their way to landfills across the country.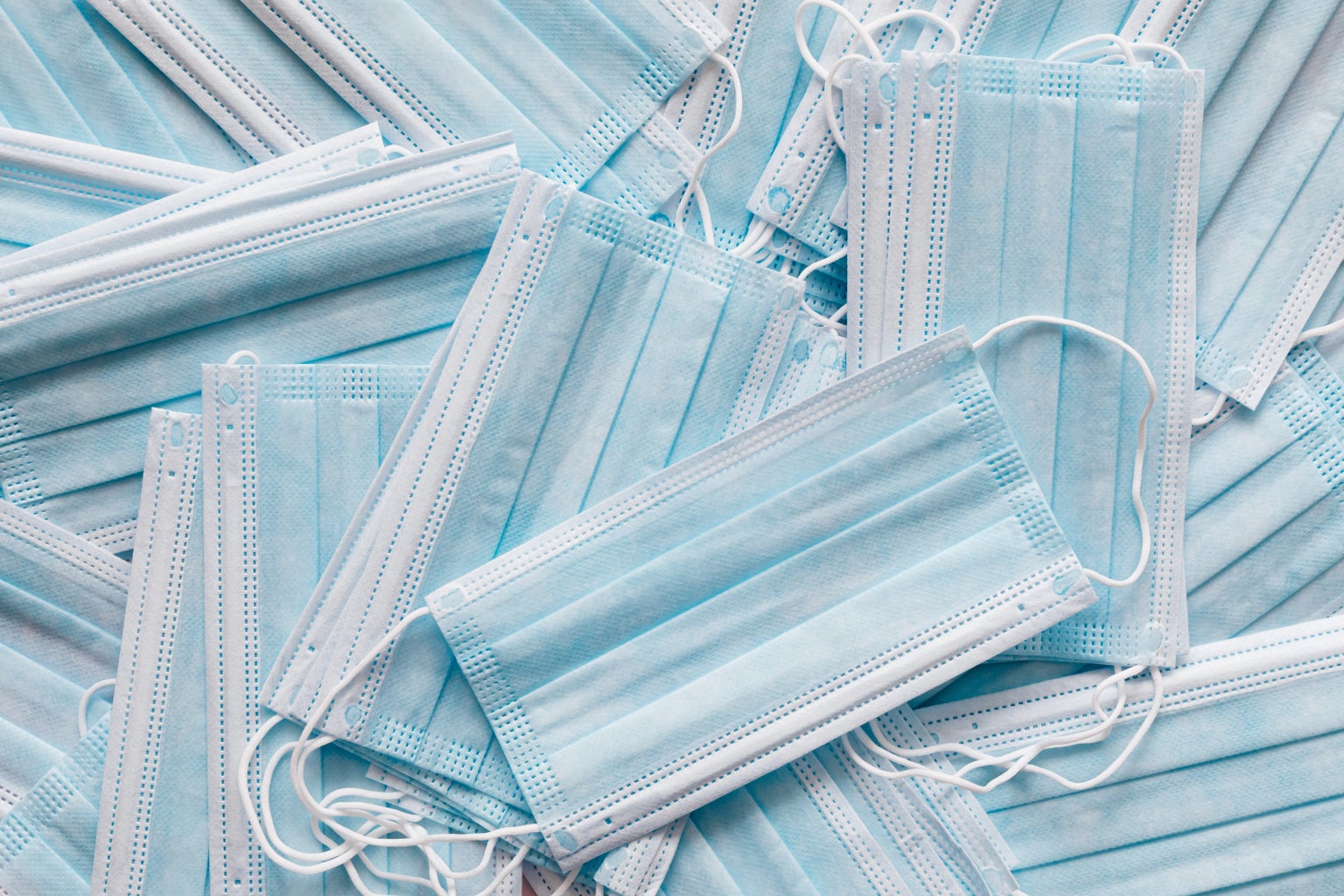 Mallory Gelinas, a former inland fisheries resource assistant at the Connecticut Department of Energy & Environmental Protection, has noticed an increase in disposable masks infiltrating the water systems of her Connecticut town. 
"Improper disposal of PPE products has caused a plastic buildup in culverts and other bodies of water locally," Gelinas said. "There were major issues in the springtime after the snow melted where masks were being washed away by pavement runoff, mainly in grocery store parking lots, into nearby water sources, like the Naugatuck River."
Jesse Meiller has noticed an increase in mask litter around the DMV area. Meiller is an environmental studies professor at American University, a marine ecologist and an environmental toxicologist. In her spare time, Meiller takes part in clean-ups around Rock Creek Park with Rock Creek Conservancy. 
"We certainly weren't seeing masks a year ago," Meiller said. "That is something we have to work on." 
On the other side of the country, Evan Berry, an assistant professor of environmental humanities at Arizona State University, has noticed similar findings to Gelinas and Meiller. 
"I see masks more than any other single form of litter," said Berry. "I think a lot of it is because people use the disposable ones, have them with them in their pocket and are always taking them on and off and losing them." 
Disposable masks are extremely lightweight and can easily be lost if a person is not paying attention. Even though they weigh next to nothing, the environmental effects of these masks are hefty. 
"During COVID, the volume of municipal solid waste, whether PPE or not, has increased quite a bit, some by as much as a third," said Victoria Kiechel, a professor in American University's global environmental politics program. "A lot of it presumably is plastic. That is not going to be good because it will break down into microbeads or microplastics eventually."
Disposable masks are made out of polypropylene, a plastic that has been proven to be damaging to marine life and can take 450 years to decompose. They are not recyclable or biodegradable. If mixed in with recyclable products, these masks could contaminate the whole batch and put the people at recycling facilities at risk for COVID-19.
TerraCycle, a company dedicated to eliminating waste, has created disposable mask zero-waste boxes where people can drop off their used surgical, KN95 and N95 masks. These boxes are then shipped back to TerraCycle, where they are being disposed of properly. 
American University has recently placed several of these disposable mask bins around its campus. 
"I love that we are a part of that at AU," said Meiller. "Those sorts of education initiatives and awareness campaigns are really important so that people stop and think about what goes into a landfill."