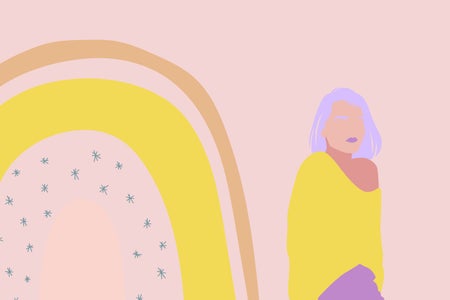 Original Illustration by Gina Escandon for Her Campus Media
Caroline Shaw on How to Have a Mental Health Glow Up
I met Caroline Shaw during my senior year of high school. We ended up becoming best friends, and since then, I've seen her grow into the best version of herself. She was granted the opportunity to move to San Francisco, booked herself an agent to help her advance in her acting career, and is someone who I think embodies Her Campus's values to her core. This profile on Shaw was written with the intention that readers could use this as a realistic guide for how to get themselves to a better place mentally. Take what you need from this article and leave the rest! 
Her Campus at American: What was your mental state when we first met? 
Caroline Shaw: I feel like throughout high school I was a billion different people, but mostly anxious and worried about what everyone thought of me. I tried to put on this persona of "I don't care and try to be quirky," but I was really just anxious. 
HCAU: The worst moment in high school? 
CS: THERE'S SO MANY! Having an intense idiotic crush throughout high school was the stupidest thing, I acted so different around him versus other people. Looking back, I feel embarrassed because I know my worth. 
"It's so hard to grow when you're worrying about other people" - Caroline Shaw
HCAU: How do you feel about change in general? 
CS: When I was a freshman in high school, my brother moved to California which caused me  to grow and focus on myself more. I started going to therapy and got diagnosed with this disorder that focuses on anxiety surrounding change. I don't know if I still have that disorder, but I used to be really afraid of change because I'm a creature of habit. However, throughout high school, I realized I actually liked change and freedom. I don't like limiting myself. It's definitely been a process, but it's beautiful and necessary. I want as much of it as I can. 
HCAU: At what moment did you know something needed to change? 
CS: I've had so many of those over the past year. A lifetime of life-changing moments in a year or two. I didn't know we were going to live through a global pandemic, yet, I didn't know I had that much main character energy. As I was living through the pandemic this summer, I took a consumer class, and during that time, I realized that there was nothing significant left for me in Chicago which forced me to move. 
"I didn't know I had this much main character energy." - Caroline Shaw
HCAU: Who's someone that inspires you? 
CS: A lot of people. Mostly womxn-- whether they be celebrities or people in my life. My mom is inspirational because she's on the journey to self-growth. AJ McChalka-- she's a part of Aly & AJ (she's AJ)-- she's also a voice actress which I think is pretty cool. I want to be where AJ is. 
HCAU: What are your passions and why? 
CS: I have a lot of passions which is a good thing. I used to find having a passion stressful because I thought I was setting myself up for failure, but over the past couple of years, I realized I wasn't happy narrowing my passion down, so I decided to tackle all of them. There's music, theatre, acting, dancing, writing, and film which are all connected, but still separate. My number one passion is expressing myself in a way that benefits the world.
HCAU: When did it become clear to you that these are passions? 
CS: I guess I've always kinda known since I was young. I was one of those people singing opera on the playground, and as a kid growing up in a crummy household, I was raised being taught that quiet was the best way to live. For a long time, I was a quiet kid because I was scared. It was not because I didn't like expressing myself, but because I was scared and as I moved out of that situation, I was able to express myself more. The idea of silence being better is always going to be in the back of my mind, but I'll always fight that mindset. I value expression so much more because of the silence.
"I value expression so much more because of the silence." - Caroline Shaw
HCAU: How do you overcome anxiety in your life? 
CS: I'm constantly comforting myself by reminding myself that it's okay to take a break and justify it. Perfection isn't real, as much as society has shoved it on me, it's a concept and it can't hurt you unless you let it.
HCAU: Describe what you think self-love is.
CS: It's a constant battle. I deal with mental illness, I have anxiety and depression, which makes it hard especially when you want to do theatre. Everything about theatre is putting yourself out there to be judged by others. I have this system where whenever I think negative thoughts, I combat those things by listing evidence as to why I don't suck. Positive affirmations! 
HCAU: How has therapy helped you on your journey to becoming better? 
CS: I do a one-hour session once a week and I think it's helped because I've learned so much about myself through therapy. I've also learned lots of coping mechanisms which has helped me to grow. 
HCAU: Have you become more aware/in control of your thoughts in the past couple of years? 
CS: I've become a lot more aware of what each thought means. It's the subconscious-- you can't control it, but by being aware of your thoughts, you gain control. This takes time and is hard work. 
"Perfection isn't real, as much as society has shoved it on me, it's a concept and it can't hurt you unless you let it." - Caroline Shaw
HCAU: How do you keep yourself happy (in general and during a pandemic)? 
CS: I disassociate, color in my coloring book, watch Tik Tok and Netflix-- doing mindless things allows me to clear my head. A lot of people may view this coping mechanism badly, but if you understand it, it's extremely helpful.
HCAU: How do you balance relationships with everything else? 
CS: I always try to keep this mentality that the people in my life come first. I have an ambitious brain and a romantic brain. I always make time for friends and family because I recognize how important that is for my health. I always have to remind myself to check-in on people, but it's worth it.
"I make time for my friends and family because I recognize how important that is for my mental health." - Caroline Shaw
HCAU: Have you been exercising, if so, how do you exercise? 
CS: Recently, I've been walking/running a mile a day, but I don't put pressure on myself to do this. I try to stretch everyday because it's not about losing weight or changing my body-- it's about feeling good. 
HCAU: Has your diet changed in the past couple of years? 
CS: I stopped eating red meat because it made me feel bad. Beef takes time to digest, so by not eating this, it has made me feel better. 
HCAU: How do you think your confidence has changed from when we first met to now?
CS: I think it slowly but surely I did not care as much about other people's opinions. It's so hard to grow and be yourself when you're worried about people who you view as more impressive than you. I was worried about small things and now I'm worried about bigger things. Overall, I'm more confident and sure than I've ever been. 
It can be overwhelming at times to see other people being successful, but remember that you can get there with hard work and time. Refer to this article whenever you need to be reminded of how important your mental health is and if you ever need help with self-improvement!
Photos: Her Campus Media