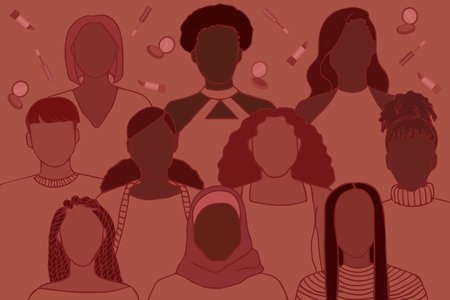 Adebusola Abujade / Her Campus Media
Beauty Brands To Support This Black History Month
We've all heard of Fenty Beauty, but Rihanna isn't the only woman whose developed cosmetics made for all skin types and tones. Check out these other beauty brands started by women of color who encourage all women to see beauty in themselves and others. 
Melissa Butler started The Lip Bar out of frustration towards the beauty industry. The cosmetic chemicals and limited shade ranges of traditional products portrayed a pretty narrow image of beauty. The Lip Bar is passionate about creating an "inclusive narrative" through their cosmetics and encourage women to be unapologetically themselves. Their products are vegan, cruelty free and affordable. The Lip Bar's "Girl Boss" attitude is powerful and fun. Check out their blog for some behind the scenes articles and beauty tips! 
Kayla Phillips has been single handedly crafting bath, body, and skincare products since 2015. She strives to make her products multi-use so that you can cut down your morning routine and get your money's worth all in one. Her bath bombs, salts, and healing herbs are colorful and vibrant. However, for those who can't afford to buy these products and suffer form chronic illness such as body aches and pains, Kayla will generously sent some items your way.
Beauty Bakerie's mission is "to be sweet and sweeten the lives of others". When looking at their website, this message surely rings true. Started by Cashmere Nicole, a single mother and breast cancer survivor, Beauty Bakerie has spread it's philosophy and products all over social media and has been featured on beauty blogs such as Teen Vogue and Allure. However, their message goes far beyond the glitter and glam of their cosmetics. Through their product profits, Beauty Bakerie has created Sugar Homes, a charity dedicated to supporting orphanages around the globe.
Lisa Price, encouraged by her mother Carol, started making hair and body products in her small kitchen in Brooklyn when she was just a girl. She began selling her homemade products in flea markets and fairs and soon opened the Carol's Daughter boutique. She specializes in natural hair products for all types and textures. Carol's Daughter is also the first brand in the natural haircare world to sell their beauty recipes straight to their online customers. After being on the Oprah Winfrey Show and joining L'Oreal, Carol's Daughter made history when included in the Smithsonian National Museum of African American History and Culture.
Black Minerals is a natural cosmetic line created by women of color, for women of color. Their makeup includes products for all diverse complexions and ethnicities. BLAC prides themselves on using healthy and organic ingredients in their cosmetics, promoting natural beauty and self love. Their catchphrase, "beauty should be simple", is mirrored in their products.
PLANT Apothecary is a vegan, organic skincare brand that caters to all skin types. Started by Holly McWhorter and her husband, PLANT Apothecary is based on natural cosmetic formulation and herbalism. Not only are they an environmentally responsible brand, but a socially conscious one as well. Partnering with BKLYN UNLTD, a non profit based out of Brooklyn, PLANT Apothecary is donating part of its profits towards helping mentally and physically disabled adults.