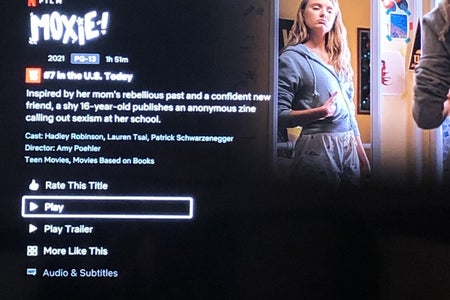 You've Got Moxie: My Thoughts on the New Netflix Hit
With March being National Women's History month, Netflix has been adding lots of movies and shows that center around strong, empowering women. One of the newest movies, which has already skyrocketed into the top ten on Netflix, is called Moxie. Full of intersectional feminism, strong female leads, and empowering insights, this movie is a perfect watch to get you into the mood of celebrating your womanhood.
Directed and produced by Amy Poehler, Moxie follows sixteen-year old Vivian Carter, played by Hadley Robinson, as she creates a feminist pamphlet titled "Moxie," inspired by her mom's feminist protests as a teenager. Vivian and other girls at her high school team up to fight unfair dress codes, preferential treatment to male athletes, and making their voices heard through peaceful protests and demonstrations. Overall, the movie sends an empowering message to women and girls to be loud and proud, and to keep your head up high.
Immediately when I began watching this movie, I felt a connection to it. The high school experience is represented really well, and I think anyone who attended (or is currently attending) a public high school in the past twenty years can relate to the story. I remember times from my own high school experience when I tried to stand up for myself or others, and nothing was done (until my complete BO$$ of a mom got involved) because the boy's parents were on the school board, the boy was on the football team, or "I didn't know what sarcasm was," in the words of my principal. Thankfully, I had my mom there to support me and have my back, but I realize that not every girl has someone like that in their life, and that is why this movie is so important.
In the movie, the captain of the football team, Mitchell Wilson, played by Patrick Schwarzenegger, is the main antagonist. He is constantly harassing the girls in the school, but, as the high school's "golden boy," the rules don't seem to apply to him. Many of the students say to "just ignore him" because he's only "annoying." However, Vivian and the other girls involved with "Moxie" discover that this is just another way to say "boys will be boys, so what can you do?" Instead, they claim that his behavior towards girls in the school is not just annoying - it's dangerous, and by the time he does something bad enough that the school can't ignore, it will be too late. This is a really important message to young girls in both high school and college because our feelings and intuitions are valid. They should not be brushed off, and we should not be made to feel as if we are overreacting. If we feel uncomfortable with someone's behavior towards us, it should never be brushed off as just "annoying." This, like "Moxie" says, is dangerous.
This movie truly aims to bring awareness to common issues that young women are afflicted with, and it's incredibly inspiring. I believe that seeing young women like ourselves on-screen, fighting back against the same issues that we experience, helps us to feel like we aren't alone and that we are valid in our opinions. It's okay to take up space. It's okay to be loud and proud about what you want. And most of all, it's okay to just be yourself and keep your head up high.
If you can't get enough of rebel girls and inspiring women (because, really, who can?), don't forget to check out the book by Jennifer Mathieu that the movie is based on!