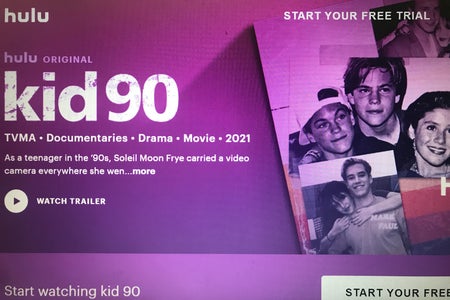 You Don't Need to be a 90s Kid to Appreciate Kid 90
The much anticipated Kid 90 was released on Hulu on March 12 to critical acclaim and attention. Directed by and starring Soleil Moon Frye of 1980s hit "Punky Brewster", this documentary consists of both footage filmed by Frye and her friends, child stars of the 1980s and 1990s, archived footage from television appearances, photos, diaries, saved voicemail messages, and modern day interviews, creating a unique format that draws the viewer in. With interviews with David Arquette (notably of Scream and "The Outsiders" fame), Jenny Lewis (notably in the band Rilo Kiley), Mark-Paul Gosselar (notably of "Saved by the Bell" fame), Balthazar Getty (notably of Lord of the Flies fame), and Brian Austin Green (notably of "Beverly Hills, 90210" fame), Frye reconstructs the stories of her youth with its key players. 
Kid 90 is a trip down memory lane. Brain Lowry for CNN describes it both as "a time capsule, filled with at least as many melancholy memories as joyful ones" and "feel of wading through old yearbooks." Peter DeBruge for Variety depicts this as a negative stating, "the doc really starts to feel like it exists only for those who appear in it — an exclusive yearbook full of "stay cool" scribbles that have gone unexamined for decades" and "if you weren't alive or celebrity obsessed in the '90s, this attention-deficit doc offers virtually no context."
As someone born in 1999 and thus very much after most of the documentary (Frye's footage focuses on her life in the late 80s and 90s), I agree that the film has little context for its viewers. However, watching the film, I didn't see this as a negative. This documentary felt as if I was watching Frye's home videos with her, and for the most part I was. While, there was a jolt of excitement when I recognized someone like Sara Gilbert from "Roseanne" or a young Leonardo DiCaprio, I did not need context to know who people, such as Danny Boy O'Connor (of House of Pain fame) or Harold Hunter (of Kids fame), were because to Frye, their friendship is why they were documented, not their fame. 
Kid 90 might have initially gained attention because of its unfettered view into the lives of famous child stars and their tumultuous teenage years, but its soul is in how much these people, regardless of celebrity status, loved and cared for each other. The pure magnetism of Frye and her friends is part of the allure of Kid 90, as well. Frye explicitly states that her friends were her family, but there was no reason to. Like any teenager whose friends become their whole world, this same openness to love and being loved is evident from the moment Frye picked up her camera. 
To be clear, I have no nostalgia for the 90s. I was also, spoiler alert, not a child star. These simple facts are, however, irrelevant when it comes to watching Kid 90 because I was a teenager. The nostalgia that Frye and her friends feel, the mixed emotions of regret and love, the chaos of new experiences, and the line between maturity and immaturity resonates, I believe, with every American teengaer. Watching Frye and her famous friends get drunk and high might hold a tabloid-esque value for those who remember Frye as eight-year old Punky, but for myself, I can only see my friends. 
Kid 90 is directed by a single question asked by Frye: "Did things happen the way I remember them?" This is a poignant question that is difficult to answer, or even to ask, in a time that is increasingly documented and increasingly filtered. Frye looks back on the past with stark naked honesty, sharing clips of getting high on shrooms in a field with her friends, her exploitation at a young age by Hollywood when her breast size grew dramatically, her breast reduction surgery, her crushes on celebrity crushes, discussions about her first consensual sexual experience with Charlie Sheen, and her heartbreaking nonconsensual sexual experiences. This unflinching look at the past also includes video footage of her friends who have now passed away, including Jonathan Brandis (notably of "SeaQuest 2032" fame) and Justin Pierce (notably of Kids fame). Eight friends in total are featured in the documentary, all of which had died by suicide. Frye speaks of her guilt and of not realizing sooner that her friends were in pain, until she watched these videos all these years later. The feelings of loss and of the pure love she felt for these people come right through the screen and frankly, punch the viewer in the gut. 
Kid 90 is not perfect. There are issues with pacing, and the storyline, despite following Frye's life, is not always clear. DeBruge from Variety calls it "exhaustingly quick-cut" and Lowry from CNN acknowledges that "the destination, frankly, is probably less compelling than the journey." But the focus of this documentary is in emotions and looking at the past which is messy and not clean-cut. As Stephanie Zacharek of Time writes, "Kid 90 is really about looking back as we move forward, and learning to be O.K. with the kid we see in the rear-view mirror." I hold a lot of regret for my teenage years but I also hold a lot of love for the girl in the rear-view mirror. I have no idea if my memories were as fun and as pure and as messy as I remember them to be, but to see the same struggles and the same joy, albeit with a lens of childhood fame, authentically presented before authenticity was a buzzword, Kid 90 shines.