Take Two On Stranger Things 2
I'm warning you right now, if you haven't watched the second season of Stranger Things or haven't watched it at all (side eye), turn back now! Please, unless you enjoy spoilers and can't wait until you finish the series to read this, close this window! I'm about to speak some truth as I give you my review on the second season of the Sci-fi Netflix Original favorite, Stranger Things.
If you're like me, as soon as October 27th hit, I was ready for things to get super spooky and return to Hawkins, Indiana with a lovely binge watching session. I was excited to see my children back together again and see how the love triangle between Steve, Nancy, and Jonathan played out. But more importantly, I just hoped it didn't fall victim to the second season curse. You know the one—where a show is so popular that they overdo it to the point the show just becomes cheesy and predictable and you're like "meh." Well, let me tell you, it did not disappoint. It was even better than the first season.
The production and storyline was phenomenal. The chemistry that the cast has with each other really shines through the screen. The very first episode has so much stuff happen that you're just left going "DAMN!" The possession of Will by the Mind Flayer had my skin crawling as I watched this tiny child slowly start to lose control of his own body and be in pain physically and mentally. Seeing Joyce so helpless made me want to jump through the screen and fight everyone there and take the Mind Flayer on myself for the damage he was causing. The pairings of Hopper and Eleven, Joyce and Bob, and Steve and Dustin were some of my favorites. We finally got to see more of the kids' homelife and got to meet Dustin's mother who is hilarious and makes a big impression even though she only has a small amount of screen time.
The character development of Steve Harrington is one of the best I have seen in a series in a long time. His need to protect the kids and his sense of being a father figure to Dustin made me fall in love with this man I absolutely hated most of S1. I will be writing an entire article on that later because this is something that must be talked about. We also finally, FINALLY, get justice for Barb.  Nothing compares to the tear jerking moment that we hear about Hopper explaining to Eleven about his daughter who passed away. We finally understand the void that Eleven was filling making the moment he gets a birth certificate with "Jane Hopper" on it even more meaningful. There's so many more things I want to talk about, but that could take hours.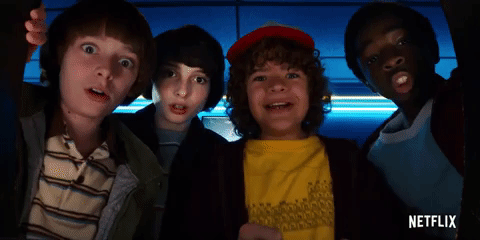 The additions of Max, Billy, and Eleven's "sister" were interesting, but there were times I felt like they weren't needed. I'm more than likely wrong because there's always a reason for character additions for The Duffer Brothers. (On a little side note, Billy totally reminded me of Michael in The Lost Boys and I couldn't get over that.) Boy has a jawline for days, but is super psycho. The Duffer Brothers' writing tied together things from S1 to S2 so seamlessly that I personally just want to hand them all of the awards possible.
I'm a big sucker for 80s movies, especially The Goonies. That's one of the main reasons I love Stranger Things so much because it reminds me of the coming of age movies I loved so much growing up. Having Sean Astin cast as Bob and him being the one to figure out the map made me love this series even more. His character was thrown into this world and was willing to do anything until the very end (#JusticeForBob).  The little nods to 80s movie culture makes this series popular because it makes viewers nostalgic. The relatability to the characters makes this so popular, the attention to the smallest of detail makes this show popular. The music choices is what makes this show popular.
Stranger Things is such a piece of artwork that will be timeless. It knows how to pull at your heartstrings while also knowing how to scare you. There's something for anyone of any age to enjoy