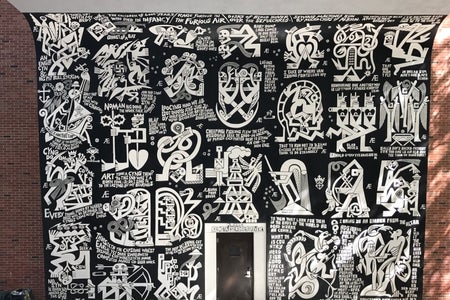 What is Día de los Muertos?
Día de los Muertos (Day of the Dead) is a Mexican celebration. It's celebrated on November 2nd of each year, while November 1st is referred to Día de los Santos Inocentes (Day of the Innocent Saints). Día de los Muertos is a two-day holiday paying tribute to your deceased loved ones. It's a time of alegría (joy)! Many people pray, go to church, have family over for dinner, decorate the tombstones, and/or build alteras at their homes for this day. 
Día de los Santos Inocentes (it's also called Día de los Angelitos, which translates to Day of the little Angels) is the first part of this two-day holiday. It is called this because on the 2nd, we celebrate all the children, babies, young people, and the people who didn't get married before their death. 
Ofrenda (which translates to 'offering' in English) are alters we put out for deceased loved ones. These alters aren't for worship though, most Mexicans are either Christian, Catholics or another religion entirely. The ofrenda is usually set on a table, covered by a tablecloth. The ofrenda is usually three levels or more. They say the higher it is, the closer to God the dead are. You do this by stacking boxes on top of one another on the table/tombstone. It's decorated with papel picado (cut tissue paper), Saints (Virgen de Guadalupe is a more popular saint), crucifixes, rosary, cempasuchitl (a traditional flower for the dead), candles, salt, water, drinks, copal (a type of incense), comida tipica (for example mole, tamales, fruits, arroz), Pan de Muerto (Bread of the dead), favorite clothing, small toys, cigarettes, liquor, pictures of the loved ones who passed away, Calavera de Azúcar (sugar skulls) and La Calavera Catrina (Dapper Skeleton). Most of the things above also depend if the deceased loved ones liked them while they were still in the land of the living. For example, if your deceased Grandpa, liked to smoke when he was alive, you would put a pack of cigarettes on the altar. If it was a child, you would put their favorite toy when they were alive. 
Nowadays, unless you're in Mexico, you would not make the Ofrenda at your deceased relatives' tombstone in the graveyard. You would set up the Ofrenda at a table at your home. 
You can invite people to pray with you at the Ofrenda if you like. When you're done praying on the last day you may share the food with the people who helped you pray.
Cempasuchil (in English they are known as the Marigolds) is the traditional flower for Día de Los Muertos. On the Ofrenda they are usually orange and/or yellow. Cempazuchitl is used because it's believed that this flower guides the spirits to their altars using their vibrant colors and scents. 
Take note that one of the main reasons we make Ofrendas in the first place, other than honoring our beloved dead, is so that their spirits can visit us during Día de los Muertos and Día de los Santos Inocentes. It's believed that on this two-day celebration the deceased come back to the land of the living to pay us a visit. The reason we set out food, is so they can eat and remember the happier times when they were with us. The toys, cigarettes, candy, fruit, sugar skulls, clothes, liquor, etc is all for them. The reason we use a lot of colors and smells on the Ofrenda is so that altar is lively and bright (candles), the smells are strong (copal/food), and pictures, so it's easier for the spirits to find their way to the Ofrenda. 
Pan de Muerto is the key food for the dead. On the Ofrenda you often put food that your deceased loved ones liked to eat. Pan de Muerto is always on the Ofenda and is the main food you share with others. The bread is typically sweet and usually has anise seeds. It's made in many shapes and decorated differently depending on the baker.
Calavera de Azúcar (sugar skull) is a key decoration on the Ofrenda. Back then many people who could not afford to buy fancy decorations for the tombstones of their loved ones would make Calavera de Azúcar instead. They weren't just made from sugar and water, but many were made with clay, dough, and anything else people could get their hands on that was cheap. They are decorated very beautifully with flowers, bright colors, colorful tin foil, glitter, etc. Sometimes they are not even sugar skulls but other things like skeletons, little coffins, animals, etc. 
Remember these keys things when celebrating! On the Ofrenda, you may only place a picture of your departed loved ones. Please make sure that the picture you are placing on the Ofrenda is deceased. You may also place food that your loved one liked to eat. It may be fruits, vegetables, traditional food, or candy. You may also place things that your loved one liked, for example, their favorite toy, or book. You do not have to be Christian, Catholic, Mexican, etc in order to participate. There may be people praying, so please be respectful of each other's space.
This is a time of joy and celebration! Smile, laugh, and share.