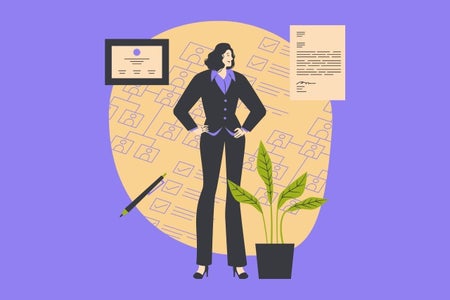 Original Illustration Designed in Canva for Her Campus Media
Trailblazer: An Interview with President Leocadia Zak
    Born in Massachusetts, Leocadia I. Zak became the ninth president of Agnes Scott College in July of 2018. As a Phi Beta Kappa graduate of Mount Holyoke College, where she was recognized as a Woman of Influence in 2012, she now holds a J.D. degree from Northeastern University School of Law. Aside from her many accomplishments, if you are a student or faculty and staff member at Agnes Scott College, you know that President Zak is nothing short of an innovator who deeply cares for every individual at Agnes Scott. I had the opportunity to interview President Zak and delve into how she came to be the role model that she is today. 
    Zak's earliest memories of her childhood feature a dog which both her and her father cherished. In return, her canine friend granted her security. She grew up in a manufacturing town outside of Boston that held a very diverse community. Her parents believed in public education, which exposed Zak to multiculturalism, but, given that her upbringing was impacted by the ongoing civil rights movement, Zak was always aware of the oppression and segregation of people of color. Her passions were fueled by the many injustices that she witnessed including those that were more personal. Ever since she was a child, she knew she wanted to be a lawyer. Zak was close friends with her neighbors when she was young and they were elderly, but one of the sisters was the last in her family to survive and was put into a nursing home against her will. Zak saw this as a great injustice and felt helpless, and she never wanted to feel that way again. As a lawyer, she could ensure that injustice was no longer carried out, although she later came to learn that there are injustices that still need to be fought every day.
    Zak's mother had the largest influence on her childhood as many mothers do. Zak describes her mother as an empathetic first-generation college student with a big heart, who instilled in her that women could do anything they wanted to do; she could do anything she wanted to do. When asked what she might have changed if she had the opportunity to do so, she wishes she had been less concerned with being perfect when she was younger. Zak was a History and Spanish major in college who could read and write Spanish but deemed her verbal ability to be "not that good," therefore, she refrained from speaking it because she was afraid. Now, "if it comes out wrong then it comes out wrong, at least I tried," says  Zak."You don't have to be perfect you just have to do it." She firmly believes that people should take risks and put their dreams into action.
    President Zak describes herself as caring, a learner, and futuristic, as she is always looking towards what we can do in the future and looks towards what's coming next. As a learner, she strives to be better. She doesn't want merely to identify areas for improvement but to figure out how to be part of that change and make it effective. Her career and walk of life are a reflection of these traits. 
    Frequently, Zak faced discrimination in her law career because she was a woman. She stated that people would look around for a male partner instead of going to her, and would assume that she might be dating a partner. During this time, there were not many women in law or women partners in law yet she did not let these adversities inhibit her career trajectory. In 2010, Zak was appointed by President Obama and confirmed by the U.S. Senate to serve as the director of the U.S. Trade and Development Agency. USTDA is an independent federal agency that advances economic development and U.S. commercial interests in developing and middle-income countries. She first joined the agency in 2000, and prior to her appointment as director, she served as general counsel, deputy director, and acting director under the Bush and Obama administrations. Zak's accomplishments during her time at USTDA are many: she led the development of the Aviation Cooperation Programs in China, India, and Brazil; the Energy Cooperation Programs in China and India; and the Smart Cities Initiative in India. She also created the worldwide Global Procurement Initiative. She testified before Congress on behalf of the Agency's programs, served as principal in bilateral dialogues along with the Secretaries of State, Treasury, Commerce, and Agriculture. Furthermore, she accompanied President Obama on foreign trips, met with heads of state and other senior government officials and business leaders around the world, and regularly served as a keynote speaker at domestic and international events. Even today, Zak continues to demonstrate strength. In the summer of 2020, she experienced an arduous Covid-19 contraction, saying "I was on a respirator and really not aware of what was happening so I woke up to everything a week later. But all during that time, my husband was near, by himself, not knowing what was going to happen, not being able to talk to me, not being able to see me, so I really feel for him and all of those who waited during that period." Zak even needed a feeding tube but since then has gradually recovered and continues to work hard despite any difficulties.  
    Zak describes her day-to-day schedule as busy and undoubtedly exhausting. As many of us can relate to, coffee above all else is an essential part of getting started in the morning but then at the end of a long day, she prepares to plan ahead for the next. Nonetheless, Agnes Scott holds a special place in her heart. Zak speaks fondly of Agnes Scott, saying "like many of our students, the first time I saw Agnes Scott and stepped foot on the campus, I knew I was home. I then had the opportunity to meet the people at Agnes Scott, students, faculty, staff, and I knew I was home. I've felt that way since the very first moment. I'm also grateful, having gone through a difficult Covid experience this summer, for all of the care and the love and the thoughts and the prayers that the community gave me because I think I'm here because of that and I will always be grateful."
    When asked what she was most proud of, without hesitation, Zak said Agnes Scott students. She is amazed by what Agnes Scott students do and believes that they are the kindest people she knows. Her message to students is simple: "For the Agnes Scott students, I would say you are the best. You are what inspires me and so many other people; you are the future and talking about looking towards the future, I see a bright one. I have the opportunity to see my students and the way that they care, the way that they act, the way that they care about social justice, and I truly believe that because of them, we will have a brighter future." 
    Imagine that life is like sailing a small boat. During your life, you have picked up the skills necessary to sail your boat and you have a sense of where you are taking this boat. A great leader is like the captain of the said sailing ship, understanding that there are many important and critical functions on board. The captain understands that the morale of all shipmates is critical to efficiency and teamwork, and thus the subsequent outcome. But they must also commit to the health and wellness of their team, both mentally and physically. They will go above and beyond the call of duty to achieve the mission goals-- every time. The Agnes Scott community and students are the working parts of the ship as President Zak, the captain, leads with integrity. When encompassing who she is, the terms trailblazer, compassionate, and triumphant are just some of the words to describe her and her journey into the leader she has become.  
"Here's to strong women: may we know them, may we be them, may we raise them." 
-Unknown