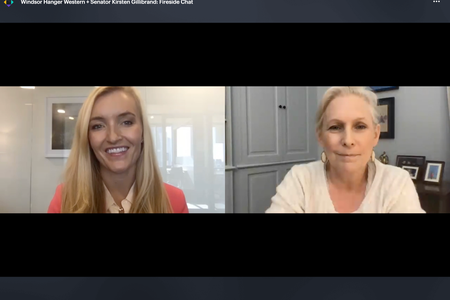 Senator Kirsten Gillibrand Wants All College Women to Vote
This is a sponsored feature. All opinions are 100% our own.
On October 29th, just a few days before election day, Senator Kirsten Gillibrand (D-NY) sat down for an interview with Her Campus co-founder Windsor Hanger Western to remind young women to go vote. The event was sponsored by the Biden campaign. 
Her Campus chapter members had the opportunity to submit questions prior to the conference, and they delivered. Gillibrand was asked about how to get involved in politics, what it's like being a woman on the Hill, and what she thinks are the most important issues in this election. And she didn't hold back, speaking candidly about what it was like to run for president in the primaries and not get the nomination, comparing it to a job interview. "It doesn't mean you're not awesome, or really great, it just means you're not the perfect fit," she said. Gillibrand does not regret her decision to run, because Biden has taken on several issues from her platform, particularly regarding parental rights. 
Senator Gillibrand had a lot to say about strong women. She was inspired to run for office by her grandmother, and credits much of her electoral success to dedicated grassroots volunteers. Female journalists, she says, are much more likely to write thoughtful, fair articles that ask about topics like paid maternity leave and the mortality rate for black women. And the Senator quoted Taylor Swift when asked if it's hard to watch people try to drag her name though the mud, saying that "haters gonna hate." She encouraged women everywhere to run for office in the position they care most about, regardless of experience. "I believe that women have different skills, different talents, different resources," she said, citing a New York Times study that found women had more passed and co-sponsored bills in the Senate than men. "I think that women have so much to add, where it's in public service, in government, in business, and we should value ourselves and value what we have to offer."
Speaking of the black mortality rate, Gillibrand acknowledged that institutional racism in the country is both real and a huge problem. If elected, Joe and Kamala will work hard to eliminate this, little by little. Healthcare is a right, not a privilege, and the COVID-19 pandemic has affected communities of color so much more than white communities. Doctors don't believe black women when they say they are in pain. Institutional racism goes beyond healthcare, extending into the business world and the prison industrial complex (and everywhere, really). Gillibrand has suggested that we use lending programs like the SPA to support business ideas from "communities that are often left behind," and says that Biden shares this idea. She has added a bill doing just that to the next COVID-19 relief package. 
The most important point, that the Senator came back to again and again, is to vote. "If young college women don't vote, then those who get elected will not actually represent our values," she said, as a warning and a reminder. To enact structural change, we must have elected officials in office that want to make life better for their constituents, not just their donors. Election day is tomorrow. It has never been more important to make sure that your voice is heard, and that you vote blue. And don't just vote for president! The down-ballot races are important too, and can often have a more immediate and direct impact on your life. You can visit iwillvote.com to find your polling location, see if you're registered, and more. Be one of the voters to move our country into the future.