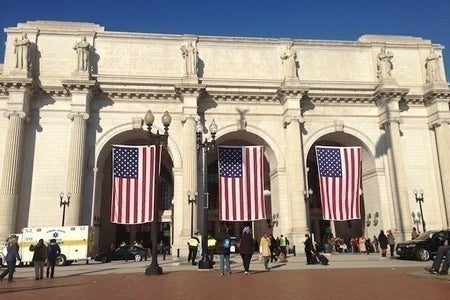 A Former Girl Stater's Take on Boys State (2020)
During the summer of 2017, I attended Texas Bluebonnet Girls State with about five hundred other girls from all over Texas. Girls State is a nation-wide annual program that is run by the American Legion Auxiliary. The program, as well as its counterpart called Boys State, was designed to teach rising high school seniors about the legislative process, civic duty, and voting. The program is also very white and very conservative. Getting off the bus as I arrived at Texas Lutheran University in Seguin, Texas, I was met with the presence of about five hundred other girls and those of us who were girls of color looked like specks in a field of snow. 
While attending Girls State, attendees, or citizens as we are referred to during the session, will create a microcosm of their state's legislature. In my case, that would be the Texas legislature. I and my fellow Girls State citizens were given a crash course in Texas legislature and then were tasked with essentially recreating it with each other. We formed party platforms, sung songs, wrote bills, prepared speeches, and held elections. At the end of the week, we elected our state officials. Our governor, Mikayla Slaydon, and lieutenant governor, Charis Nelson, were to my knowledge the first Black women to hold these positions at Texas Bluebonnet Girls State. We may have made history in that respect during the 2017 Texas Girls State session, but the boys at Texas Boys State made history as well by voting in favor of secession from the Union. The vote for Texas Boys State to secede in 2017 peaked interest for the filming of the 2018 session that would later be released as a documentary titled Boys State. 
The documentary follows four young men, Steven Garza, René Otero, Robert MacDougall, and Ben Feinstein, through their own experiences at Texas Boys State. Otero, a Black kid originally from Chicago, in the film admits that upon arrival to Boys State, held at the University of Texas at Austin, his mother asks him if he wants to go home because the program "look[ed] really conservative."He also realizes that before coming to Boys State he'd "never seen so many white folks before." This statement speaks to the lack of diversity that Boys State and the American Legion Auxiliary seem to exhibit. Steven Garza, the son of a Mexican immigrant, makes careful observation of his overwhelmingly white, conservative surroundings and uses it to carefully plan out his gubernatorial campaign of staying away from particularly controversial issues and using his stance against secession as a point of attack. Garza faces off against MacDougall during the Nationalist party primary. MacDougall's campaign strategy is to lean into the views of the conservative audience as much as possible, even if he does not actually agree with them. Feinstein, a fan of conservative political ideology and Ronald Reagan, does not run in the gubernatorial election but plays a huge part in the success of his party's nominee for governor, Eddy Proietti Conti. 
Though the ending of the documentary is far from a storybook, the documentary itself thoroughly explores how deceitful campaign strategies, honesty, and racism are elements that are all at play in our current political system in a way that its filmmakers, Amanda Mcbaine and Jesse Moss, described as works of "the documentary gods" given "how chaotic [the] event was." Whether you see the film as an example of how dishonest and broken our political system is, or a beacon of what is to come in America's political future, one thing is for sure: The country's future lies in the hands of its youth. 
Boys State, an Apple Original Film and A24 release is now available on Apple TV+.