The city of Chicago sees their South Side neighborhoods as sacrifice zones and it's residents are demanding change. Julia Rademacher-Wedd is a student at Agnes Scott College who grew up in the South Side of Chicago within the city. Witnessing the injustice around her, Julia joined the Friends Committee on National Legislation's Advocacy Corps program, being a part of a cohort of 18 young adults around the country who are organizing in their local areas to build support for federal environmental justice legislation. The organization is a faith-based group that is consistent with Quaker values and though many of the participants involved may not be Quaker, it upholds peace, integrity, community, equality, and stewardship. It's motto states: 
We seek a world free of war and the threat of war.
We seek a society with equity and justice for all.
We seek a community where every person's potential may be fulfilled.
We seek an earth restored.
Julia began volunteering with the organization in 2020 to learn how to lobby about matters that were important to her and to her community. The organization provided Julia with the resources to be able to do this in which Julia was then able to have her first lobby visit with the support of members from her church. She then applied for a year-long program that enabled her to engage individuals from her local community to advocate for the Environmental Justice For All Act. The main goals of this advocacy include lobbying, educating the community, and providing a platform for others to have a voice through different forms of media.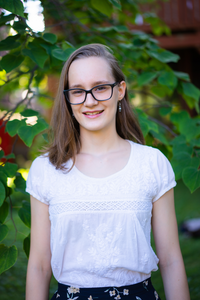 Julia Rademacher-Wedd
Currently, she is focused on lobbying for this specific piece of legislation which centers around addressing environmental racism. And according to Julia, this is only one piece of the movement. This legislation was developed in consultation with communities who have been impacted by environmental racism and currently resides in both houses of congress. The bill would change the legal framework of Civil Rights law to include environmental issues, giving citizens the right to sue and be recognized in court for being unequally affected by pollution and climate issues. It also implements standards that prevent company facilities from continuing to contribute to the pollution of affected areas. 
Once this bill is passed, the objective is that individuals will have more legal protection. Julia is looking to build more support for this piece of legislation because it currently does not have the needed momentum to pass out of committee. More people in congress need to sign their name on it to show that if it passes out of committee, it would receive votes and be able to move. All Georgia representatives in Georgia approve of the bill but have yet to sign their names on it therefore, this is Julia's present goal. 
Time and again, the United State's Environmental Protection Agency (EPA) has failed to complete investigations in a timely way, sometimes for decades, leaving community groups with no recourse. Consequently, these groups are faced with rejection. These instances have made clear that these environment based disparities are often not a priority to the government. For these reasons, the foundation of this bill has become increasingly important. Julia is in collaboration with community partners to work in conjunction with students from Agnes Scott College. Individuals who want to show solidarity with this movement can attend community events or even sign up for Julia's email list in which she distributes information on what you can do to contribute. 
"As a Black woman in America, many external entities may cause harm or lack of well-being to my life. Some may say police brutality or the gender-racial wage gap; others may describe the racism within medicine or the racial disparities within academic settings. However, one of the most challenging external entities that cause harm to me (as a Black woman) and other racial and ethnic minorities is the rising concern of climate change. My experience with lobbying for the Environment Justice for All Act is acting beyond myself to ensure the well-being of others across the nation. Additionally, the experience of collaborating with elected officials, members from their office(s), and other environmental enthusiasts allow you to gauge varying perspectives on the climate crisis more clearly and provides a sense of community connectedness."
-Simone Harris '24 Student
On September 30th, the group had their first lobby visit with legislative assistant Matt Alexis from Congresswoman Nikema William's office, along with 12 other students in attendance. They asked Williams to sign onto the Environmental Justice For All Act and though the legislation is still under review, they were able to demonstrate persistence and apply pressure so to speak. On November 16th, the group will lobby senator Jon Ossof and ask that he also sign onto the bill. If you would like to attend and show support, be sure to join Julia's email list to receive more information.
The Environmental Justice Movement has broadened the perspective of the environment beyond the scope of conservation and preservation of natural resources. It refers to those cultural norms and values, rules, regulations, behaviors, policies, and decisions to support sustainability, where all people can hold with confidence that their community and natural environment is safe and productive. Environmental Justice is cultivated when all people can realize their highest potential, without interruption by environmental racism or inequity. Julia's message to our generation is simple:
"I think that just acknowledging that it can feel like nothing we do matters, or nothing we do is right, but that taking action in community- it does matter and it probably isn't going to be the thing that single handedly fixes everything but lots and lots of smaller actions have contributed to change over time. We can't always see it from where we are but the least that we can do when we're living on this earth together is to fight for each other because at the end of the day, we are all we got. We owe it to each other to be better for each other and to take away the power of systems that are contributing to oppression. We may not have the wealth, the resources, and the power right now, but we outnumber the people who work for corporations and the people in government. Our strength is in numbers and unity."
-Julia Rademacher-Wedd