Overrated: A Word That Does Not Describe Beyoncé
Beyoncé. It's a name that is easily recognizable, and one that everyone knows. Beyoncé has been a household name for over twenty years. Ever since her start in Destiny's Child, she has wowed and amazed the public with her fierce talent, broken records, and by constantly proving that she is a force to be reckoned with. She continues to top herself with each performance and each new project-this has resulted in her being highly praised. However, all of the admiration she has received has caused some to think that she's overrated-this is where they get it wrong. 
Beyoncé takes her craft very seriously; she puts in all the time she can get, and her own blood, sweat, and tears into her work. One performance that proves so is her 2018 Coachella performance: Beyoncé began putting together her set six months after giving birth to her twins, Rumi and Sir, and worked on it for eight months. As Coachella got closer and closer, the longer the rehearsals grew, eventually  clocking in at eleven hours. Not only did she make sure the vocals and dancing were up to par, but she was very hands on in with the band, costumes, and visual effects. 
In paying tribute to the HBCU theme of the show, she implemented a band that is reflective of the bands found at historically Black colleges and universities (HBCUs)-some of the band members are HBCU alums, and even the costumes the dancers wore, as well as some of the dance moves they performed, are reflective of the majorettes that perform on the bleachers of the HBCUS' football games.  
On April 14, 2018-Weekend One of the 2018 Coachella Festival-Coachella attendees, as well as those who stayed home and decided to watch the performance via livestream, finally got to see what Beyoncé had worked on for eight months. As always, Beyoncé left everyone impressed. Jon Caramanica of The New York Times stated, "Some superstars prize effortlessness, but Beyoncé shows her work - the cameras captured the force and determination in her dancing, and also her sweat. She performed for almost two hours, with only a few breaks, and her voice rarely flagged. Occasionally her set was punctuated with fireworks that, compared with what was happening onstage, seemed dull." Mikael Wood of the Los Angeles Times stated, "The scale, the reach, the detail-and the feeling-simply put it on a level higher than those on which most other artists operate." I think her 2018 Coachella performance having its own Wikipedia page serves as another concrete piece of evidence that the high praises she receives is what she truly and rightfully deserves.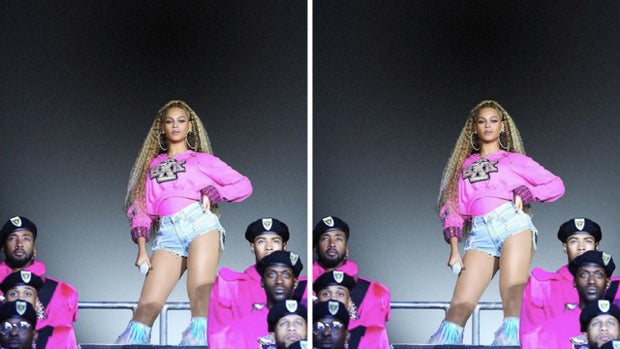 Photo via @beyonce
Another project of Beyoncé's that proves she deserves the admiration she receives is Black Is King, the film she made for her album, The Lion King: The Gift. The retelling of the story of The Lion King, infused with the beauty and tribute to Blackness and African culture, paired with Beyoncé's artistic presence is *chef's kiss*. The movie was filmed around the globe, to name a few : South Africa, Ghana, Nigeria, New York, Los Angeles, London, and Belgium. The film was in the works for about a year, with filming taking place for four months in 2019. In an Instagram post, Beyonce stated that she was "filming, researching and editing" Black Is King "day and night for the past year." She further stated that she "spent a lot of time exploring and absorbing the lessons of past generations and the rich history of different African customs" and that there were various times while working on the film where she and her creative team "felt overwhelmed…but it was important to create a film that instills pride and knowledge." 
Tina Lawson, Beyoncé's mother, stated in an Instagram post that a lot of the people behind the film came from various parts of Africa. Aside from the music and dancing in the film, the African culture was an integral part of the production. Beyoncé did her research to make sure everything about the culture was being conveyed in the correct way. In another Instagram post, Lawson stated that Beyoncé worked on making sure the movie was shown in Africa, since Disney+ is not available there. Fortunately, Beyoncé was able to achieve this goal.
Giphy
All of this information completely disproves that Beyoncé is overrated. What she brings to the table is a result of hard work, high amounts of effort, strict time management, sacrifices, and blood, sweat, and tears. When you go above and beyond the bare minimum, people will recognize your efforts. Beyoncé is simply the embodiment of receiving what you deserve.