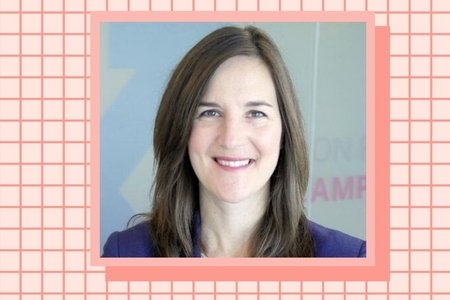 How Nina Huntemann Went From College Professor to Vice President of Learning at edX
This is a sponsored feature. All opinions are 100% our own.
As we look towards the next semester, online learning is such a hot topic. Which is making a career in education technology a fascinating path full of opportunity for graduates and graduates to-be. So we caught up with Nina Huntemann to ask her advice and learn about her journey from professor to tech executive. Read on to learn more about her fascinating career.
Her Campus: Did you always know you wanted to be in the education field?
Nina Huntemann: No, I didn't! In fact, in high school, I remember a classmate of mine once told me they thought I would become a teacher. And at the time I was horrified. I thought I was going to be a journalist who would travel the world. So I went to school for journalism, and then quickly realized I actually didn't want to be a journalist. It wasn't until I went to grad school that I realized I wanted to be in the education field. It was a profound feeling as soon as I stepped into a classroom my first week of grad school. I was told I would be teaching public speaking and I very quickly realized that I absolutely loved it! 
HC: What advice from a friend, family member, or mentor has stuck with you throughout your career thus far?
NH: My dad just always encouraged me to stay curious and tinker. That's what motivated me to be a journalist, I was curious about the world and to understand why things were what they were, and share that knowledge with others. The tinkering over time has become about exploring and learning about anything I'm curious about - just jump in and try. And that is really what education is all about.
HC: Can you share a little about your experience as a professor at Suffolk University in Boston?
NH: What was really unique about my experience was the diversity of students in my classes. I had the experience of having to adapt my teaching to a really diverse student body (international students, first generation college students,and adult learners returning to school) which made me a better teacher and mentor.  
HC: What was your favorite class you taught, and why?
NH: My favorite class I taught was Intro to Media. One of the reasons it was my favorite was that it was a gen ed requirement, so I got a lot of people in the class, not just people studying media and communications, so you got a lot of perspectives. I was introducing students to a new subject! What I really love is when you're an educator of an introductory class, you need to dismantle their assumptions about that topic. With this course especially, I helped students see something differently that they think they knew so well. My favorite thing was on course evaluations, I got comments like "I can never watch television the same again" - and to me, that was success because I had really shifted the way they thought about something that is a part of their daily lives.
HC: What was your favorite class you've taken, and why?
NH: Political science, comparative politics with Prof. Steven Petkov was my favorite for a couple of reasons. He was the first teacher I had experienced who talked to the class like we were adults. He engaged with students as if we were having a conversation over dinner or over coffee about politics. Got me so engaged - he was talking to me at my level! So here is a prime example of how a teacher can make all the difference in your love for a topic or class. 
HC: How do you predict the education world will evolve, and already has evolved, in light of Covid-19?
NH: It's evolving right now in so many ways, right in front of our eyes. Two most important things coming out of Covid-19 are that we are all grappling with the underlying inequities in access to education, which includes everything from internet access to housing and beyond. When a student comes on-campus, their background tends to drop away as you live in the same housing situations, have the same access to technology and so on. When these things that schools provide were taken away this past semester, it became stark that what college provides to students is significantly more than just instruction. They provide living spaces, food, mental and physical health service, community! 
Secondly, when we can be together, physically in the same space, we ought to be optimizing that proximity for what gives the most value, so when we can't be together either by choice or crisis like a pandemic, then we can support so much of education delivery in ways that don't require us to be together. We know that online learning can be incredibly effective, not to say in person isn't valued, but it's making it clear we need to optimize what we can together when we are together
HC: Could you share what a day in your life as Vice President of Learning looks like?
NH: Because I work at an education platform, a lot of my day is about teaching and learning. I'm always working to solve challenges to make our platform better - this could be with our product development or enterprise business team, or with the team that manages our partners, or develops new programs and credentials. A current focus is our Online Campus initiative, which is a new product from edX that is helping schools around the world deliver online classes to their students (whether because they have to be fully remote, or because they want to offer more and different classes to their students). We think this will be incredibly important as schools figure out their plans for the fall semester. I also spend about a quarter of my day learning -  reading and continuing to connect with peers who are educators, learning about what's working, looking at research 
HC: Can you share your favorite edX programming on the platform?
NH: Ah! It's impossible to pick one! Most recently, I've taken the Catalyst class on Unconscious Bias. And some of our best courses are those that have been nominated or won the edX Prize.
HC: As a woman in the education field, what advice would you give to other women who want to innovate this industry, like you have?
NH: I was a college professor for 15 years and it wasn't until I had tenure (9 years in) that I started to think "where else could my experience and point of view about teaching and learning be applied outside of the classroom." Technology may not seem like an obvious place where an academic, especially a professor might be able to apply her skills and expertise, but educational technology platforms like edX need the perspectives of teachers and learners to make the product the best on the market.
HC: WIth your interest in cycling, baking and hiking, do these experiences impact how you look at learning and teaching new skills and topics to students and edX users? 
NH: Yes, particularly with cycling. I verbalized a goal out loud about ten years ago in March that I was going to ride 125 miles in September, for a charity ride. At that point I hadn't ridden more than 10 miles, and did not own a bike. Soon after purchasing a bike, I found someone to do the ride with me, put together a schedule, and practiced. Then six months later, I rode my bike from Boston to Provincetown in one sitting. Essentially, the tools I used to do this successfully are the same that are fundamental to learning. So when you set a goal, find some support, and put together a plan, you can do anything!