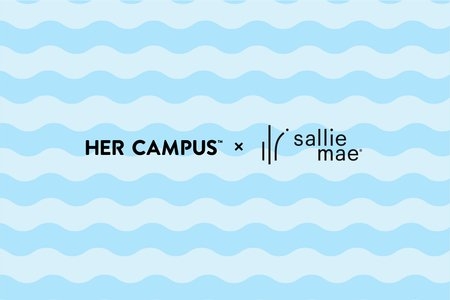 Stressed About Finances? Here's How To Fund Your Next Chapter
This is a sponsored feature. All opinions are 100% our own.
Maybe you're graduating from college or just starting it, or maybe you're looking to launch your own business — whatever your next step is, new beginnings often require an investment of time and money. Regardless of how daunting it might feel to choose someone to trust with your finances, you can rest assured knowing that we've found your perfect solution: Sallie Mae®. With over two million customers, Sallie Mae® — our official I'm Still Graduating partner in responsibly funding futures — can help you lean into your next chapter knowing that you have a solid financial plan in place. 
I know, I know, when you think of a bank or financial services in general, a pretty impersonal exchange probably comes to mind. With Sallie Mae®, though, you're working with real people (read: not phone bots) that have been where you are and understand your goals. They get that you want to be smart with your money, but also have life adventures you hope to set out on. Saving for your dream car? They can help with that. Budgeting to afford to attend your dream school? They have a plan for that, too. With trustworthy support and simplified products like private student loans, credit cards, and savings accounts, Sallie Mae® empowers you to make smart decisions with trustworthy guidance and helpful resources catered to your specific needs.
When you choose Sallie Mae®, you can feel confident and rest assured that you will be on your way to achieving your goals. Here's why:
 
1.

They're like having a financial coach or mentor.

Sallie Mae® prides themselves on building a relationship that you can trust. Your 'coach' will be straightforward whenever issues arise, never sugarcoat the truth, but will always make sure to give you clarity and comfort. Even if you run into issues of financial difficulty, Sallie Mae® has programs in place to help you. It's adulting made easy.

2.

They empower you to grow.

Sallie Mae® is always innovating, giving their customers the latest intel and most up-to-date services to empower you to get where you want to be, like their free online scholarship database and their college planning calculator that helps students set goals. They want you to understand your finances and gain confidence in this important part of your future. They use understandable, relatable and inspiring language so money doesn't need to feel like a foreign language anymore.

Their services make your end goal, whatever it may be, feel attainable. You can track your progress, and work together to clear obstacles and speed up your success. They know you're busy with school which is why all Sallie Mae® customers are granted free access to study tools and tutors available 24/7. Whether you're working towards a short term goal of paying off a loan or a long term goal of saving for that home you've always dreamed of, you'll create a strategic plan together.
Ready to set your financial future goals?! Learn more here about how Sallie Mae® can help you achieve your dreams.