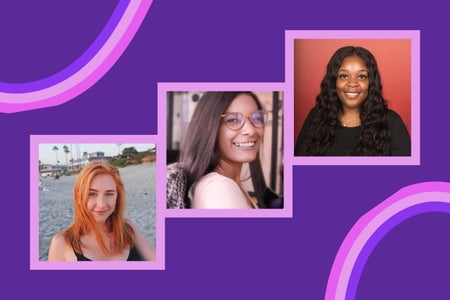 Announcing Our 21 Honorable Mention Recipients From The Aussie Business Plan Competition
This is a sponsored feature. All opinions are 100% our own.
ICYMI, our first-ever business plan competition with Aussie Hair Care launched in May.
Over the last month and a half, our judging panel dedicated time to learning more about the applicants and hearing all about their amazing ideas with the goal of selecting 20 semi-finalists. Then, this happened: We were so blown away with the innovative ideas that we decided to select another 21 individuals as our honorable mention winners. Even better, Aussie has donated additional funding so each honorable mention recipient will receive $1,000 to put towards bringing their ideas to the next level. Read on to learn more!
Founder: Poshvall "I am a sustainable fashion reseller on the Poshmark platform! My goal is to provide women with affordable fashion pieces that will represent their individuality and make them feel confident while staying on a budget! My business also promotes a path to a more sustainable community!"

Founder: Go For Gold "Go for Gold knows the competitive nature of athletes, the resilience needed to grind daily at practice, and the high expectations to deliver in competition. Our mission is to help athletes reach new heights extending beyond the podium and into the workforce. You don't need to let go of your love for the game; you just need to reposition your passion toward a new goal. We equip athletes with the tools they need to transition from sports and go for the gold well beyond the last dance."

Founder: The Noelle Hair Collection  "The Noelle Hair Collection is an online hair company that provides high-quality hair extensions and products for your everyday working woman. In our hair, you will curl in confidence, brush in boldness, and straighten in style. So get ready to tilt your crown and shop The Noelle Hair Collection."

Founder: AWE Magazine "AWE Magazine is an online magazine and platform where all women can come together for support and advice that will help them navigate life during their 20s. It's a place where we can help women, especially minority women, reach their career goals, provide mentorship/guidance, and discuss topics around female health and wellness that are typically not discussed in the media."   

Founder: Alexandria "Alexandria will be a new social media platform with three goals: to connect people to interesting, informative content, curated by users for users, to eliminate harmful echo chambers by introducing users to outside perspectives, and to support news organizations financially in a way that modern social media has failed to do."  

Founder: Wellness University "Wellness University (WellU) provides wellness plans tailored directly to college students by a college student. You can join WellU from any campus and get access to the Fit Plan, Meal Plan, and Freshman Plan, all while connecting with other students virtually and in-person through groups like Run Clubs and Brunch Clubs. As a college student, I know college life does not support healthy living and that is why I created WellU to help students learn to take care of their bodies and thrive during these hectic, amazing four years!"

Founder: Kaileigh Rose Natural Skincare "Wake up everyday selfie-ready with our chemical-free, homemade skincare for your daily and nightly routine. Complete a brief survey to highlight acne issues, allergens, and what you want to see from your skin in order to create a personalized recipe for each product. In every product is your custom-made recipe for glowing, radiant, selfie-worthy skin!"

Founder: Gemini Graphic Shop "Gemini Graphic Shop is an online print and sticker shop dedicated to helping women customize their space. We believe that the environment you surround yourself in should be a reflection of your personality and goals so that you can tap into your girl boss energy."

Founder: The Luxurious Soaps "I am a young African-American businesswoman who wants to help people pamper themselves more with my products. I take pride in every product I make so it feels like it was made especially for you. My products give you that 5 Star Spa Treatment in the comfort of your own bathroom."  

Founder: Five Seven Lit "I was determined to release a candle line that would provide customers with an opportunity to feel the relief that you do when you light a candle. But, Five Seven Lit is more than a candle business, it is a lifestyle brand. We provide products and content that encourage self-care, mental health awareness, and wellness."   

Founder: Reworked Apparel "Reworked Apparel is a space to make new and improved clothes from the old. I pride myself in my work and can't wait to see where the brand goes after this competition."  

Founder: The Collective "In the world of fast fashion, clothing has become almost disposable, forgetting the incredible feeling & power that clothes can bring to life. The Collective is a place where fashion & sustainability can coexist. The boutique will source merchandise from local creators, hand-selected vintage apparel, and sustainable wholesale brands."   

Founder: Kimberly Nguyen Photography "My photography business is a place for me to share not only my own imagery through the world, but also create permanence in moments by taking photos for others. I plan on developing a creative studio where creators of color can come together to share their stories and the stories of their parents through photography and videography."

Founder: Exit 42 Media "Exit 42 Media is a female-founded multimedia company focused on writing stories to represent underheard voices in entertainment media. We use an innovative method of gauging story interest through our use of multimedia which includes videos, comics, and podcasts, and our company uses this content as a way of gaining traction for our tv shows."

Founder: A-Book "A-Book is a service and product that stores photos uploaded by a subscriber on an individual account online and creates scrapbooks for individuals and groups, such as sororities, fraternities, school clubs, workplaces, friend groups, etc. The A-Book is characterized by its appeal to college-aged students, personalization and contact with artists, and a combination of modern, cool, and classic aspects. It not only responds to a lifestyle that encompasses the modern person creating amazing memories but also keeps those memories safe and sound in an A-Book forever."  

Founder: ByteSight "ByteSight aims to empower global health systems to reduce the spread of malaria through a low-cost computer vision tool that recognized dangerous mosquitoes."

Founder: Ready To Fly "Ready To Fly is a community inspiring creatives of color to be Bold and Ambitious. Our platform provides creatives, ages 17-24, with opportunities to network, showcase their talent, and develop personal and professional skills to enhance their career. Through a diverse range of workshops, panel discussions, and one-on-one mentorship sessions, creatives will gain insight into their prospective industry while learning how to make a positive change in their community."

Founder: R&M Art "R&M Art was established to create unique, contemporary art pieces for individuals interested in modern art. We want to create art for students and adults who desire a trendy, modern twist on classic art pieces. We aspire to promote sustainable art and at-home creativity with our sister run business."  

Founder: La Petite Locale "La Petite Locale is the result of a passion for food, sustainability, and human connection. The LPL experience is intentional and authentic, from the people to the bites we will serve. Our goal is to create a chic space for people of all walks of life to come together and enjoy curated locally sourced bites."  

Founder: Shesources Publishing Co.  "Shesources Publishing Co. plans to launch the digital magazine, Shesources. The magazine opens a conversation (through interviews, essays, analysis of current statistics) about the lack of female representation in behind-the-scenes employment in the entertainment industry and the major problem it poses to female representation on stage and on screen." 

Founder: Happy Day Design Co. "Happy Day Design Co. is a design, branding, and illustration studio that focuses on using creativity to empower and inspire! Art and design can be so powerful and positive, and Happy Day strives to embody this."