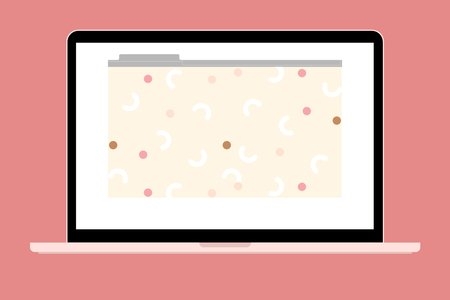 4 Tips for Creating an Online Portfolio That Can Help You Land Your Dream Job
Like most college students, I'm sure you've spent a significant amount of time thinking about your dream job and wondering how you'll get there. Now that I am about to enter the workforce as a "real" adult, it's time to cultivate my idea of a dream job and take specific steps to reach it. In today's age, the internet is one of the most useful tools you can use to brand yourself and create a positive image of yourself for potential employers. No longer reserved for the tech-savvy, the internet has penetrated all job markets and opens up a world of possibilities that have never existed before. One of these is the creation of an online portfolio. 
While LinkedIn is extremely important for building on your resume and networking, it is not the same thing as an online portfolio. An online portfolio is an important tool you probably didn't think you needed unless you're a writer, designer, etc. However, in today's increasingly digital world, an online portfolio is "like show-and-tell for professionals". It is essentially an expansive online resume where you have the freedom to showcase skills and experiences that may not be applicable to your printed resume. Companies today want to hire someone who can not only talk about their skills, but can show their skills. An online resume shows an understanding and embrace of technology as well as creativity and initiative. Here are some tips to create the perfect online portfolio no matter your field:
1. Include basic information
One of the most important things your online portfolio must include is your basic information. This typically includes your current contact information, a PDF of your resume, and links to any social media you may want to share. It may also be beneficial to include an "About Me" section, one or two paragraphs introducing yourself to the employer. Include information about where you went to school, any interests you have, and any unique experiences you have had, such as volunteer work or travel. Be authentic in writing your bio and know your voice. Just be sure to keep your audience in mind; this is a professional platform and you don't want to come across as too casual. Below, I've included a portion of Hank Green's "About Me" page on his online portfolio.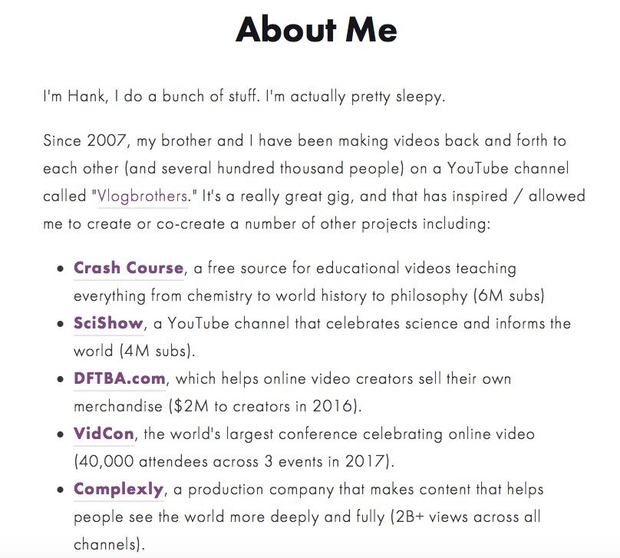 2. It's okay to show off
An online portfolio is much more expansive than your resume, so it's okay to go into detail when describing your achievements! You can even write about them as professional blog posts that showcase your skills (keyword: professional. They shouldn't read as your personal fashion blog would). If you have them, be sure to include pictures and videos to bring your portfolio to life. For example, if you started a club at your school, helped to organize a volunteer event, or studied abroad, write about it!
Tons of people have a stellar GPA and previous work experience, but having unique experiences that don't necessarily have to relate to the job at hand gives you dimension. Rather than just seeing a name on a piece of paper, getting to see firsthand your interests through different experiences you've had will set you apart from the crowd and give the employer a better picture of who you are as a whole. Keep in mind that the materials you include in your portfolio might be completely different than your bestie's if you are pursuing different career paths. Fields that lend themselves to more creativity might want to see more artistic images than a lawyer or doctor would. 
3. Include recommendations
That glowing recommendation you got from your previous boss? You can definitely put that on your online portfolio. This goes along with the "show-and-tell" aspect of creating an online portfolio because it brings in an outsider's perspective and reinforces your best traits. Showing that others have great things to say about you reinforces all of your strengths and gives an employer a better feel for how you would fit into their workplace dynamic. If others like you, it will make your employer want to like you too. Reach out to previous bosses who you have a good relationship with — this part is crucial, don't ask for a recommendation from a boss you aren't on great terms with — and ask them to write your recommendations if they haven't already. Make sure you ask for their permission before including their recommendation in your online portfolio. 
4. Make it reflect who you are
Your online portfolio should be a reflection of yourself. Be creative in choosing colors, fonts, and layouts that best represent you while still keeping a professional look. You want your portfolio to stand out and set you apart from the crowd. However, keep in mind that your online portfolio is going to be viewed by potential employers. You want to strike the perfect balance between professionalism and creativity. Stay away from anything too bold or you run the risk of making your online portfolio look messy and/or juvenile. Colors like navy blue or maroon always look professional if you want to add a pop of color. Below, I've included an example of an online portfolio for inspiration. Notice that it is unique and creative while still maintaining professionalism.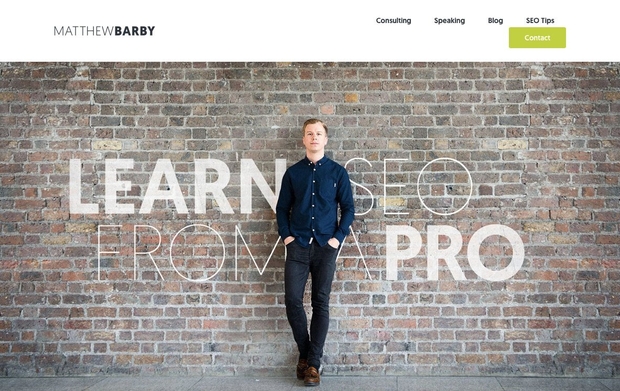 Be selective
While an online portfolio is a great tool to build upon your resume, that doesn't mean you should dump your entire life story into it. Keep in mind that what you put on the internet is permanent and can negatively affect your chances of getting that dream job if you include things that may cast you in a bad light or are too personal for a professional platform. Keep your language and tone professional and be mindful of what is and isn't appropriate for an online portfolio. General rule of thumb: if you wouldn't want your grandma reading it, don't put it on the internet.
Whether you're currently applying for jobs or not, building an online portfolio is so important in working towards your dream job. In an oversaturated job market, you want to do everything you can to show off your best skills, and an online portfolio could be your secret weapon.