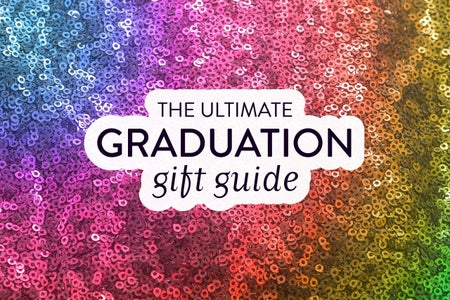 22 Gifts Every Class of 2020 Graduate Will Be Obsessed With
This is a sponsored feature. All opinions are 100% our own.
Whether you're shopping for a fellow grad, or are the grad (congrats!) and are wondering what to add to your own wish list, look no further. Here, we've curated the ultimate list of gifts to commemorate this incredible milestone. From accessories to clothes and tech, here are 20  items to help you celebrate the past four years and lean into the next chapter of your life because ~the best is yet to come~. 
 
1.

Barrel Clasp Snake Chain Bracelet

A charm bracelet is a perfect way to represent where you've been and where you're going. This gift continues to grow with you, as you can add charms to your bracelet to represent all of your amazing accomplishments to come. Pandora Jewelry, $65; shop now.

2.

Wise Owl Graduation Charm

Speaking of charms, commemorate this special milestone with one that signifies wisdom, reminding you that you can achieve anything you put your mind to. Plus the two blue crystals add a fun sparkle to your bracelet's collection. Pandora Jewelry, $55; shop now.

If you're more of a necklace gal (me too!), this sophisticated chain is perfect for your post-grad look. Wear it as is, or dress it up with pendants and charms. Pandora Jewelry, $55; shop now.

Personalize your necklace with this beautiful pendant that can hold up to five charms! Now you can rock a charm bracelet and necklace. Pandora Jewelry, $55;  shop now.

5.

Round Sparkle Stud Earrings

If your post-grad vibes are classy and glamorous, then these studs are for you. They'll instantly upgrade any outfit be it graduation, work, brunch, and beyond. Pandora Jewelry, $80; shop now.

6.

Sparkling Wishbone Ring

This ring is as beautiful as it is lucky. Simple yet elegant, this wishbone-shaped accessory can be worn on its own as a shimmering statement, or paired with other Pandora stackable rings. Pandora Jewelry, $45; shop now.

Who said a work bag can't be bright and fun? This gold tote with pink accents is bound to make you smile, wherever work (and life) takes you. Lilly Pulitzer, $148; shop now. (Psst! Get 20% off with code Classof2020)*

Getting into the office or your apartment has never been easier than with this fun compact wallet with keychain. Available in two fun patterns, this is a must-have for every grad. Lilly Pulitzer, $28; shop now. (Psst! Get 20% off with code Classof2020)*

If you're like me, you can't get by without a portable charging cord. Post-grad life is bound to be busy, so this patterned leatherette cover disguises a 6" USB cord so you're always prepared and ready. Lilly Pulitzer, $26; shop now. (Psst! Get 20% off with code Classof2020)*

Post-grad style is all about finding staples that work for both your week and weekend looks. This romper is classy and cute, making it perfect for professional and personal events. Lilly Pulitzer, $268; shop now. (Psst! Get 20% off with code Classof2020)*

Whether you're graduating virtually or at a later date, this beautiful white dress is perfect for the occasion. The tie-back detail keeps it young and fun, while the adjustable straps let you choose the perfect length for your height. Lilly Pulitzer, $198; shop now. (Psst! Get 20% off with code Classof2020)*

Stay organized in whatever your post-grad plans are with this fun printed journal. Adding a pop of color to your workspace makes for a more productive day, trust me. Lilly Pulitzer, $22; shop now. (Psst! Get 20% off with code Classof2020)*

Image source: dagnedover.com

Finding a gym bag that can double as a work bag is everything. This one is perfect for that gym-to-office look, with a built-in laptop sleeve that fits most 13" laptops. Dagne Dover, $175; shop now.

14.

Crosley Tourmaline Cruiser Bluetooth Record Player

Image source: urbanoutfitters.com

A record player is a must-have decor item in any music lovers post-grad apartment. This one is Bluetooth-compatible but still holds a vintage aesthetic. Urban Outfitters, $69; shop now.

Image source: colehaan.com

A professional yet statement pair of shoes is a necessity for every entry-level wardrobe. These jaguar printed pumps will show your personal style without sacrificing comfort, sporting a supportive, anatomically contoured footbed. Cole Haan, $133; shop now.

Bringing lunch to work has never been so stylish than with these vegan leather lunch boxes. This classic silhouette will make you feel confident about eating leftovers in the office. Modern Picnic, $149; shop now.

Image source: shopbala.com

These influencer-favorite ankle weights sold out in minutes, and are the perfect start to your post-grad at home gym set-up. Bala Bangles, $49; shop now. (Psst use Code: CLASSOF2020 for 15% off your purchase!)

Image source: brooklinen.com

Nothing makes your apartment feel less like a dorm than a nice set of bedding. These luxe sateen sheets are the ultimate upgrade for your post-grad life. Brooklinen, $149; shop now.

19.

Vertuo Espresso Machine

Image source: nespresso.com

A Nespresso machine will not only save you money on those morning coffee runs but help you get up and get to work (read: on time) every morning. Nespresso, $146; shop now.   

20.

M.A.B. Crossbody With Studs

Image source: rebeccaminkoff.com

Every grad needs a grown-up crossbody bag that can go from work to dinner to out on the town. With multiple pockets (inside and out) and an adjustable crossbody strap, it has you covered for all of your adventures. Rebecca Minkoff, $198; shop now. (Psst. use the code 2020GRADUATES35 for 35% off full-price items from May 1 - May 31)

21.

The Her Campus Guide to College Life

This guide is bursting with insider tips to help you navigate classes, relationships, and all of your extracurricular. This book is a must-read for any incoming freshman! Amazon, $12; shop now.

This cookbook is ideal for anyone — recent college or high school grad — that is looking to take control of their tiny kitchen and feed themselves. The goal with this book isn't to be perfect, but to cook like a real adult, no magic required. Amazon, $15; shop now.
Happy shopping and happy graduation!
*Valid on purchases at lillypulitzer.com from 5/11/20 at 12:01 am (ET) to 5/31/20 at 11:59 pm (ET) and select Lilly Pulitzer owned and signature store locations from 5/11/20 to 5/31/20 during store hours.  Receive 20% off full-price purchases (some products are excluded from this discount) before shipping, tax and other handling charges are applied to the order. Cannot be used or applied to prior purchases. Cannot be exchanged for cash or credit. Cannot be combined with any other offers or discounts. Not valid towards the purchase of gift cards. Void where prohibited.