A Step-By-Step Guide to Buying, Leasing & Selling Your Car
The idea of having your own car can inspire equal parts excitement and panic. Maybe you're afraid of making a bad deal or buying a car that has hidden faults. Maybe you've heard or experienced all the crazy sexism that happens when women try to buy or repair a car. I felt the same way, so I asked Edmunds.com to help me make a comprehensive guide about how to buy, sell, or lease a car. I'll cover common first-time mistakes, insider tips, and even what to bring to the sale. No matter what your plan and budget is, this guide has you covered.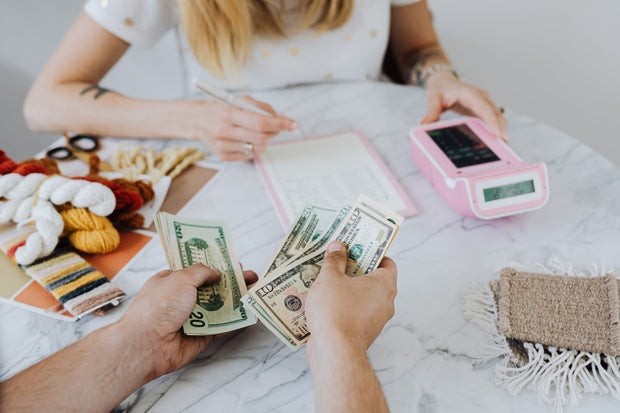 Photo by Karolina Grabowska from Pexels
Buying a car
Buying a car is one of the biggest financial decisions you will make in your early 20s. Caroll Lachnit, Edmunds's features editor, proposes that you should have a realistic idea of what you want before you start the car search. "First, assess your needs," she suggests. "How many passengers do you need to fit? What kind of weather will you be driving in? What safety features are important?" Make a list of your priorities, so you can leave the sale with a car you will love.
The next step? Start researching. "Once you've found a model or two that you like, take time to review/compare other cars that are similar to the one you want, just to ensure you know what's out there, and pick the best car for you," Lachnit says. If you're buying a used car, use the Vehicle Identification Number (VIN) to search vehiclehistory.gov, Carfax, or Autocheck. Before you buy any car, you should also take it for a test drive. Make sure you're asking the right questions — like ones about fuel economy, how the car drives in stop-and-go conditions and at highway speeds, how well the breaks work, and the likes. Make sure nothing looks, feels or smells weird.
Once you've chosen the car you want, decide whether to buy it outright or finance it. Buying in cash is more cost-effective, but if you finance, Lachnit suggests approaching a bank or credit union before financing with a dealership. Dealerships sometimes put hidden fees in their financing options. That said, a first car purchase is a great way to build credit, and many dealerships have financing deals for first-time buyers. If you're wondering what you can afford, you can use an online financial calculator to help you determine how much you can spend.
The day of the sale, you will need:
A pre-approved loan, cashier's check or cash
Your driver's license
A title for the trade-in vehicle if it's paid for, or loan information if it isn't paid for
Current vehicle registration
Proof of insurance
After you buy the car, you'll need to register it. If you're moving to a different state or buying the car in a state you don't live in, check DMV.org for transfer requirements from both states.
Photo by Elijah O'Donnell from Pexels
Leasing a car
Wondering whether to buy or lease? Leasing a car is an alternative to buying. It works a lot like renting an apartment; you don't own the car, and you sign a yearly contract about how many miles you will drive each month. Leasing advantages include "lower monthly payments with no (or a low) down payment; driving a 'cooler,' more upgraded car for less money; lower repair costs because you're always under warranty; no trade-in hassles; less sales tax and [getting] a new car every three years or so," says Lachnit. However, buying your own car is still a better deal long-term. It also means you can resell the car whenever you want, make modifications to it, and won't have to pay extra for excess mileage. Before you move forward, though, make sure you know what car you can actually afford to lease.
Selling your car
At some point or another, you will probably want to sell your car. But when should you sell? "After 100,000 miles, a car's worth drops significantly," Lachnit says. There are many places you can put a listing, such as Craigslist, eBay Classifieds, Facebook, Twitter and Instagram. Your ad should include detailed information about the condition of the car, images of the interior and exterior, the price, whether you are willing to negotiate, and your contact information. To find how much your car is worth, check the Edmunds or Kelley Blue Book calculation tools.
"If you're selling your car for the first time, make sure to price your car competitively — but keep it on the high end of the price range in order to leave room for negotiation," Lachnit suggests. When you're ready to sell, be safe: make sure to bring a friend and meet in a public place. Check with your state DMV about the documents you'll need; these will probably include the title, a valid smog certificate, and the odometer reading.
Cars may be intimidating, but they are also rewarding and fun. A new car means new freedom: freedom to make your first big move, take a cross-country road trip, or just be able to get off campus once in a while. As with nearly everything, the more you know about cars, the more your nervousness will turn into excitement. With the right tools, you can choose a car that you will love on the first and last day you drive it. And in the end, the time you spend in a car you love is worth much more than any price tag.