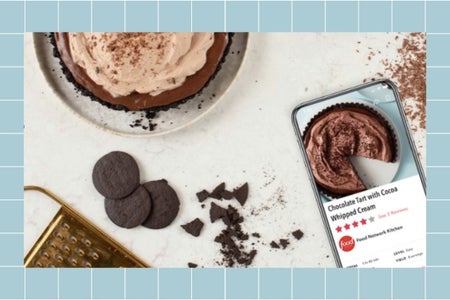 7 Tips For Frosting A Cake Like A Legit Pro
This is a sponsored feature. All opinions are 100% our own.
Let's be real: there is never a bad time for cake. Whether you're prepping for a celebration or it's just Wednesday, a sweet treat can brighten up any day. And while it may seem easiest to frost a sheet cake, decorating a round layer cake is so much more impressive. I mean, imagine the look on your roommate's face when she walks into your kitchen and is greeted with a thick slice of homemade mocha layer cake! That's quality study fuel if you ask me. Here are seven easy tips for upping your frosting game.
Start by baking two cake layers. My go-to is this Vanilla Cake recipe from Food Network Kitchen. With your 30-day free trial, you can also learn from the pros with step-by-step classes, binge your favorite baking shows, and more! (Psst...you can download the app here!)
 
While your cake is cooling, make the frosting. I love Ina Garten's Chocolate Buttercream Frosting. I like to call it mocha frosting because of the instant espresso powder in the ingredients. It's my fave late-night study snack for when I need a little boost to keep me going.
 
A lot of people think you need a spinning cake stand to frost a cake. But I'm here to tell you that is just a myth. In the video above, you'll see how you can use an upside-down cake pan stacked on an upside-down mixing bowl. They fit perfectly together and have the same utility as a spinning stand.
 
Next, add a round piece of wax paper to the upside-down cake pan. Add a dollop of frosting and place your first cake layer on top.
 
The most important tool when making your frosting look professional is an offset spatula. Use this to spread and swirl your frosting on the first layer, and when you're satisfied add the second layer and repeat.
 
Depending on your preference, smooth out the sides of the cake or leave as is for a more rustic look. 
 
If you're feeling really adventurous, download the Food Network Kitchen app and take Dan Langan's class, "How to Pipe Buttercream Flowers." I can just imagine the Instagram-worthy post, now.
And don't forget to share your frosting masterpiece with your housemates!