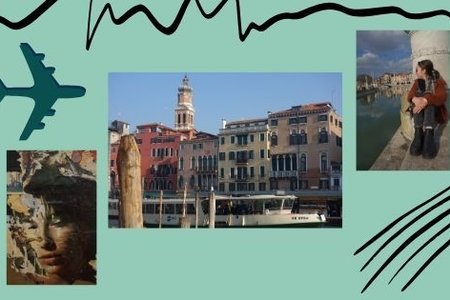 6 Steps To Take If Your Study Abroad Program Is Cancelled Over COVID-19
Like most college students, I've been dreaming of studying abroad since I took my first French class in seventh grade. While a lot has changed from then to now–the first being that I'm an Italian Studies major–my passion for language and culture remains strong. I found out in the wee hours of leap day that my study abroad program, along with many other programs, was suspended due to the COVID-19 outbreak.
All of that hard work obtaining my student visa, figuring out what classes to take at the University of Bologna and finally understanding how to make a decent espresso in a Moka pot was moot. Not to mention, I'd have to say goodbye to my friends, faculty and roommates who I had grown so close to over the past two months. When my plane landed at Boston Logan International Airport, a wave of emotions hit me as I realized I wouldn't be able to complete my semester abroad. What followed was two weeks of quarantine, filled with Skype calls and frantic emails sent to my deans and advisors.
For anyone that may still be making their way home during this uncertain time, the following six tips will help make this difficult transition back home as smooth as possible––no turbulence necessary. 
1.

First things first: secure a safe and affordable flight home

Once you've received confirmation that your program has been cancelled, or your college is requiring that students return home regardless, the first thing you should do is look at flights home. While many colleges and universities are funding these return flights, it's often your responsibility to secure your seat. If you've already bought your return ticket, you may be able to rebook your flight. Otherwise, Google Flights can be a good generator for available flight patterns, as well as StudentUniverse, which gives good discounts to college students. 

Once you've confirmed your flight, look into any train or bus schedules, taxi availability, or Airbnbs you may have to use during your travels home. Best case scenario, all of these will be paid for by your school––so don't forget to keep all receipts and tickets! Chelsea Vickers, a junior at Connecticut College who was studying abroad in Copenhagen, recommends that students "stay-up-to-date with news and regulations regarding your travel home. Surprises are not fun in this situation, so if you're always informed, then you can prepare yourself and stay safe."

Erin Greatorex, another student at Connecticut College who was studying abroad in Denmark, made sure to be smart about her journey home. "Only eat packaged food and drinks on the plane, do not touch your face, sanitize your seat when you board and use hand sanitizer frequently," she suggests.

2.

Pack, clean and organize–and wash your hands!

While it's paramount to your health and safety that you wash your hands and avoid touching your face, it's also important that you start to get organized for your travel home. Again, its emotionally draining to face the music of packing up the flowy skirt you wanted to wear along the coast in Greece, and the blazer you were hoping to strut down the streets of Paris, but no one wants to have to finish packing at 3am in the morning when you have a flight to catch in a few hours. 

I recommend turning on a podcast to make the process a bit more bearable. Give yourself a couple of hours to pack your clothes, souvenirs and toiletries in an orderly fashion. Double check to make sure you have all of your necessary travel documents and tickets at the ready, as well as some cash and, of course, hand sanitizer (if there are any left in the pharmacies).

3.

Keep all important parties up to date every step of the way

Keeping everyone updated on your decisions creates a safety net for you, so that you have multiple people in your corner during this difficult time. It's vital that you're in communication with your home university every step of the way, including confirming how credits will transfer from your program as many go virtual. If withdrawing from the program is an option, this is a conversation which needs to occur with your college to iron out the fine details of this difficult decision. It may be easier to send one email, cc'ing all relevant parties such as your academic major advisors and dean to confirm credit eligibility and study abroad office for travel-related receipts.

Stay in communication with family and friends, too, as they are another safety net to help you get home safely. You could also reach out to your career advisor at your home university (if you have one) to keep them in the loop, and ask about how internships may function this summer.

4.

Spend time with your roommates or host family

Before leaving, my Italian roommate and her friends cooked this delicious vegan dish with chickpea pasta, a homemade sauce made from cauliflower and greens, and topped with fried tofu. Paired with a glass of sparkling red wine, it was the perfect comfort food I needed to equip myself for the travel home. 

I've always believed in the power of communion over a shared meal, so I implore you to share one last meal with your roommates and friends. Everyone is going through the same rollercoaster, so you'll be able to bond more and support each other during this chaotic time. 

Erin had a great last supper with her host family. "If you feel uncomfortable going out, you should spend time with people you may not see again for a while," she says. 

5.

Try to enjoy your final days in your city

I would advise trying to get back to your home country sooner rather than later, because it's hard to predict what the travel scenario will be in the next few days or weeks. Chelsea flew home at the same time Denmark was elevated to a level 3 travel advisory, which led to confusion about flight cancellations and more obstacles to face when arriving home, such as filling out additional COVID-19 forms to the typical customs information. 

While Chelsea and Erin were not able to see all of the iconic parts of Copenhagen which they had hoped to visit, they reflected on the wonderful memories they were able to make before they boarded their flights back home. Given that many European countries are now at level 3, going out and exploring your city before you leave is no longer a safe option. However, that doesn't mean that you can appreciate views from your home, share meals with roommates, and curate pictures and ticket stubs you have saved throughout your travels to bring home with you. Yes, reflection can be painful when you have to leave a place you have learned to love, but coming across a photo of a beautiful sunset or of your friends can put a smile on your face in a time of anxiety and fear. 

6.

Make self-care a priority

From the moment you find out that your program is cancelled, to the second you begin your self-quarantine, it's beneficial to make self-care a priority. Psychotherapist Perri Shaw Borish emphasizes that it's normal, and important, to grieve and feel loss, but to remember that we're all in this together (as the wise Troy Bolton and Gabriella Montez once sang). 

"It's normal to be anxious [in a] high anxiety time," Borish says. To combat negative thoughts, she recommends that students maintain their self-care rituals like getting enough sleep, taking deep breaths, checking in on yourself, and doing your best to stay in the moment rather than become more down. She also suggested scheduling specific times to Skype or Facetime friends and family so you can feel a semblance of human connection. Therapists and counselors will also be available online so students can still have access to these resources. 

"Social distancing is for the greater good, [so] let's all let this empower us," Borish explains. This could be a great time to develop new rituals, too.

"I plan to take some time to reflect on my time abroad and try to focus on the good things that happened, [instead of] the sadness of leaving early. I plan to fall back on activities I find relaxing such as reading, movies, yoga, and knitting," Erin says.

Chelsea, who will be in voluntary self-quarantine for 14 days even though she has not exhibited any symptoms or been in contact with any known infected parties, knows that it won't be fun but that it's the safe thing to do. "I'll be journaling about the ordeal I just went through, watching a lot of Netflix and Hulu, and spending some quality snuggle time with my dog," she says. Like many other students, Chelsea's classes will be available online in the coming weeks, so this will help give structure to students' daily lives. 
Never did I imagine that my semester abroad would end in tears over a pandemic, instead of separation anxiety from a city who has become a second home. However, when I spoke with my career advisor over the phone to talk about next steps for this summer, she reminded me that a devastating event like this will equip me and others with the life skills to make hard decisions under pressure and a rigid time frame. 
So, I'm not saying that the coronavirus outbreak is a good thing–it's certainly not–but sometimes it can help to look on the bright side and try to find the silver lining. Even when things get particularly tough, like on day 12 of self-quarantine or day 6 of being in limbo about the future of your semester, just remember that this is only temporary, and it will be okay.