Summer is the season of sunshine, and newsflash—women sweat. We also grow hair in places that aren't considered conventionally beautiful. Some of us feel most confident going all-natural down below, and some of us feel powerful with a silky smooth bikini line—feminism, by the way, is our ability to choose. Either way, you should be swapping your self-care products as the weather heats up. Which is why we're giving our readers the chance to win our editors' top summer picks from Carefree, Skintimate, innisfree, Extra and VERB—fo' free! 
Our first pick is Carefree's Acti-Fresh Twist Resist liners. The Twist Resist™ design minimizes bunching and twisting, giving you daily protection that comfortably stays in place so you don't have to.  And there are 8 hours of odor control – great for those hot summer days! 
Next up on our summer essentials list is Skintimate's super hydrating Raspberry Rain Shave Gel. If razor bumps are the bane of your existence, provide a protective barrier for your legs, armpits and bikini line (if that's your thing…do you, girl) by hydrating and calming skin while you shave. And because a shave is only as smooth as its weakest link, Skintimate's Warm Vanilla Sugar Disposable Razor makes our list of must-haves for summer self-care, too. A vanilla sugar scented handle makes your shower smell more like a luxurious spa than a communal dorm bathroom, and four smooth protect blades give you a closer shave with fewer nicks and cuts. 
And while we're talking skin, summer is a good time to switch to lighter-weight hair and skin products, since humidity and sweat are in your future, girl. For skin, we love innisfree's Cica Balm, which features a lightweight-gel formula that can be used as your facial moisturizer–or as targeted care for troubled areas. Innisfree is the leader in skincare in Korea (the number one brand, actually), and those familiar with K-Beauty know it's the perfect match for sensitive skin. Why? Because it uses two superstar ingredients to care for troubled skin. Cica (a.k.a. Centella Asiatica Extract) and Bija fruit essence work in tandem to help improve the skin's protective barrier, tone and texture. Talk about a NEED. 
The same rule of thickness can be applied to summer hair, too, which is why we made sure to feature VERB Ghost Shampoo and Ghost Conditioner in our summer essentials giveaway. Our editors love the lightweight, lathering shampoo formula that removes scalp sweat (gross but true), and the brand's creamy conditioner that detangles even the worst convertible hair. 
P.S., as an additional bonus, we're throwing in Extra Refreshers gum—new, avail in both minty and fruity flavors, and perfect for eliminating you and your work wife's iced coffee breath.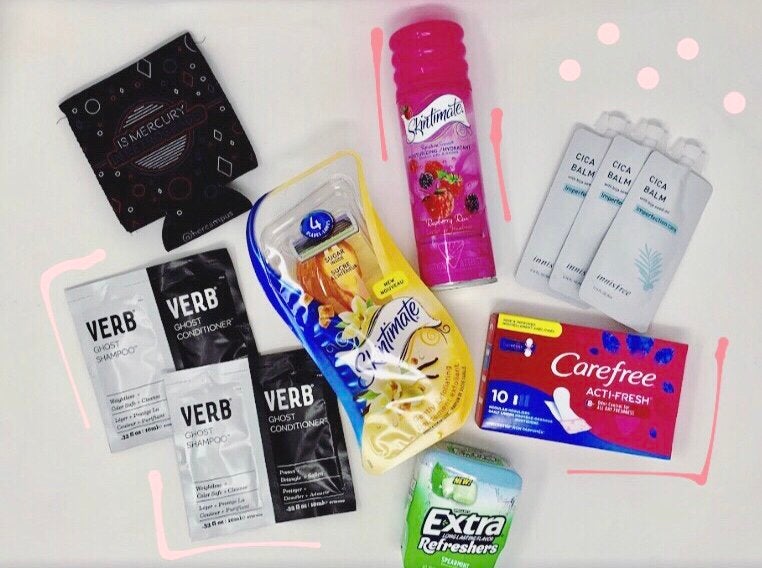 So to recap, enter our giveaway and you'll have the chance to win the following self-care products: 
·      (1) Pack of Carefree Acti-Fresh Twist Resist Liners 
·      (1) 3-count pack of Skintimate Warm Vanilla Sugar Disposable Razors 
·      (1) 7 oz. Bottle of Skintimate Coconut Delight Shave Gel 
·      (1) innisfree Cica Balm 
·      (1) VERB Ghost Shampoo 
·      (1) VERB Ghost Conditioner 
·      (1) Pack of Extra Refreshers