College: It's the land of ultimate freedom, independence and fun (with plenty of academics to balance things out, of course!). When your years on campus are over, you want to look back and know you made the most of every opportunity—that you didn't miss a thing, and didn't waste time worrying about the little things in life. That's why it's time to get empowered—about your life, about your future and about your safety. Take complete charge of your personal safety and live life on your own terms with BlueLight, a safety app that gives you that extra boost of confidence you need to make the most of every moment of college.
The ingenious app, compatible with iPhone and Android devices, gives you the thing you need most in an emergency situation: more time. More time for help to find you, more time for emergency response and more time to stay safe! Most importantly, you can walk tall and leave your worries behind knowing that the app is just there as backup every day—if you ever decide to use its emergency response feature, it'll contact the nearest response team, be it campus safety or 911 services, so you won't be alone any longer than you have to be. Check out this infographic explaining why it's the best tool to have in your app arsenal: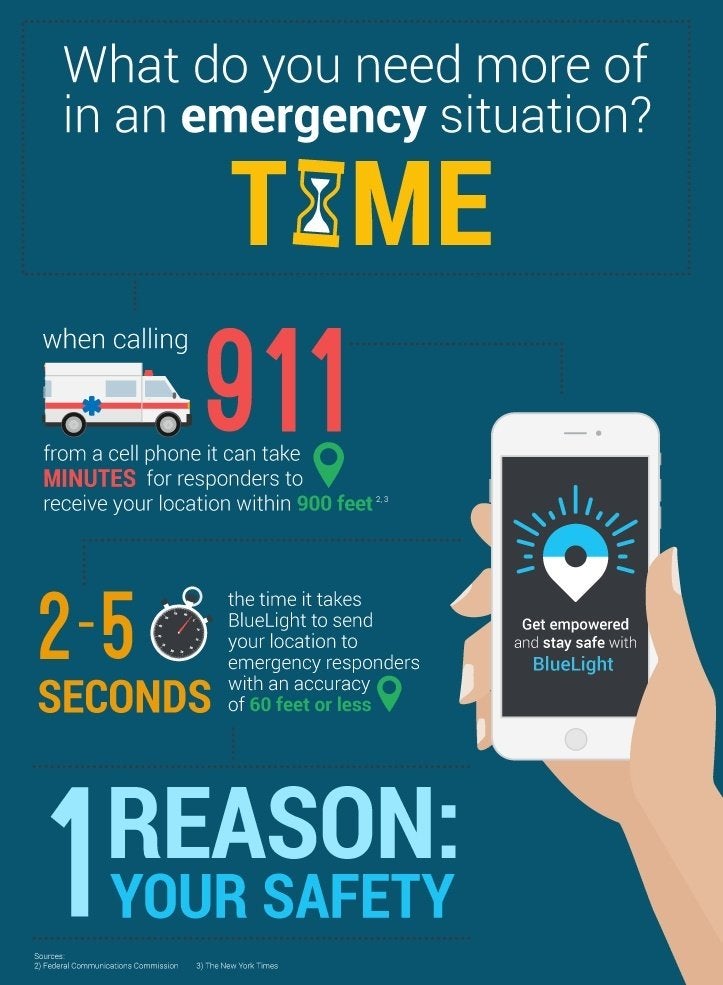 While waiting a couple of minutes for help to pinpoint our location doesn't sound bad, we ask: Why wait at all? That's why BlueLight's faster, more accurate response makes it such a must-have app. If you find you need to use its emergency services, all you have to do is open the app and tap the "Request Help" button. BlueLight will then connect you to the closest emergency service, regardless of whether you're on campus (campus security officers), off campus (911 services) or even hitting the slopes at the ski resort (Ski Patrol). If you're connected to campus security, BlueLight can tell them your location even if you can't speak. If you call 911, while BlueLight can't tell the dispatcher automatically where you are, it will show your address on the screen so you can read it off to emergency services. It's an everyday personal safety app that has major benefits in the confidence department!
Here's our favorite part, though: Obviously, you're rarely (hopefully never) going to run into an emergency situation. But why not have friends and family stay in the loop about what you're up to, just so everyone's on the same page? Using the app's "On My Way" function, you can choose anyone in your address book—your bestie, your roommate, your mom and more—and send out notifications that you're headed home or that you've arrived A-OK. They don't even have to have the app to receive the messages! That way you don't have to feel alone when you're walking back from the library or heading home from a night out; instead, you'll just get to focus on how you're about to kick that midterm's butt or how amazingly hilarious your night was (and what the pictures on Facebook tomorrow will look like…).
Why worry about the little things when you have so many bigger, better things going on every day at college? Get empowered and score that extra boost of confidence with BlueLight!