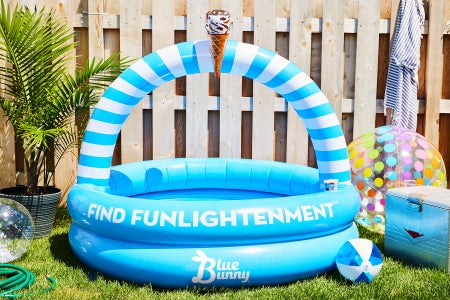 Blue Bunny is Giving Away Inflatable Pools For One, and I'm Kind of Obsessed
Your local pool might be closed and your beach may not be open for swimming, but that doesn't mean you can't cool down in the water this summer thanks to Blue Bunny. Celebrating National Ice Cream month, they're giving away 100 pools in honor of the 100 days of summer. Can you imagine anything more refreshing? 
At only five feet long, each pool is the perfect personal size for any adult, and should fit on almost any porch or in any backyard space, no matter the size! The pool also comes with a free pump, so your personal pool party can begin as soon as you unbox it! This pool is not only guaranteed to be super euphoric on any hot and sticky day, but it's also super cute! Its bright blue and white pattern scream summer, and it features one of Blue Bunny's new loaded cones on top, which looks so good you'll be wanting ice cream all summer long. 
Remember how your parents always said you couldn't go swimming right after you've eaten? Well, did they ever tell you you can't swim while you eat? Blue Bunny has added not one, but two cup holders to the pool, so now you can drink your beverage of choice and eat a trusty ice cream while lounging in the water! Catch me out there all summer long.   
To enter, all you have to do is go onto https://www.funlightenment.com and enter your name, email address, birth date, and current address. Everyone living in the United States is eligible to enter as long as you're 18 or older. The sweepstakes ends on July 13, so enter quickly! Your potential summer happiness depends on it.