Introducing Kelsey Mosebar, or "Just Kels" as she brands herself across her social platforms: a lifestyle and beauty blogger based in Seattle, Washington. Though she began her social media career as a casual hobby while still in college, she's since accumulated 11,000 Instagram followers, all eager to see her Amazon favorites, outfit inspiration and daily life. Kelsey generates content quite often, posting on the 'gram almost every day and on her self-titled blog several times a month. She also has a YouTube account where she uploads vlogs and fun challenges. How did she do it?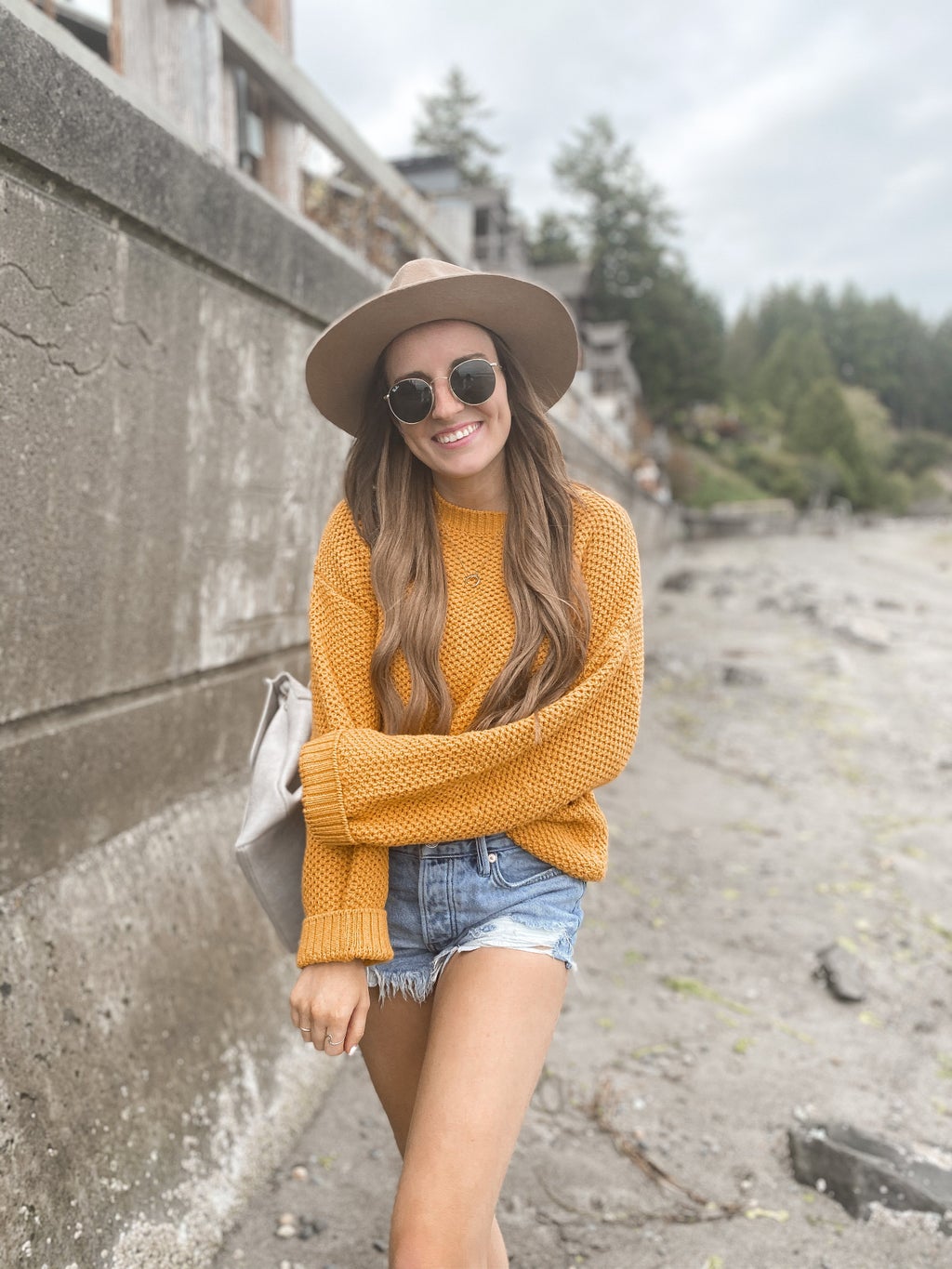 Her Campus: Tell us about your site/platform and why you launched it.
Kelsey Mosebar: My blog, Just Kels, is an everyday fashion and lifestyle blog where I share everyday content such as affordable and trendy style, lifestyle and healthy living tips, blogging tips for new bloggers, my travels and much more. I launched my blog in 2016 as a way for me to pursue my creative passions. I've always loved writing, taking photos, fashion and shopping, traveling and being creative, and a blog made the most sense to put all of my creative passions into one space of my own.
HC: What do you hope your followers get out of following you?
KM: I hope my followers get inspiration for becoming the best version of themselves they can be, how to live a healthy lifestyle, fashion tips, and [that they also just] get that sense of realness from my page – that I'm relatable to them and their lives.
HC: What does your week currently entail?
KM: I work full time in financial marketing and blog on the side. A typical day for me consists of working my 9-5 and then my 5-9, while taking care of my golden retriever Charlotte, and spending time with my boyfriend, Josh, in between. A majority of my content creation takes place on the weekends when I have the time to go out and shoot.
HC: What is the best and worst part about being an influencer? 
KM: The best parts about being an influencer are being your own boss, working on something you're truly passionate about, and connecting with so many wonderful people you may never have met or been connected with otherwise.
The worst part is probably the feeling of having your life always be visible to the public, and to always feel "on" when it comes to maintaining and growing your social media accounts. It can definitely be hard to find a balance in keeping some things private and other things public.
HC: What advice would you give to a college woman with similar aspirations?
HM: The pros really outweigh the cons with this job, so if you know this is something that's meant for you and something you're interested in, my best advice is to just to go for it.
HC: Is running your platforms your full time job or a side hustle? Why did you make that decision?
KM: Right now it's currently a side hustle. I'm still pretty early in my career, having graduated college just a year and a half ago, and I'm still learning the corporate world and advancing my career, while also pursuing my creative passions on the side. I hope to one day make the switch to running my platforms full-time.
HC: Which people have had the most influence on you, and why?
KM: On Instagram, I love following @danielleebrownn, @bygracelee, @cmcoving and @heymadinelson. All of these girls have inspired me in different ways whether it comes to everyday lifestyle and healthy living, fashion inspiration, creative inspiration, etc. I love what these girls share and have felt so inspired by them through the years that I've followed them.
HC: How has being an influencer affected your friendships and relationships?
KM: I'd say it hasn't really affected my relationships too much. I definitely spend a lot more time working than I used to now to maintain and grow my influencer business, and I'm typically busier a majority of the time, but I always try to find a good balance in keeping up with the people in my life while essentially working two jobs.
HC: What has been the most surreal thing that's happened to you as an influencer? 
KM: Being an influencer has brought some very cool opportunities in the time that I've been doing this. I think the coolest thing I got to do for my blog/Instagram was to travel to the Oregon Coast and stay in a vacation rental home and write about it on my blog. That, and test-driving a luxury car in exchange for social promotion. Both such amazing experiences I probably never would've gotten if it weren't for my blog!
HC: What are your three favorite tools for content creation? 
KM: My go-to apps for content creation and inspiration are Adobe Lightroom, Canva and Pinterest.
HC: What does the future of influencing look like for you? What's next for you personally?
KM: Hopefully, sometime down the road going full-time with my blog and influencer platforms! Currently, I'm enjoying growing my professional experience in the corporate world while growing my blog business on the side. Both have taught me so much already and, in a way, go hand and hand with each other.
Behind the Feed is a weekly series showcasing a different member of the InfluenceHer Collective every week. Are you an influencer? Apply to join the IHC, and you could be featured in the future!