Gigi Robinson is no newbie to social media marketing — she's been creating branded Instagram content for two years, runs her own personal site, and has been a TikTok campus ambassador at the University of Southern California for three consecutive semesters. She also acted as an ambassador for a variety of brands including Abercrombie and Tinder, and has always been passionate about producing real and genuine content. Along with her relatable college videos, her unfiltered TikToks about body image and chronic illness piqued the interest of many of her 130,000 followers. 
Gigi has recently relocated back to her hometown of New York City, working with brands, freelancing content production on her Instagram account, and of course, working as a social media influencer.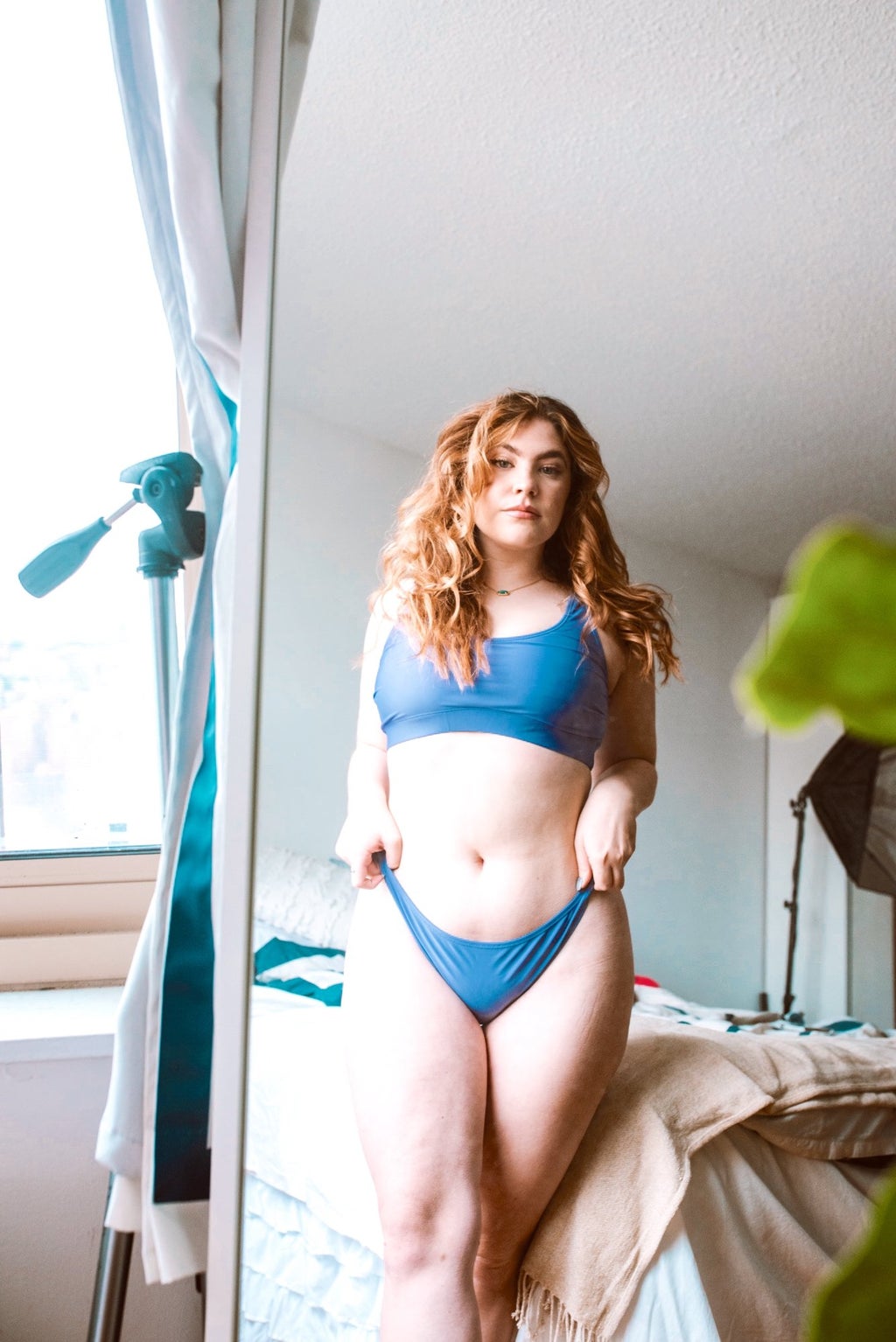 Her Campus: Tell us about your site/platform and why you launched it.
Gigi Robinson: I first started my Instagram so that, eventually, I could use my platform to work with brands and showcase [both] my photography business and talent as a creative individual. I've since scaled my online presence to over 150,000 followers across my platforms, between TikTok, Instagram, Quack and YouTube. I knew I wanted to make a difference in the world and use my art as a vehicle to do that, so social media just kind of happened for me. 
HC: What do you hope your followers get out of following you?
GR: I hope that my followers are able to be motivated positively, creatively, and be an educator for taboo topics surrounding body image and chronic illness. I want to inspire and help all of my followers to continue to be a positive influence in the world while making sure that body image and standards are talked about.
HC: What does your week currently entail? 
GR: Currently, I'm working as a freelance content producer and influencer while finishing a few of my last classes at USC to complete my BFA. I also constantly email brands, have interviews and custom influencer strategy coaching, and creative brand consulting. 
HC: What's the best and worst part about being an influencer? 
GR: I think the best part about being an influencer is that you have the choice to work with brands and [know] what kind of creators you want to surround yourself with online. Now, more than ever, our world is virtual, and as the saying goes, "You are the average of the 5 closest people you surround yourself with." Since our world is mostly virtual, I think that translates to the people you engage with, follow and involve in your community on social media.
On the contrary, when people make you feel less than, not confident and judged, MUTE, UNFOLLOW, BLOCK them; there's no room for negativity or bad energy. Also, social media can be extremely addictive, so the worst part is learning how to set boundaries and make sure that you can foster a healthy relationship with your platforms and the communities you build. 
HC: Is running your platforms your full time job or a side hustle? Why did you make that decision?
GR: It's a little bit of both. It started as a side hustle for fun, but when I realized I could use my platforms to showcase my photography, grow my brand and help other people, I began to consider social media as a full-time job. I consider myself a content producer and creative digital creator with strengths in social media, videography and graphic design. At the moment, I'm considering part-time positions running social media channels as a manager and working on creating content for one brand at a time, but ultimately I'll be able to do influencer work full time soon. I love working with brands and the flexibility that I have to create wherever I want to, and I hope to work full time as a content creator. 
HC: Which people (or books) have had the most influence on you, and why?
GR: For motivation and social media body image advocates, [I love following] @mikzazon, @iskra, @ashleygrahm and @victoriagarrick. These creators are the most influential to me because of the way that they deconstruct industry set standards of the modeling industry and of the body in general. 
For books: You Are a Badass; Why We Sleep; Spark Joy
HC: How has being an influencer affected your friendships and relationships?
GR: I would say that's honestly a question that hits home for me. Social media has given me some of my favorite memories and best friends. I joined a club called @USCReach on the University of Southern California's campus – it's a community of content creators and digital marketers that collectively work to bring each other up and be in the know within the field of social media. I can fully say I've made some of my truest friends within that club. 
On the contrary regarding friends, family and relationships that don't understand the magnitude of the craft of social media, it's been a bit difficult to fully explain to them. Since the field is so new, it can be seen as a "joke" or not "a real" position. Ultimately, I work every day to prove it to myself that this career path is exhilarating and very much real and present in our society. 
HC: What's been the most surreal thing that's happened to you as an influencer?
GR: The craziest thing is that I get to connect with people around the world and help ease their body image issues, build their confidence and be an advocate for chronic illness. Another crazy moment was finding out that I would be featured in Vogue Business and separately, on a billboard in Times Square for supporting the Ronald McDonald House. 
HC: What are your three favorite tools for content creation? 
GR: Photo gear: NikonD810; Iphone XS+ (or newer); Softboxes / Key light
Platforms: TikTok; Instagram; Quack
Editing: Tezza App (presets and fun edits); UnUm (planning out the feed / scheduling); InShot (video editing)!
HC: What does the future of influencing look like for you? 
GR: I couldn't be more thrilled to announce that I've been signed to Viral Nation, a leading influencer talent agency. I aspire to work as a content creator and advocate for body positivity, chronic illness and sharing my favorite cruelty-free, vegan products with my audiences.
HC: What's next for you personally?
GR: I hope that I can inspire my younger audiences to be more confident in their bodies, speak up about their chronic illnesses and own them. I also enjoy working with nonprofits and brands that have a dedication to giving back philanthropically. I truly believe that giving back is an essential part of building a community online and using your platform for good, especially at times where social reform is needed. 
Behind the Feed is a weekly series showcasing a different member of the InfluenceHer Collective every week. Are you an influencer? Apply to join the IHC, and you could be featured in the future!