Miller Lite Will Give You a Free Case of Beer During the Super Bowl, But it's Going to Take Concentration to Win
The Super Bowl is the national sporting event of the year, 'event' being the operative word here. Millions of people far and wide tune in on the first Sunday in February to witness all of the excitement the day has in store, from the anticipated highs to the dreaded lows, and everything in between. 
It's also prime time for companies and brands to flex their commercial game and compete for the best Super Bowl ad – because we all know that Super Bowl Sunday doesn't begin and end with football. 
This year, Miller Lite is upping their campaign game in response to Michelob Ultra's big ad by giving fans the opportunity to score big from home. While it doesn't involve a championship title or a flashy diamond ring, it does involve free beer, which is arguably better, right?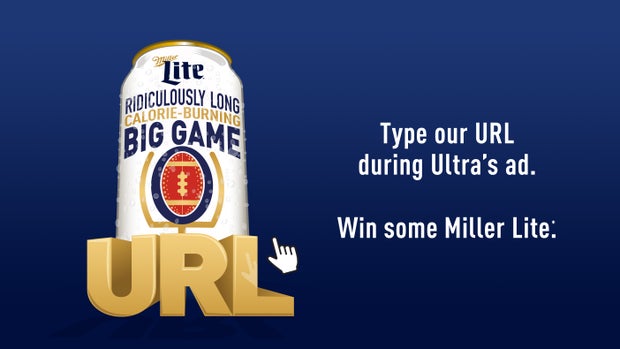 Courtesy of Brand It wouldn't be free beer without a catch, though. Miller Lite will be giving away 5,000 cases of beer during Ultra's big game ad, but in order to win a free six-pack, you have to manually type in an 836-character URL.
Why the URL? Because typing out this ridiculously long string of characters is proven to burn the single calorie difference between Miller Lite's 96 calories and Ultra's 95, to be exact.
Miller Lite wants to remind drinkers everywhere that enjoying a beer with more taste is worth the one extra calorie between the two brews. Simple (and savage) as that. 
The brand is pretty serious about making sure consumers type in the URL to burn that single calorie difference, so in a slightly "unconventional marketing move," Miller Lite has opted to make it near-impossible to copy and paste. That means no cheating! You have to burn your calorie if you want to drink your beer. 
This offer is limited to the first 5,000 entries from residents of the US over the age of 21, and Miller Lite will reward drinkers who navigate to the lengthy URL in time by awarding $8 via Venmo. Mavis Beacon could never!