How to Handle Expenses With Your Roommates Drama-Free
If you're living with roomies in college, then you know the many ups and downs of sharing a space and keeping the peace when money comes into the mix. While sitting down and talking about finances can feel awkward, like you're blatantly addressing the elephant in the room, it's one of the most important conversations to have – especially considering you're going to be living in uber-close quarters together for the rest of the school year. Believe it or not, there are many ways to make your experience a happy one and your new pad a place you'll love coming home to after those long days of classes. But first and foremost, you must open up the conversation.
Necessities First: Groceries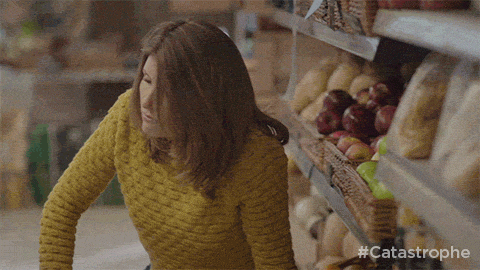 Whether you're on your university's meal plan or working to become an iron chef in the kitchen, everyone needs the essentials! Splitting the price of communal basics is a great way to keep individual costs low and unity strong. Kiersten Slater, a freshman at Texas A&M University, had a great suggestion for keeping track of what necessities need to be stocked up in a shared living space: "My roommates and I keep a magnetic white board on our fridge to jot down what needs restocking throughout the week. It's the perfect way to plan out our grocery store budget in advance!" Kiersten says. 
Once you and your roomies have created a concrete list and visualized a budget, set aside a day (Sundays are the best for getting your life together) to hop in the car, jam to some tunes and head to the grocery store. This can be a great way to bond and save on items that would hurt your wallet way more if you were to purchase them on your own. 
Shop for pantry essentials like cereal, condiments, seasoning, etc. If there's an item that not everyone wants, or a chocolatey treat you're planning on stashing away for yourself, you always have the option to buy it as a separate transaction.
Kelsey Hoppenstedt, a freshman at Texas A&M University, does this regularly with her roommates. "It's been the smartest, easiest way to go when it comes to purchasing basics! Just ask the cashier to split the receipt X ways, and voila," Kelsey says. 
Pro tip: Because each person is pitching in for communal essentials, be sure to have common courtesy and respect for your roomies. Don't be a milk hogger and do be an "I'll make grilled cheese for dinner if you all take care of the dishes" type. 
Furnishing Your Shared Space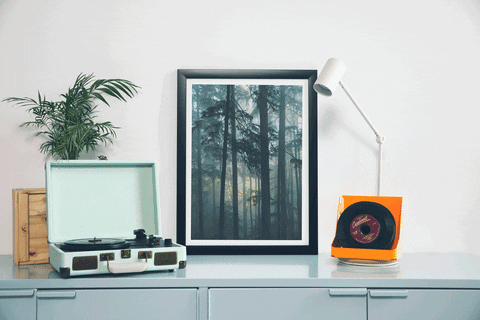 Before move-in day, start a group chat with your future roommates and create a list of what you all will need for the apartment. Breaking the list up into categories is an easy, efficient way to figure out who can bring what and determine what still needs to be purchased. Expenses don't really come into play until there is a general idea of what each person is contributing. Be sure to keep in mind that the more everyone can contribute from the get-go (a.k.a. move-in time), the less there is to worry about down the road.
For example, if Roommate 1 brings in living room furniture and a TV, it is fair for Roommate 2 and Roommate 3 to purchase other necessary items (such as a rug, wall decor and a lamp) to make up the rest of the living room area. Unlike splitting the price of perishables like groceries, these bigger items are harder to handle. Our best advice is to decide among each other what each person can buy for the common area, and then count on being able to keep said item(s) at the end of the leasing period. 
When it comes to kitchen appliances like a toaster and blender, the same principle applies. What isn't already contributed can be bought among roomies, unless it's an item only one of you wants; in this case, they can buy it on their own and can lend it at their own discretion. Where one person brings in pots and pans, another can bring in utensils and napkins and so on. The remaining of necessary items can be purchased separately and evenly between all roomies with intentions to share for the semester, but afterwards, keep for oneself. 
Pro tip: For a drama-free zone, keep in mind that the concept of keeping what you purchased on your own after deciding to share with your roomies is one of those mutual, unspoken understandings. It isn't necessary to constantly emphasize what items are yours (unless damage is involved). At the end of the day, what's yours is yours!
Splitting The Cleaning Supplies 
Although Windex and sponges aren't exactly as fabulous as decorative pillows, cleaning supplies are also—you guessed it—essential! Cleaning sprays and liquids are relatively inexpensive, so these are simpler to share and last much longer than groceries. One person brings dishwashing items (dish soap, dishwasher pods and sponges), the second brings cleaning sprays (glass cleaner and all-surface spray), and the third brings easy-to-use household favs like disinfecting wipes and a Swiffer duster. These kinds of items can either be bought together and split X ways since everyone uses them, or contributed by each roomie. Splitting items like laundry detergent and toilet paper can be a tad more personal, but nonetheless up for discussion among you and your roommates as everyone has their own preferences (sensitive skin, anyone?) and a different amount of laundry loads. 
Pro tip: Some supplies are pricier than others! Whoever bought the expensive all-purpose cleaner first should be able to ask one of her roomies to take care of the next one. It's called ~compromise~.
Having The Talk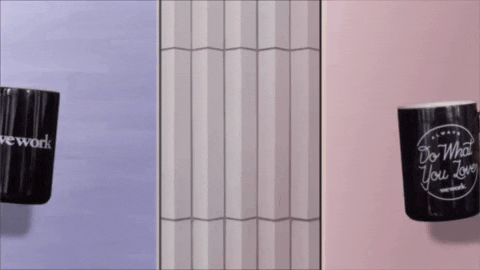 While it may seem easier said than done to have the money conversation with your roomies, it is do-able! After meeting and getting to know your roommates a bit, casually ask if everyone would be cool getting together over coffee or pizza and going over some adult-y things in a comfortable setting. Since it's quite rare for everyone to be home at the same time, sending a relaxed text in your roommate group chat is a great way to go. This also eases the pressure of the topic by being naturally casual. 
Either way, it can still be daunting to be the one bringing up "the talk", but keeping things lighthearted and friendly is key. After all, this talk revolves around working together while sharing a space, and everyone should feel comfortable with their space. Here's an example of how to initiate the conversation through text:
"Hey roomies! Hope everyone's having a great day. Would everyone be cool with ordering some pizza tomorrow night and planning out how we're going to budget for groceries and such? Just want to make sure we have everything squared away. So pumped to be living with you all, BTW!"
That's all it takes! Simply making the effort early on to have an adult, yet easygoing, conversation with your roommates can go a long way to ensure that everyone agrees on a plan to keep your shared space a happy one.
Figure Out What Works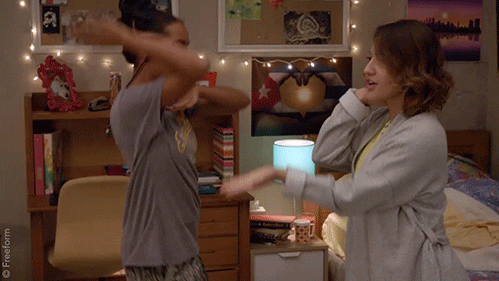 In retrospect, living alongside a few awesome friends should be a great experience! Every group is different, so figure out what works for you and your roommates. The key is to talk about it beforehand and communicate well throughout the school year so you don't have to deal with constant drama arising or lingering on. Things aren't going to be Pinterest-perfect 24/7, but as long as everyone is committed to keeping the communal peace through happy compromise, honesty and common courtesy, life with roomies should be stress-free and pretty darn close to what you wished for when you were five years old, dreaming about living in your "big-girl apartment" one day.
(Unless there's one slice of pizza left…good luck!)